Gremolata
I tend to forget about gremolata, the simple three-ingredient condiment that has a particular affinity for lamb, but is also good on grilled fish, vegetables, and other meats. It's one of those things that you can make with stuff you keep on hand, that is, if you have lemon, parsley, and garlic on hand, like I always do.
I was out shopping for ingredients for a day of recipe testing last week and since we're in the midst of winter at the moment, I thought it'd be nice to have lamb shanks for dinner. They're easy to prepare; you just stick them in the oven for a few hours with some aromatics and wine or stock (or water, or whatever you have on hand), and then you can almost forget about them. They're hard to screw up, and the bonus is that the oven warms up your kitchen nicely.
Most butchers in Paris don't put lamb shanks (souris d'agneau) on display; they usually keep them in the back, for some reason. For a long time, I wondered why butchers didn't carry lamb shanks. When I finally asked a butcher why no one had them, he went in the back and brought out four. So now I'm wondering why you have to ask? I guess next time…I'll ask.
When I got home later that morning, I rubbed the four lamb shanks with salt, pepper, and Spanish paprika. I got into a mini-tiff with a young butcher recently about salting meat before you cook it, which he said you shouldn't ever do, even if you do it at the last minute, which he wasn't doing in the restaurant attached to his shop. I didn't want to tell him how to cook, but it's a shame to serve good meat without seasoning it. (imho)
Later in the afternoon, I seared my (seasoned) lamb shanks in a Dutch oven with some olive oil until they were nicely browned on all sides. One chopped onion was added to the pot along with three cloves of garlic, sliced, and a handful of thyme branches. (Sometimes I sauté the onions and garlic in the pot, to bring out their flavors, but I was pressed for time so I forged ahead without doing that step.) I added 1 cup (250ml) dry vermouth to the pot then enough chicken stock until the shanks were about two-thirds submerged in liquid.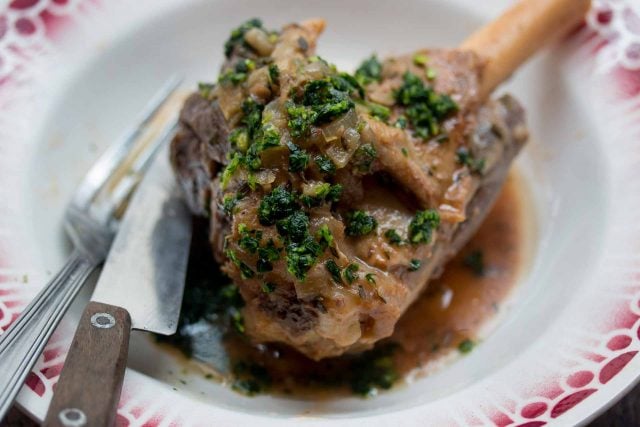 They were braised in a 300ºF/150ºC oven, covered, for around 3 hours, until the meat was falling off the bone. I removed the lid and turned the oven up to 400ºF/200ºC to let the sauce reduce. There was quite a bit of sauce so I ladled some into a saucepan and reduced it on the stovetop, which made me feel like a line cook again (minus the stress), but is something you can do at home when you want to concentrate flavors.
As the sauce was reducing, I thought the lamb shanks looked a little plain so whipped out a bunch of flat-leaf parsley, chopped some up along with lemon zest and garlic, and sprinkled the gremolate over the top of the shanks before I served them.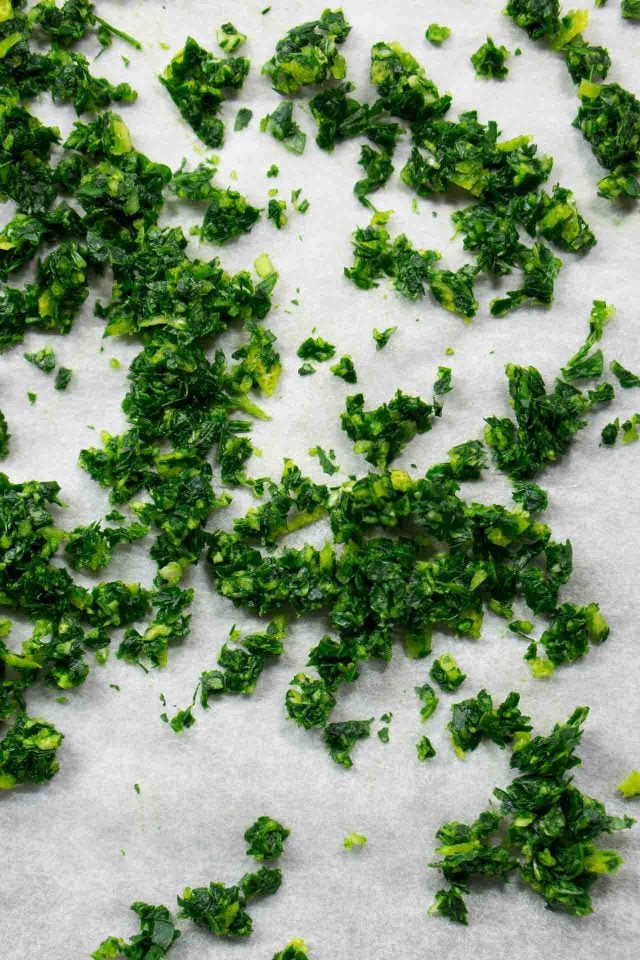 Although I didn't do it with this batch, I often dry out the gremolata a little, so it's less clumpy. You can do that by spreading it on a baking sheet and letting it air out a bit for about an hour, running your fingers through it every once in a while and breaking up any clumps. That probably makes a more photogenic gremolata, but with the light fading fast as dinnertime approached, and a couple of hungry mouths to feed, dinner made it to the table shortly after I was able to capture a few snapshots.
Be sure to use flat-leaf parsley. It should be washed and dried very well; a salad spinner works best for drying herbs. Gremolata is better when chopped by hand, rather than in a machine. Garlic chopped mechanically can taste harsh and bitter, so I prefer to hand chop everything.
1 1/4
cups (12g)
loosely packed flat leaf parsley
2
medium
cloves of garlic,
peeled and thinly sliced
grated zest of half a
lemon,
unsprayed or organic
1. Use a chef's knife to chop the parsley and garlic until they're both finely chopped.
2. Add the lemon zest and continue to chop until the parsley, garlic, and lemon are well-combined. If the gremolata is too damp, spread it on a baking sheet or platter for an hour or so, to dry at room temperature.
Gremolata is best the same day but can be kept overnight in the refrigerator. Sprinkle it over meat, fish or chicken. It's also nice sprinkled over pureed soups, like potato-leek, celery root, or butternut squash soup.