Holidays always feel like a sprint to me. Perhaps because I spent a lot of time working in restaurant kitchens, holidays don't feel so much as celebratory, as they do an extra dose of work. I'm used to it and know that the key is advanced planning. I don't cook much in advance, nor do I freeze things (except ice cream), but I make sure I've done all the shopping and preparation of any components as far ahead as possible, without flipping myself out too much.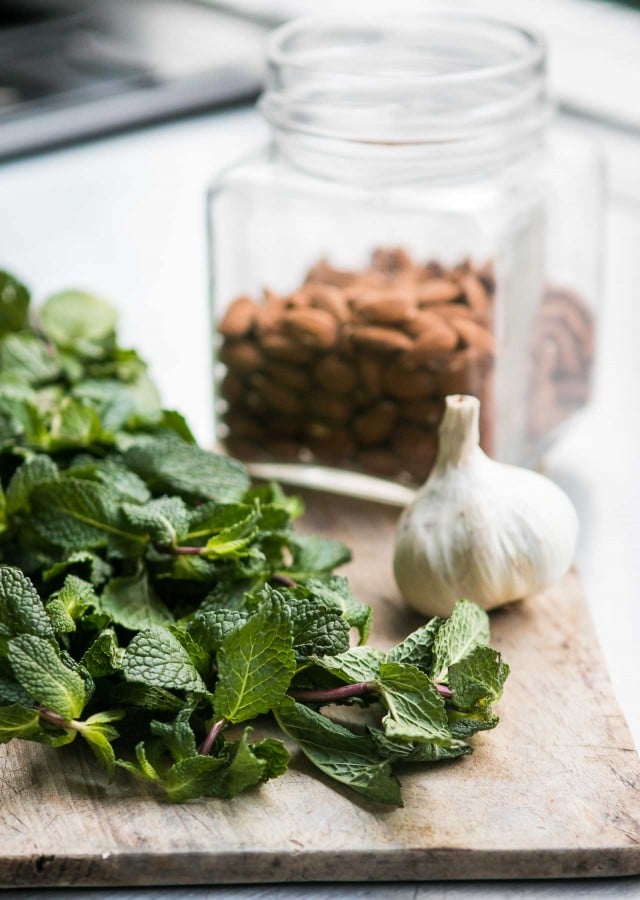 In Paris, that means making sure you have shallots to make mignonette sauce for oysters and a few days before, have a leg of lamb resting in the refrigerator studded with garlic and perhaps rosemary or thyme, waiting to be roasted off. But it also means fielding desperate S.O.S. messages from friends and visitors to Paris, trying to find a restaurant that's open.
Just a note for the future, that if you're looking to come to Paris to try a variety of the newest, or best, restaurants in the city, don't come the week of Christmas. Nearly all of them are closed. I try to recommend to people to instead, take a stroll around, stopping into a café that looks decent, and having a modest, relaxed meal, with a carafe of wine, and enjoy the downtime without the stress of making sure every meal is a home run. (And that's coming from someone who works himself into a tizzy making sure that each meal I have while traveling is the best I can find.)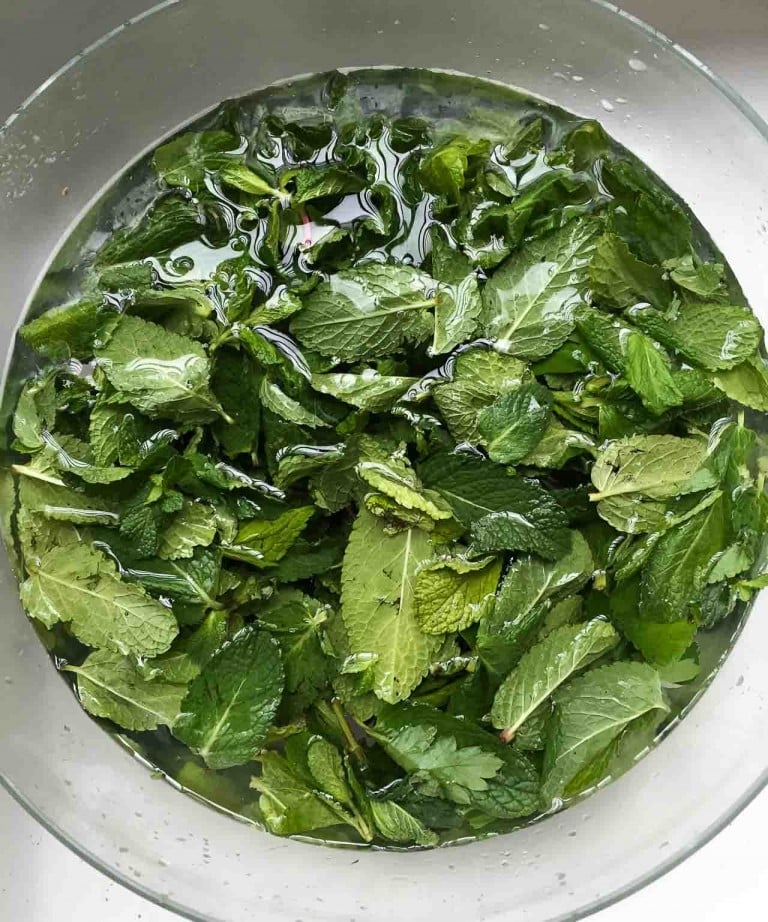 But with age brings wisdom, and many of the things that used to stress me out I try to let go of. (The keyword there is "try.") Still, no matter how well-planned the week before any holiday may have been, the day of the big meal is always a bit of a panic, no matter how many easy-entertaining books tell you to relax and enjoy the days with friends and family. For me, it's not a holiday unless I wake up at 6am and already feel like I have too much on my plate, even though dinner is fourteen hours away.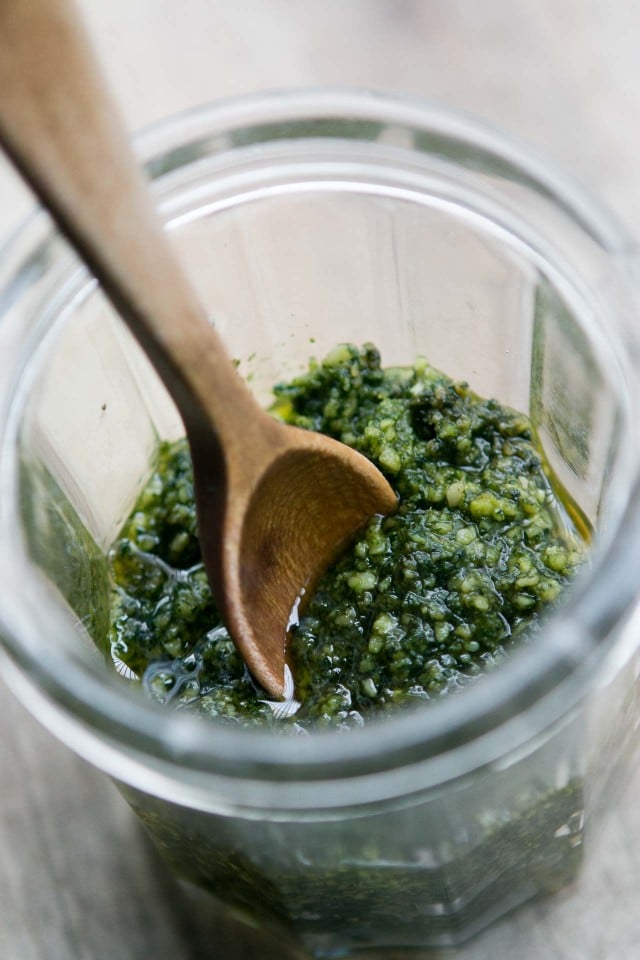 One good thing about long-cooked meats, like a roasted turkey or leg of lamb, is that you just toss it in the oven and let the oven do its thing on the main course while you prepare other things. And most roast meats need nothing more than a sprinkle of salt and pepper, sauce optional, although the French often serve Dijon mustard with lamb and other roast meats, while one can also make a sauce from pan drippings. But I was fortunate I opted for this because there was no liquid left in my pan and I was thrilled to have the foresight to make jar of mint pesto.
In spite of the seemingly near-universal restaurant shut-down during Christmas week in Paris, the outdoor markets are open, although mine only had about one-quarter of the usual merchants. Still, I was able to find two very generous bunches of fresh mint for a whopping 80 centimes. Sold, and sold.
This fresh mint pesto was the perfect accompaniment to the lamb. Unlike the quivering lurid green jellies you (and I) have seen in days of yore alongside lamb, this one is naturally colored, and naturally delicious. While this was great with the garlic studded lamb that I slathered with Dijon mustard, then packed on a crust of breadcrumbs whirled up with some fresh thyme and more garlic before I roasted it off, a vegetarian guest enjoyed a big helping of it with the roasted root vegetables that I also got at the market. Speaking of do-ahead, the other good news is that since I'd made a double batch (making twice the recipe, below), I plan to put the leftover pesto to good use on pasta. But you might find it so good that you won't have any leftovers, no matter how much you make.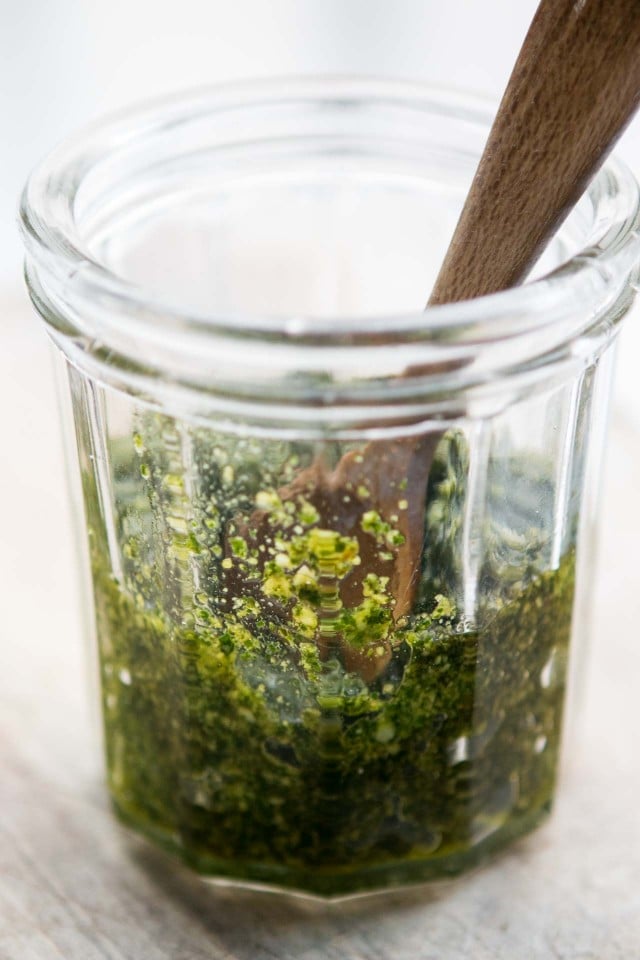 Mint Pesto
Recipe adapted from
The Kitchn
This easy pesto can be made in a
mortar and pestle
* or machine. To blanch the almonds, drop them in a small pot of boiling water. After one minute, drain them in a small sieve and run cool water over them. The skins should slip right off with your fingers. For a more luxurious version, you can substitute shelled unsalted pistachios for some, or all, of the almonds. For a more pistachio-based, garlic forward sauce, you could check out the
Pistachio aillade
. While I served this with lamb, you can use it like basil pesto to dress pasta. A dollop would be great served with
pork and beans
as a condiment, or you could add a spoonful to disperse in a bowl of warm bean and vegetable soup. It's also nice with roasted root vegetables or if your tastes run toward an exotic
tagine
, I can't imagine it not being perfect with that, too.
4

cups (40g)

lightly packed mint leaves

,

rinsed and spun dry

1/3

cup (40g)

almonds

,

blanched - see headnote

2

medium cloves

garlic

,

peeled and minced

grated zest of one lemon

salt and freshly ground black pepper

1/3

cup (80ml)

olive oil

,

plus more if necessary
If using a food processor or blender, grind the mint leaves, almonds, garlic and lemon zest together until finely chopped. (You'll need to stop the machine a few times to scrape down the sides of the bowl or blender.) Season with salt and pepper, then slowly add the olive oil while the machine is running until the mint is a loose paste.

To make in a mortar and pestle, coarsely chop the mint leaves and almonds. Put the almonds, garlic, and lemon zest in the mortar and pound until smooth. Start adding the mint, pounding to incorporate the leaves and create a paste. Keep adding the mint, then add the salt and pepper, then drizzle in the olive oil, using the pestle to pound it in until smooth.

Whether you've used a food processor or mortar and pestle, if necessary, add additional olive oil to get it to a loose consistency.

Taste, and season with more salt and pepper.
Notes
Storage: The mint pesto can be made a day or two ahead, and refrigerated, but will lose some of its nice green color the longer it sits. It will also need more oil to loosen it up after it's been refrigerated. The pesto can also be frozen for up to two months.
*Yup, that's me in the New York Times trumping the merits of a mortar and pestle. But with such a huge bounty of mint, and a shortage of time (and one of my knees still out of commission, in a splint), I opted for the plugged-in version. But you can make it either way.