A Visit to Jacques Genin Chocolate Shop in Paris (Video)
Not long after I'd arrived in Paris, I met Jacques Genin. At the time, he was working out of a small workshop deep in the 15th arrondissement. Inside, he and his team of five or so worked in a very tight space: A large table where they worked sat in the center of the room, taking up probably 90% of the space, enrobing machines churned shiny melted chocolate off to the sides, steaming cauldrons of butter and sugar bubbled madly together, and the workers slid around the narrow passage between the two, pouring, cutting, dipping, and packing up chocolates and caramels.
The chocolates and caramels were only available wholesale to hotels and restaurants that knew the unique quality of Monsieur Genin's work. The door of the workshop was made of battered wood, fitted with one-way glass so if you were standing on the sidewalk, you couldn't see in, but he could see out. If he was in the mood, he'd let you in to buy chocolates. But you had to buy a kilo (2.2 pounds) and you couldn't stand there and decide "I want two of those, one of those, six of these…" You were lucky if he opened the door at all, and even luckier if you had a kilo of his coveted chocolates in your possession. You took whatever he gave you, gladly.
I got to know Jacques and brought guests into his tight workshop. People (including me!) were surprised we could all squeeze in there, but we did, and what was supposed to be a quick visit would usually turn into a few hours standing around while Jacques held court, handing out chocolates and caramels, saying "Eat this!" with an outstretched plate of chocolates. To be polite, I ate as many as I could and encouraged my stuffed guests to keep going, too. Equally surprising was that he would invariably open a bottle of Cognac or whiskey, around – say – 10am, and pour glasses for us. Once again, to be polite, no one refused.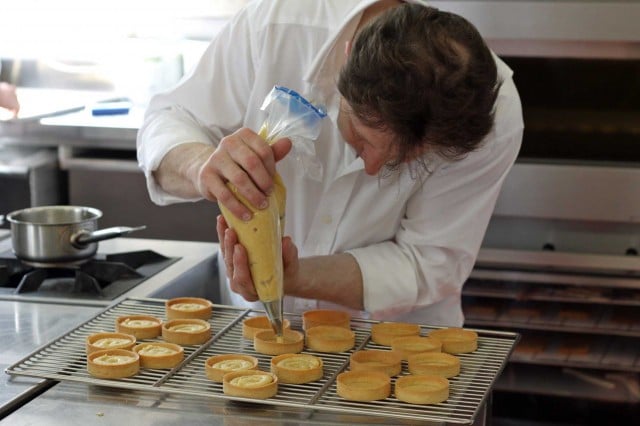 Since then, Jacques Genin moved and opened an actual shop and salon du thé (tea salon) at the northern tip of the Marais which sells his lovely chocolates and spectacular caramels. He also makes an edited selection of pastries to order, including the best Paris-Brest I've ever had in my life, which I consider the best pastry in Paris. (I recreated it as best I could in My Paris Kitchen, although he uses some ingredients that aren't available to home cooks.) Because he is a perfectionist, he got overwhelmed when word spread about this incredible talent and his extraordinary desserts, and he stopped making individual cakes, tarts and pastries for sale, although some are available in the tea salon where people can leisurely sip coffee, tea, or his sublime hot chocolate. (The Paris-Brest is usually not available in the salon but you can order one in advance that serves 4 or more, from the shop, and get it to go.)
I've been fortunate to have spent a good amount of time in his kitchen above the shop, watching his team of amazing assistants wrap caramels, dip chocolates, and cut the fruit jellies known as pâte de fruit, which are also at the top of my list of the most delicious things in Paris. But of all the things in his shop, it's the caramels that make me swoon: The first time he slid one of his passion fruit-mango caramels into my mouth, everything changed in my life. The explosion of French butter, exotic fruits, and caramelized sugar cooked right to the edge of perfection were melded together perfectly and each time I go into his shop, I make sure to leave with at least a few of those. Although, there's nothing like the first time.
Here's a video of me in Jacques' shop and kitchen. He's hard to pin down as he rushes around, sorting through fruits and berries for tarts, popping a chocolate in his mouth (or mine), stirring pots of hot chocolate, and in between, he takes pleasure in giving me a hard time. (Some of those got edited out, including when he tried to throttle me. Sharp-eyed viewers will notice my reddened neck.) Monsieur Genin, as I should probably refer to him out of respect for his position, is one of my favorite people in Paris and his shop and kitchen is very special to me – I hope you enjoy this glimpse into his world.
Jacques Genin
133, rue de Turenne (3rd)
Tél: 01 45 77 29 01
Métro: Filles du Calvaire, Oberkamp, or République
(Shop and tea salon)
27, rue de Varenne (7th)
Tél: 01 53 71 72 21
Métro: Rue du Bac, or Sèvres-Babylone
(Address in the 7th sells chocolates, caramels and pâtes de fruit, only to go.)