Chocolate Tasting With Jacques Genin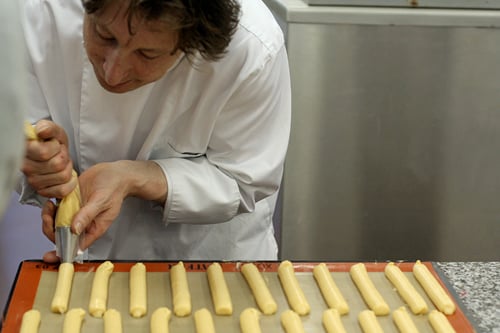 I began our week-long Paris Chocolate Exploration tour here in Paris this week, starting with a private tasting with famed chocolatier Jacques Genin, the elusive chocolatier who works out of his very small laboratoire hidden away in the 15th arrondisement. Ten of us, including Mort Rosenblum, crammed into his tiny workshop while he explained how he began his career, the methods he uses to fabricate and enrobe his chocolates, and divluged some of the secrets (I said some…) of his exceptional chocolates.
For well over an hour, we tasted everything from ganache-filled chocolates infused with exotic tonka beans, lively peppermint leaves, and fragrant (and expensive) Bulgarian rose oil. There were soft pâte de fruit made with elusive Charontais melon, fresh black currants, and fruity raspberry. All the while his staff worked around us, packing boxes of chocolates destined for the finest hotels and restaurants in Paris, including the George V and Le Comptoir. Some were destined for Chez David as well.
The best, unquestionably, were his caramels. No pun intended, but I really have a soft spot for caramel. Caramel is a combination of cooked sugar, usually with butter or cream added. But much skill is needed to get it just-so. The sugar needs to be cooked to the exact temperature. Enough so it's got a bit of a burnt 'edge' to offset the sweetness, and to give it a texture so it retains its shape with remaining toothsome but not tar-like and gummy. Jacques caramels were truly brilliant.
Each nugget was the perfect combination of sticky-soft and intensely flavored.
The first one we tasted was a bright-yellow caramel sharpened with tangy mango puree. We followed that with dark bitter chocolate caramels, oozing with the taste of beurre fermier, aka French farmhouse butter. When I'd reached my limit, which is admittedly high, Jacques stuffed my pockets with salted-butter caramels, which I ate this morning just after breakfast.
Is that wrong?
Jacques Genin
18 rue St-Charles
Tel: 01 45 77 29 01
This is his workshop and not open to the public.
Update: Jacques Genin has finally opened his shop in Paris, in the Marais. it's open to the public and has a tea salon, where you can sample his treats, as well as a full-scale boutique.