Financiers from Kayser Bakery, Paris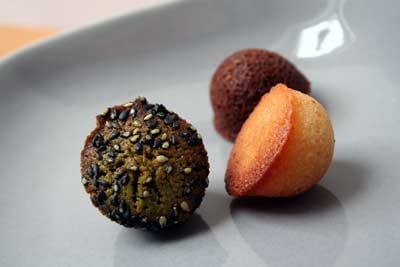 If you've never had financiers before, prepare yourself for a treat. But even if you've had them, you've likely never had financiers from Kayser bakery. Each little moist button is the perfect taste of ground almonds and French butter. They're available in a few flavors, such as dark chocolate, and nature (Almond). I can never resist getting a little bag of them at the bakery, and I consider them one of the best things in Paris.
While you're there, check out his wonderful chocolate-chip cookies, which rival anything in America, as well as his extraordinary pain aux céreales, a lovely, crusty loaf studded with lots of grains and seeds.
Eric Kayser
85, Boulevard Malesherbes
and
8, rue Monge
(Many other locations throughout Paris-check website for other locations.)


For other tasty Paris addresses, check out my Paris Pastry App, a guide to over 300 of the best pastry and chocolate shops in Paris. The Paris Pastry guide is also available for Kindle devices and as an e-book, compatible with Android and other devices.