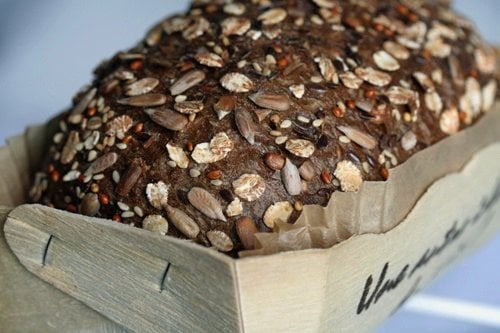 [Update: Bazin bakery has closed. In its place is Boulangerie Bo, which features different items, but is also very much worth visiting.]
This probably isn't the kind of bread that visitors come to Paris to experience, and while I like baguettes, I really, really crave breads loaded with grains. So when I was recently in Bazin to pick up my usual Bazinette aux Graines (seeded baguette), I noted a rack of these loaves lined up in the corner.
As usual, I was waited on by my favorite saleswomen. And I have to admit that her and I have a certifiable crush on each other and we always find more things to talk about than bread. When it's my turn, we make googly-eyes at each other and engage in small talk like teenagers in love, oblivious to the long line of customers growing behind me.
During our most recent bout of hot 'n heavy flirting, I asked if the bread, called le Viking, really had a lot of grains inside. Some of the grainy-topped breads are disappointingly scarce on les graines once you get them home and slice into them. And like relationships, one doesn't want to feel burned once you make a commitment, then find out what's under the surface is less-appealing than what you originally bargained for.
She replied, "C'est pas mal."
Which might not sound like much, but around here, people aren't always likely to appear to be too overly-enthusiastic about things, and will use the term "It's not bad" when in actuality, it's pretty darned good.
(Tip: If they say, "J'adore ça!" you can be sure that it's going to be absolutely awesome.)
And true to her word (or should that be, contrary to her word?) once home and hacked open, the loaf was packed full of sunflower seeds, oats, and other healthy goodies.
But even if you're not as wild about grainy breads as I am, their classic baguette is so outstanding that it took top billing in a recent tasting by Le Figaro newspaper.
In between the racks loaded with freshly-baked breads and shelves of pastries, you'll find a touch of America amongst the goodies: Brownies aux confiture de lait. Monsieur Bazin asked for my Dulce de Leche Brownie recipe, making some modifications and variations for the local palate, but there they are—my claim to fame!
Aside from great bread (and pretty decent brownies), Bazin is also one of the most beautiful bakeries in Paris.
Not that you need another reason to go there. But still, looking good never hurts either.
Bazin
85, bis rue de Charenton (12th)
Tél: 01 43 07 75 21
(Closed Wednesday and Thursday)

Other favorite breads and bakeries in Paris:
A previous visit to Bazin.
My list of recommended grainy breads in Paris.
Squirrel bread and Financiers from Eric Kayser

Two great guides to Paris pastry shops and bakeries: