Cassoulet was probably the first French dishes that really hooked me on French cuisine. I was working at Chez Panisse at the time and when the new Zinfandel wine was released, in a style similar to the annual release of Beaujolais nouveau in France, or the garlic festival on Bastille Day (called 14 juillet, in France – if you called it "Bastille Day," no one would know what you were talking about), the cooks would often make cassoulet. Because I was working and making dessert, I didn't have time to actually sit down and eat any – because customers don't really want to hear that their dessert is being held up because the pastry person is sitting down having dinner – I did get to take a spoon and scrape off, and eat, all the crusty, meaty, chewy bits that were stuck to the rims of the pans. Which, of course, are the best parts.
Making cassoulet is definitely a project. I know, because when I put the recipe in My Paris Kitchen, I made it at least a dozen times, testing all kinds of meats and beans, and playing around with cooking times. (And trying to explain – nicely – that once you've made cassoulet, that it's actually better réchauffé, or left to sit overnight, then reheated.)
And if you're going to make it, you make it in quantity, as it's not a dish you'll find in one of those "Cooking for One" or "Dinner in 5!" cookbooks. You need to gather the meats, fry up the sausages, prepare the beans, and cook the whole thing for several hours.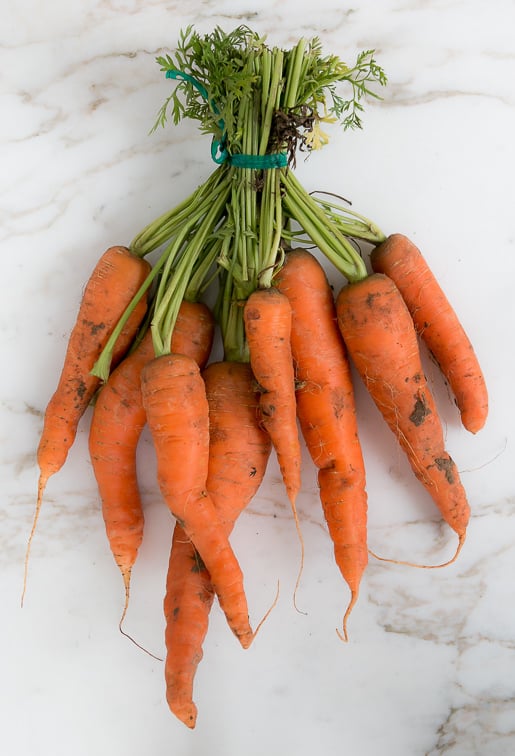 There aren't too many shortcuts in making cassoulet, save for having the duck confit already made, which is available pretty easily in France. But pork and beans, which one might say is the American cousin of cassoulet (although other cultures have their own versions or meat and beans, too, including fabada from Spain), is an express version of the iconic French dish. One thing that's pretty important to either dish is the couenne, the thick layer of pork rind that gives the liquid a velvety juiciness. It also does the jell-thing to liquids when cool, that skeevs out some Americans, but delights French people.
Working on a hunch, I thought that Pistachio Aillade might be a nice condiment to go along with the beans I was cooking up. Years ago I was at Au Trou Gascon a highly regarded Gascon restaurant in Paris, and they presented us with a "summer cassoulet," which come out with a swirl of basil puree streaked over the top. I am sure that many members of the authenticity police would be in a tizzy about that one, but it worked really well at lightening up a rather substantial dish.
But food evolves and I'm not sure die-hard traditionalists would be all that happy to be stuck eating things that people ate a few hundred years ago, or forgoing refrigeration, which one could perhaps argue added a "special flavor" (ie: rank) to certain foods.
In the here and now, I'm content to be able to cook up a pot of pork and beans every so often. I do like to use good-quality dried beans, and I add ham hocks, called jarret de porc or jambonneau (which are sometimes deboned and molded), in France, to the cooking liquid, whose skin imparts that silky quality to the cooking liquid. We get the hocks either fresh, salted, or smoked. The ones I got are already cooked, but no matter; they still benefit from being poached longer in the bean liquid, while at the same time, flavoring the beans.
Pork and Beans
Ham hocks are available at butcher shops and well-stocked grocers. You can either use fresh or smoked. Just a note that in the United States, some are heavily smoked, and their flavor can obliterate the delicate flavor of the white beans. So depending on your preference, use what you like. Because the pre-cooked and smoked hocks are salted, you might not need to add much salt to the dish. If you can't get ham hocks, a big slab of pork belly works well. For faster cooking, soak the beans overnight in a Dutch oven, a very large casserole, or stockpot, covered with cold water. I use about double the amount of water, per volume of beans, for soaking. Because beans vary, you'll need to watch the beans and pork as they're cooking, and add more water if necessary. One nice addition to this dish is a few generous handfuls (about 2 cups) of chopped greens, such as kale, Swiss chard, or mustard greens, added during the last ten minutes of cooking.
1

pound (450g)

dried white beans

,

sorted and rinsed

1

bay leaf

10

branches of fresh thyme

2

carrots

,

peeled and diced

2

medium onions

,

peeled and diced

4

cloves

garlic

,

peeled and minced

2-3

(3-pounds, 1.3kg)

ham hocks

salt
Soak the beans overnight in cold water. (See headnote.) The next day, add the bay leaf and thyme to the soaked beans in the pot along with 8 cups (2l) of water.

Bring the beans to a boil. When the water begins to boil, add the diced carrots and onions, garlic, and ham hocks. Let the beans come to a boil again.

Once they've come to a boil reduce the heat so the beans are cooking at a lively simmer and let cook until the beans are tender, adding about 3/4 teaspoon of salt to the beans when they start to soften, about three-quarters of the way into cooking. My beans usually take about 2 hours to cook, but they can take less time or more. (Figure 1 to 3 hours.) While they're cooking, make sure the beans and ham hocks are covered with water. Add more, if necessary.
Notes
Serving: Remove the hocks from the beans and set them on a plate. When cool enough to handle, shred the meat from the bones, discarding the bones and skin, and add the pieces of pork back to the beans. Rewarm the pork and beans together, then ladle into serving bowls. Top with aillade, pesto, or chopped parsley, if desired.
Storage: The pork and beans can be refrigerated for up to four days. Rewarm on the stovetop, adding more water and salt, if necessary.
Related Posts and Recipes
How to cook dried beans (Ruhlman)
Steve Sando's Basic Cooked Beans (Chow)
Cassoulet beans (Rancho Gordo)