2014-2015
In a film a while back, there was a line that became famous – "Life was like a box of chocolates. You never know what you're gonna get." Years later, Apple introduced a music device with the slogan "Life is random," which referred to the music player that "shuffled" things around for you, randomly (so you never knew what you were going to get), although some speculated that it could have been a metaphor for Steve Jobs' cancer diagnosis.
Fortunately I'm in good form, perhaps thanks to those antioxidants in all the chocolate that I seem to find myself surrounded by. But as much as we try, we never know what's going to happen or how things are going to turn out. That's particularly true when someone uproots and moves somewhere else. You're not just moving out of your city or town, you're moving out of your culture into unfamiliar territory – a new unknown.
When I first arrived in Paris, I'd bring people I barely knew treats to share; some chocolates, a couple of pieces of cakes, a tin of cookies, or other recipes that I was working on. From the astonished looks I got, I quickly learned that locals don't bring edible gifts to shopkeepers and market vendors. However no one seemed to mind. (Although it doesn't seem to be a trend that's caught on…) It's been over a decade since I arrived in Paris and each day is — well — like a box of chocolates. And it's always amazing. Not always amazing in a "wow – that was great!" kind of way, but not always "amazing" in a bad way either. It's just that each day is different, and like life in any city, it comes with challenges, an occasional defeat, a number of victories, and (fortunately) some lasting rewards.
Many of us who live in Paris often get emails from people wanting to move here, just like I did eleven years ago when I arrived on a whim. (Although as anyone who gets up and moves around the world knows, it's not like it just happens. It takes a lot of planning and work.) Like me, most don't have a clue as to what awaits them. I wasn't quite prepared for what would happen to me in subsequent years and there were lots of hurdles to overcome. Yet I set up home, snagged a terrific partner (score!), learned the language (yet those French verbs continue to challenge me…), and managed to become, in my own way, a small part of the great city of Paris.
Recently I've noticed a change in the city. I'm still not sure why. But people in my neighborhood bakeries, chefs who run their chocolate shops, vendors at my market, neighbors, and even the guy who fixed my dryer last week, have been noticeably warmer and friendlier. I even got a laugh from a saleswoman at the BHV department store when I was holding a burnt-out bulb from my freezer, looking for a replacement, and she told me – "Ça n'existe pas." ("It doesn't exist.") When I replied that she was presenting me with an existential crisis – how can something exist, that I'm holding in my hand – not exist? She thought about it for a moment, and said (in French), "Hmmm, you've got a point there."
So I am, indeed, gaining some points around here. And no longer just the customer with a funny accent anymore. (Who mangles all the verbs.) But things are smoother and I'm understanding why things are the way they are. If you have been reading my blog for a while, way back when, many of the observations were ones of astonishment and often, disbelief. They say that you never feel more American than when you leave America (which would be true for any other person that moves away from their country), and it's been interesting and rewarding to immerse myself in French culture, which also gave me a chance to look at my own. Now I'm finding the cultural quirks and differences not just amusing, but they started to click and I find myself understanding them, and they're not just observations anymore, but part of my life.
---
One of my favorite parts of 2014 was going on book tour. My publisher was nice enough to foot the bill and send me around the U.S. to various places. And while I couldn't go everywhere (who can?), the places I went to were great fun. I got to meet so many of you, and let me tell you, I have wonderful readers. True, I get to meet some of you via the comments, sometimes by interacting on social media, and other times, at book events. So thanks to all for sticking around along with the ups and downs of my crazy life. You make it all rewarding and fun.
2015 is here and I'll be involved in some projects that will take me to other places, so I'll be here and there — sometimes here, and sometimes there. (Alas, none of the "there" places includes tropical beaches. At least in the near future.) I'll be returning the places that I love very much – including Ireland, Sicily, and New York, and since life in random, hopefully I'll get to see a few new places, too.
Last year saw the balance of my life sometimes tips towards doing less what I really want to do – bake, cook, write, meet people, because of the less-fun stuff (technology, paperwork, conjugating verbs, etc) that took up too much of my time. And when I was talking to a friend of mine who lives between three different countries about all the stuff we have to juggle, she agreed, but responded; "… but it's how we live." Which is true. But I'm hoping to find a new balance as I start work on a book project that I'm really excited about, which I'm going to plunge into shortly, hopscotching a few borders. So life in 2015 may get a little more "random" than usual.
There are a few things I did take care of before the start of the new year, to get things off on the right foot. One was to clear a whole bunch of files off the desktop of my computer. Another was to clear a bunch of files (and paperwork) off my actual desktop, to make a fresh start.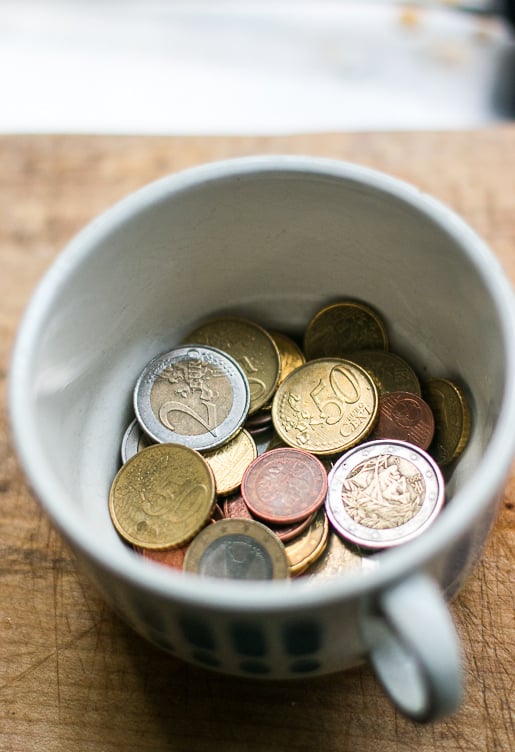 Change isn't always embraced in tradition-minded France, which is why so many people love coming to visit. (Although if you want to be embraced by French shopkeepers, it helps to have exact change, as that kind of change also seems to be in perpetual short supply.) And many French people like to keep their country they way it is – or the way it was. On the other hand, change is inevitable. No matter how hard we try to stop it, it's natural to progress and move forward.
Like most stories, we don't know how they're going to unravel or how they will end. A while back, someone wrote a spot-on article about being a writer, and how to respond when people ask you what you're writing about. We all go into things – whether it's writing, working, or just living our lives – with a general idea of what direction we're going in, but we can never sure how they're going to turn out, or even what it's all "about." But I don't know if that's all that important, and sometimes random works. As does chocolate.
On New Year's Eve, we were sitting around talking about what age we were and what year we were born. And that's how I learned that I was a year older than I thought – d'oh! – because I never pay attention to those things. (In addition to grammar, I'm not so great at doing math in my head nor did I ever get around to sitting down with a calculator and figuring it out.) It was a bit of a jolt to age that quickly. But on the other hand, I guess it's true, that time really does fly when you're having fun!