Meyer Lemon Curd and Lemon Tart
There's been an anglo-wave sweeping across Paris the past few years, and the latest to excite Parisians has been the return of Marks & Spencer. Their last store in France closed over a decade ago and after a lot of speculation, and anticipation, they're back. Their initial rentrée was a shop on the Champs-Elysées, which gives more room to clothes than it does to the food. I've never heard anyone say they missed the selection of clothes that were available, but a lot of people – French and otherwise – got a little misty eyed over the loss of the availability of scones, le cheddar (pronounced ched-aire), streaky bacon, Chicken Tikka Masala and, my favorite, the crumpets. Since then, they've gone on to open specialty food stores in various neighborhoods, to great success.
On British import that's hard to explain is "curd," which doesn't quite translate into something that sounds like it would be tasty, even in English. Explanations tend to bring up notions of curdled custards, lumpy messes floating in a cloudy broth. But in spite of the connotations the word brings up, French people like lemon curd as much as Americans, and British, and I am sure someone else will point out that others like it, too. So let's just agree that everybody loves lemon curd. (Okay, there are probably some people who don't like lemon curd. But I've not met anyone yet.)
Most lemon curd is made with tart Eureka lemons, the kind that lend a wonderful puckery character to lemon desserts. (Well, wonderful to those of us that love it.) However someone gifted me a basket of Meyer lemons, which are familiar to Californians, who enjoy their fragrant, sweet juices, as well as a marvelously heady, perfumed zest. Italians have their Amalfi lemons and the Provençaux have their lemons from Menton, a French city that borders Italy, where an annual Fête du Citron takes place, featuring day and night parades with highly ornate floats decorated with thousands of lemons, and other citrus fruits.
I had big plans for my own little stash of lemons. But then, the holidays rolled around and other cooking projects took priority. And they kind of got put into the "too good to use" category of things that one saves for something special – so special that you don't want to use them. My Meyer lemons rolled around in the fruit bin in my refrigerator, knocking against the sides of the drawer every time I opened it, to remind me that they were still there.
I didn't want my precious lemons to suffer the indignity of a slow, moldy death in the back of my refrigerator. So I pulled them out and made a batch of Meyer lemon curd with them. Like blood oranges, cutting into each Meyer lemon is a joy, because the outside reveals little of the splendor within. When you slice a Meyer lemon in half, a spray of flavorful oils spritzes out, making it hard to resist putting one of the halves up to you nose, and inhaling deeply to take it all in.
Lemon curd is very simple to make. It's made like a custard, using freshly squeezed lemon juice, some zest for additional flavor, sugar, butter, and eggs. I've made versions with milk and starch, but this one is nice when used as a cake filling, spread between two layers of spongecake, and iced with whipped cream. It's also good piped into cream puffs, served with warm caramel sauce, which was my intention. But the end-of-the year got the best of me and I ended up being mired in last-minute paperwork and dealing with all that less-fun stuff that needs to be taken care of to wrap up the year, and my curd ended up in a jar in my refrigerator.
However mornings were better once I: A) Stopped reading email until after breakfast (as in, well after it…), and B) I had a couple of pots of sunny Meyer lemon curd to wake up to, and spread on my morning toast.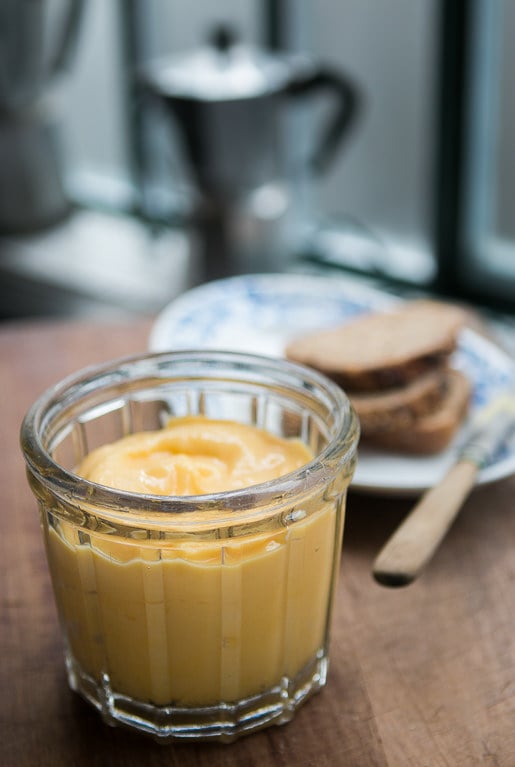 | | |
| --- | --- |
| Lemon Curd and Lemon Tart | Print Recipe |
If you want to make less, feel free to cut the recipe in half. If using regular lemons, such as Eureka lemons, use a total of 2/3 cup (130g) sugar as they are more tart than Meyer lemons. When it's cooling, taste, and add an additional sprinkle of sugar – 1 to 2 tablespoons – if it's still too tart. Even though my first batch of Meyer lemon curd didn't make it into a lemon tart, due to some pleading from my other half, which I'll admit sounded like a good idea, I went ahead and made a lemon tart a few days later, using regular lemons to make the curd. This recipes makes enough to fill a 9-inch (23cm) tart.
grated zest of two of the lemons
1
cup (250ml)
freshly squeezed Meyer lemon juice
(see headnote if using standard lemons)
12
tablespoons (6 ounces, 170g)
unsalted butter,
cubed
1. Zest two of the lemons into a medium sized metal bowl and set a mesh strainer over the top.
2. In a medium saucepan, warm the lemon juice, sugar, and butter, stirring occasionally, until the butter is melted.
3. In another bowl, stir together the eggs and yolks.
4. When the lemon juice mixture is warm, starting off gradually, pour it slowly into the eggs, whisking constantly. Scrape the egg mixture back into the saucepan and cook the curd, stirring constantly with a heatproof spatula, until the mixture thickens and starts to coat the spatula. (You may see little bits of cooked egg whites, which is normal.) It will happen relatively quickly – perhaps in less than 2-3 minutes, so watch carefully.)
5. Immediately strain the curd into the zest, pressing the curd through the strainer to get most of it through. Wipe the spatula clean then use it to scrape the curd off the bottom of the strainer and into the bowl.
6. Stir the curd frequently to let the steam and heat out, then continue to let it cool for about 10 minutes. Pour the warm lemon curd into jars, cover, and refrigerate until ready to serve.
Storage: Lemon curd will keep for up to ten days in the refrigerator.
To make a lemon tart out of you lemon curd: Spread the curd into a 9-inch (23cm) pre-baked tart shell, and bake in a 375ºF (190ºC) oven for 8 to 10 minutes, until when you jiggle the tart pan the curd looks set. (If adding warm curd, it may take less time.) But rather rely on a fixed time for baking, it's best to use the baking time as a guide and trust your instinct rather than fixating on the exact minutes. Keep an eye on it and when it looks like it's just about set, it's done. Take the tart out of the oven and let it cool completely before serving. If making tartlets that you don't plan to slice, there's no need to bake the curd in the tart shells. Simply fill the pre-baked tartlet shells with the curd. Top with whipped cream, if desired.
Related Recipes