I've been having my own little lemon festival ever since I got a Meyer lemon tree. Meyer lemons aren't well-known in France (yet), although I have a feeling once people get a taste of their sweet, highly perfumed juice, we may start seeing them more and more.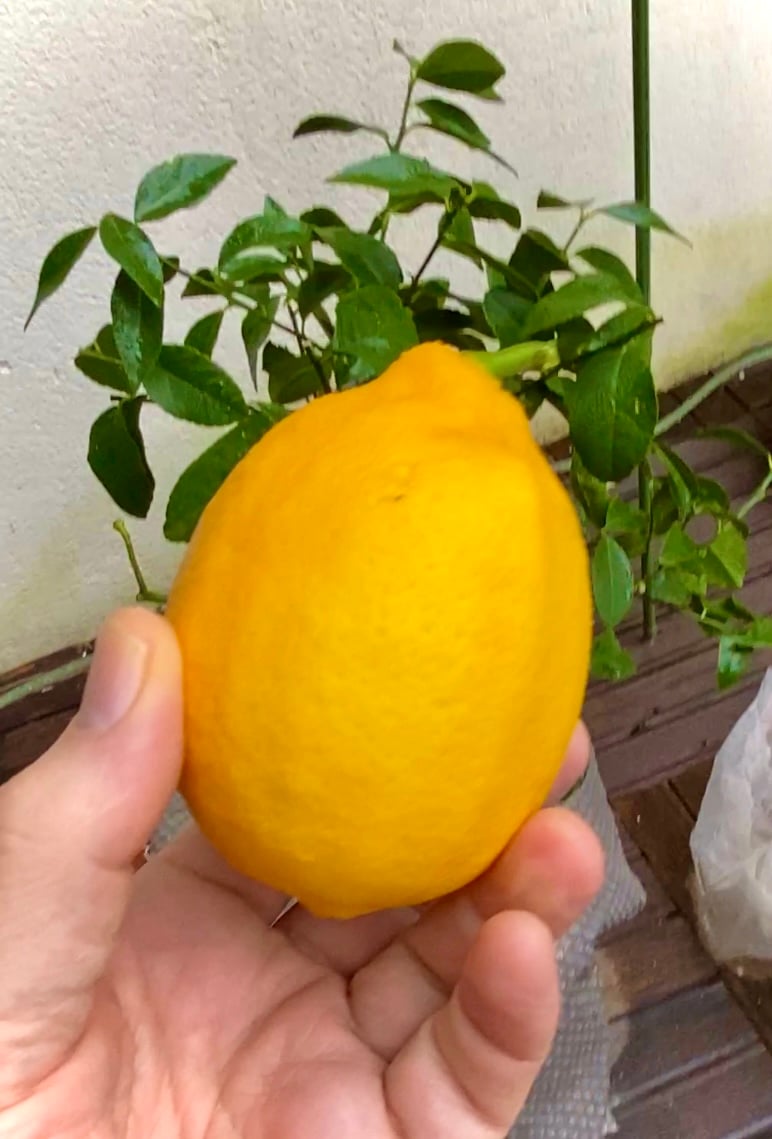 A similar type of citrus as called bergamots in France, which are botanically a bit different than the bergamots that people might be used to. (There are quite a few types of bergamots.) But the ones in France are often labeled citrons doux, or sweet lemons, and those are similar to Meyer lemons.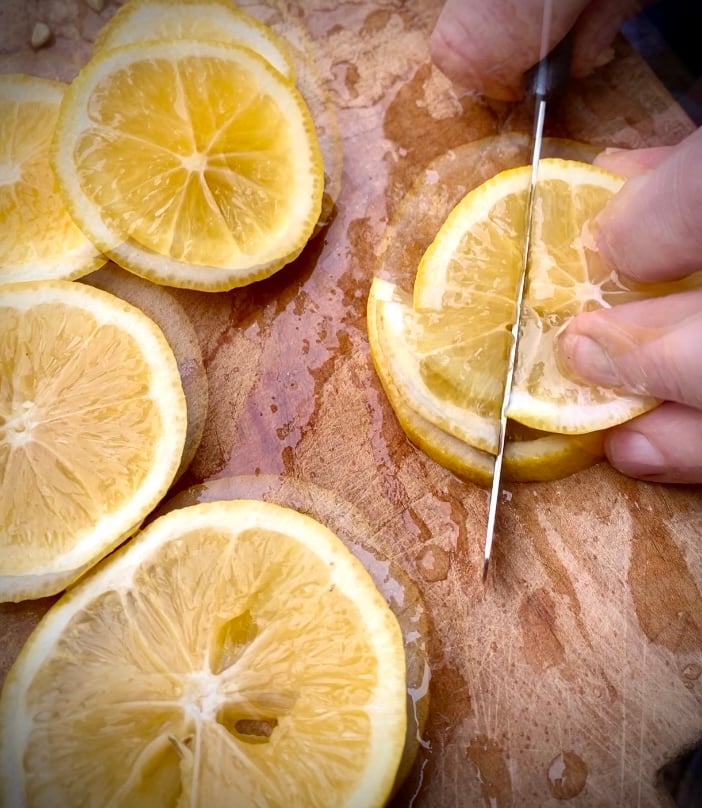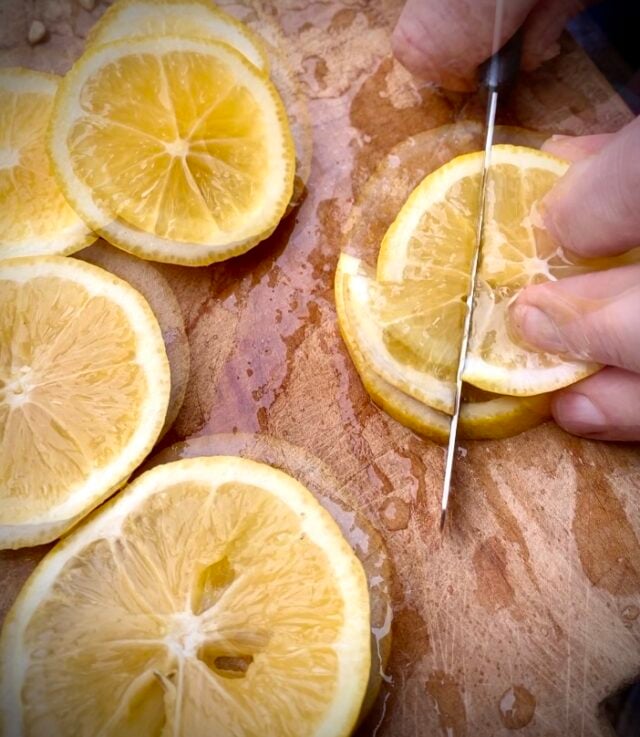 One thing that doesn't quite translate, at least in terms of language, are Lemon Bars. They're not a cookie nor are they a cake, although in French they would probably fall into the gâteaux category, which encompasses a variety of baked goods. The best I can offer is to call them Carrés crémeax au citron or Carrés au citron, if you find yourself in the position of explaining them, as I find myself in. (Although everyone in France who has tried them, loves them.)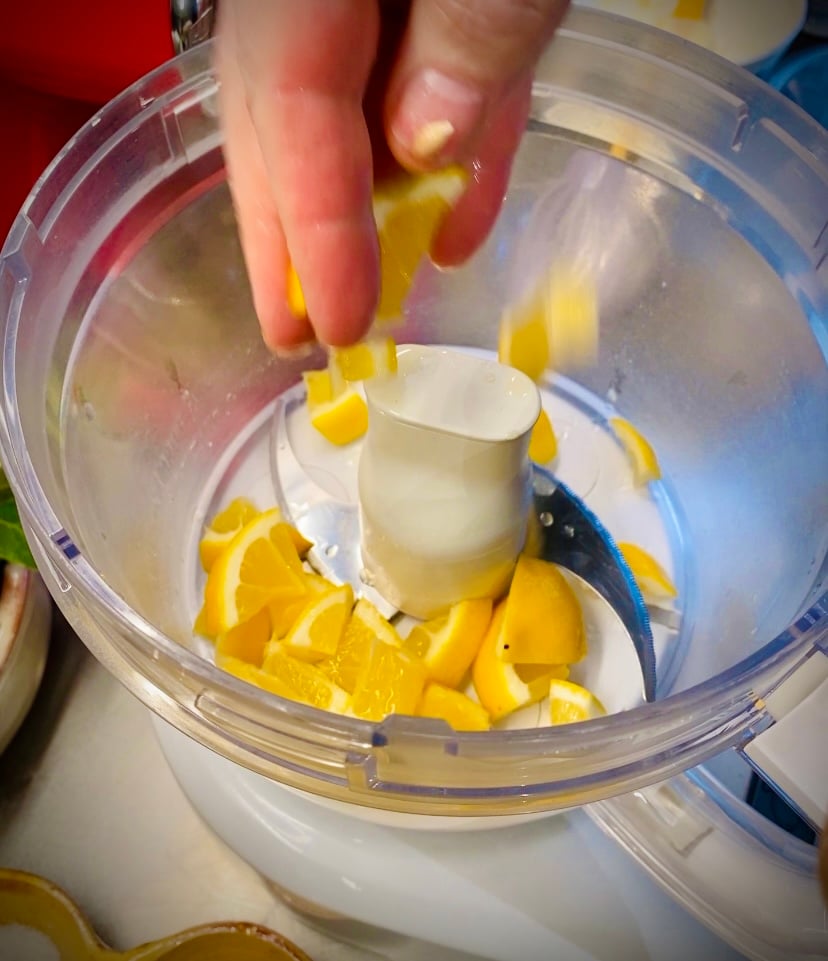 The good news is that these Lemon Bars, which use the entire lemon, can be made with standard tart lemons (Eureka lemons) or Meyer lemons. I like them both ways. And now that I've got a Meyer lemon tree of my own, I have more choices!
Lemon Bars
Ideally you want to use an unsprayed or organic lemon since you're eating the peel and rind. If you are using Meyer lemons, which are sweeter than Eureka lemons, reduce the sugar in the topping to 2/3 cup (130g.) Lemons, of course, vary in size: Mine was 6 ounces (175g), but getting it close is reasonable enough.
Crust
1

cup (140g)

flour

1/4

cup (50g)

sugar

1/4

teaspoon

salt

8

tablespoons (115g)

melted unsalted butter

1/2

teaspoon

vanilla extract
Lemon Topping
1

lemon

,

organic or unsprayed

1

cup (200g)

sugar

,

or 2/3 cup (130g) if using sweet lemons

3

tablespoons (45ml)

freshly squeezed lemon juice

3

large eggs

,

room temperature

4

teaspoons

corn starch

1/4

teaspoon

salt

3

tablespoons (45g)

melted unsalted butter

Optional:

powdered sugar

,

for serving
Preheat the oven to 350ºF (180ºC).

Overturn an 8-inch (20cm) square pan on the counter and wrap the outside snugly with foil, shiny side up. Remove the foil, turn the pan over, and fit the foil into the pan, pressing to nudge the foil into the corners. Smooth the foil as best you can and lightly butter the surface, or spray it with nonstick spray.

In a medium bowl, mix the flour, 1/4 cup (50g) sugar, 1/4 teaspoon salt, 8 tablespoons (115g) melted butter, and vanilla, stirring just until smooth.

Smooth the batter into the bottom of the pan, using your hands to get it as level as possible.

Bake the crust for 25 minutes, or until it's deep-golden brown.

While the crust is cooking, cut the lemon in half, remove the seeds, and cut the lemon into chunks.

Put the chunks of lemon in a food processor or blender along with the sugar and lemon juice, and let it run until the lemon is completely broken up. Add the eggs, corn starch, 1/4 teaspoon of salt, and 3 tablespoons (45g) melted butter, and blend until almost smooth. (A few tiny bits of lemon pieces are fine. It doesn't need to be entirely smooth.)

When the crust comes out of the oven, reduce the heat to 300ºF (150ºC). Pour the lemon filling over the hot crust and bake for 25 minutes or just until the filling stops jiggling and is barely set.

Remove from the oven and let cool completely. Once cool, carefully lift out the bars using the overhang of foil as a handle. Cut the bars into squares or rectangles. Sift powdered sugar over the top just before serving, if desired.
Notes
Storage: The bars will keep in an airtight container at room temperature up to three days. You can freeze the lemon bars as well for up to one month, letting them come to room temperature before serving.
Related Links and Recipes
Note: In the post, there are pictures of the Lemon Bars with both the gingersnap crust (the darker ones near the beginning of the post) and the bars I made with the regular crust (shown at the end), which I preferred.