A Noste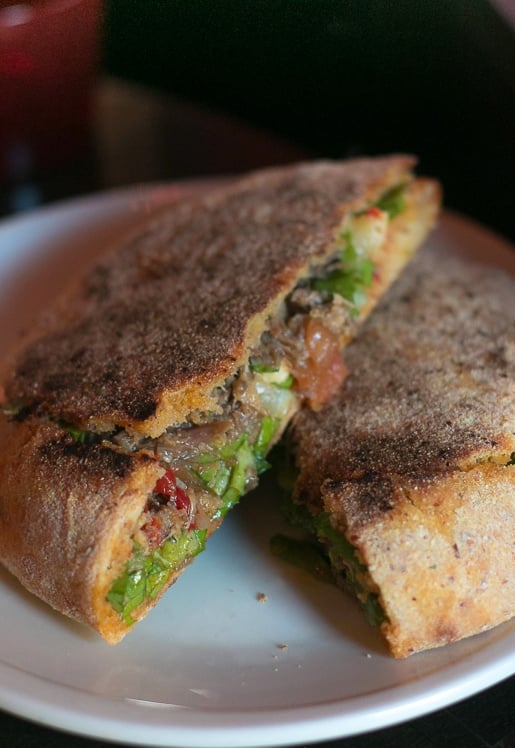 Although I'm trying to make it less-so, it's rare that I go out to lunch with friends. People tend to think that everybody in Paris sits around all day, eating dainty macarons and sipping a coffee at the corner café watching the world go by, while you're all working away. But most of us are swamped like everybody else (including you), hurdling toward deadlines, waiting on hold to resolve problems, filing paperwork, or, as in my case, washing sinkloads of dishes. (Honestly, I don't know where they all come from…)
So it's nice every once in a while to just say, f**k it, ping a friend, and head out to lunch.
On my list of places to go was A Noste, the Basque restaurant and tapas bar of Julien Duboué. Upstairs is a full-on restaurant, and downstairs is a lively tapas bar which has, parked against one wall, a food truck. While my first inclination was to think the concept of an indoor food truck silly, the truck is actually a charming "grilling" station that turns out taloa (sometimes called talo, which at A Noste, is a pocket bread-style sandwich made with bread crunchy with cornmeal. I've seen taloa described as "skillet cakes," which resemble Mexican-style tortillas, but at A Noste, they're split and filled with everything from chorizo sausage to Nutella. (Which is for dessert.)
Ever since I heard about it, I've wanted taloa. So it was nice to have a rendez-vous with one. But like the frequent fermertures exceptionelles (closed for whatever reason), I was disappointed when the chalkboard outside said "Seulement à emporter" (to-go only). However when the server greeted us as we walking in the door, I asked if we could have one at a table if we ordered tapas, and he happily said "Sure!" One of the challenges in France can be getting people to go from "Non" to "Oui." And either I'm getting better at it, or they are. Either way, it's nice to find common ground.
Trying to be prudent as it was, after all, a work day (and those dishes in my sink, waiting at home, weren't going to wash themselves), we settled on a 25cl carafe of Irouléguy, a bracing white wine from the Pyrenées. Then started off the Ahate, a taloa filled with duck confit, lettuce, and quince. I wouldn't have minded more chunks of duck confit since the chewy texture of the long-cooked, preserved duck is part of its appeal.
But the sandwich was warm, freshly made, and gone before we knew it. I could see why, as lunch hour progressed, why so many local workers were lined up at the food truck inside waiting for sandwiches. (And although I may have once mocked the concept of an indoor food truck, I have to say, it does beat having the stand out in the cold waiting for your food.)
It was good to have regional French food prepared with fresh, well-sourced ingredients, made with care – not by a feisty young chef trying to make their mark with smears of sauce, or placing herbs on a single coin of a sliced scallop with a pair of tweezers, adding some powder in the opposite corner of the plate. (ZZZZZzzzzzzzzz…)
And we were pleasantly surprised when the waiter brought over our Tortilla de pommes de terre confites à l'ail doux, the classic potato tortilla reinvented a bit, but without a hint of silliness. Instead of the classic, thick, dense potato and egg cake that'd been baked a few hours ago, and served in wedges (which isn't bad at all…), at A Noste, it's served hot from the skillet and loaded with plenty of sautéed garlic. Garlic is often presented in Paris restaurants in doses that are barely perceptible. So – wow – it was quite a hit to get something with a lot of sweet, stewed garlic in it.
Next up was a little metal basket of truly crispy, fried polenta sticks made with organic corn, that had a pleasant – and very present – smoky flavor, another one that you don't find in Paris restaurant cooking, where flavors are often on the neutral side to appeal to those seeking moderation of flavors, over zip and zing. But from the looks of the full dining room, people are eager and ready for things that are crispy and crunchy, (and garlicky), with pronounced smoky flavors. Maybe I am becoming Basque? (If I could only learn Euskara, the Basque language, which I don't think is all that easy. btw: The name of the restaurant, A Noste, means "Our Place," in Euskara. (Which is the term that I'm going to start using, since there is no time like the present to start on my quest to speak Euskara.)
Our polenta sticks, or escaoutoun, based on a version of polenta from the Landes (which is in the southwest, and as translated for us locals as Croustillants de polenta de maïs), and looked so enticing that when the waiter brought them over to us, the couple at the next table craned their necks around to see them, then asked the waiter to put in an order for them as well. (My astute dining companion was the one who recognized the "polenta" as escaoutoun, a French version of polenta.)
The final "tapas" were a trio of stuffed cabbage rolls served with crisp bacon. The portion was huge that I'm not so sure they could officially be called tapas, but we were happy – and stuffed, too. We passed on dessert, in favor of two cups of excellent coffee, another trend in Paris that's worth applauding, in addition to the youthful, friendly service. The dessert menu didn't excite us as the rest of the menu, but on our way out, I saw a few tables enjoying baskets of homemade madeleines and it makes me pause, and wish that we had ordered dessert. (One of the problems of my "job" is that I often have a stockpile of desserts and treats at home so I feel guilty for eating them elsewhere, when I have so many things ready to eat at home.) But next time.
The casual dining room has high tables (and a few low ones) that are shared and convivial. Our copious lunch for two was €51, which included wine. They don't take reservations for the ground floor tapas bar and my friend and I are still trying to find a day (or evening), to go back and have dinner upstairs. Ilusioa egiten dit*.
A Noste
6, bis rue du 4 Septembre
Tél: 01 47 03 91 91
Métro: Bourse or Quarte-Septembre
Open daily, seven days of the week for tapas from Noon to 11pm (no reservations). The restaurant is open from Noon to 2pm, and 7 to 10:30pm by reservation. The taloa truck serves from Noon to 3pm, Monday to Friday.
*"I'm looking forward to it," in Basque.