I have two strategies for finding good restaurants, which I use often—especially when traveling. I've never, ever been steered wrong using them, and I'm happy to share them with you.
One method I employ is to walk into a fish market and ask them where to eat. Fishmongers always know where to find food that's impeccably fresh and those strapping young men never fail to steer me towards the best addresses.
The other method I rely on, if it's lunchtime, is to walk around and see what restaurants are packed-full of older businessmen. Most often they've worked in the neighborhood for a long, long time and have their favorites—which is usually because of the good food.
Such was the case the last time I ate at A la Petite Chaise. The menu features textbook-perfect examples of French classics: slabs of foie gras, escargots, French onion soup, and salads of boudin noir with a big pile of fresh greens.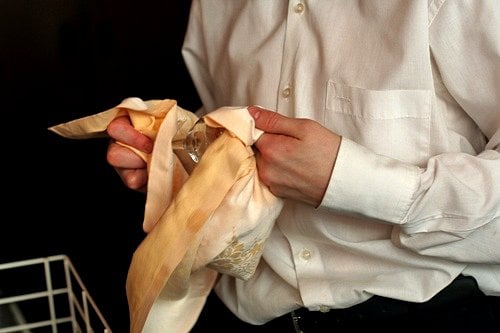 For main courses, my dining companion had a seafood choucroute; an enormous heap of sauerkraut with various pieces of fish and a creamy beurre blanc sauce (who said fish had to be healthy?) Even though it was a warm spring day, I had to order the pot-au-feu. Looking at the classic, hunched over, flat-footed waiters, I knew the version at A la Petite Chaise would be perfect.
(But please, disregard the hokey interior. Although considering this is said to be the oldest restaurant in Paris, founded in 1680, it could be worse. Just enjoy the food and the servers. And besides, what's not to love about a men's room where you need to stand on the toilet to shut the door?)
And my hunch was right: three giant slabs of very, very tender beef, honest-to-goodness fresh vegetables, (not canned or frozen, which is sadly, sometimes the norm) and a lovely broth were set down in front of me. The accompanying Dijon mustard, cornichons, and coarse gray salt were put to good use on everything. I was happy.
The house Sauvignon blanc from the Touraine was fine, if a bit neutral, but we agreed the Burgundian Chablis by the glass was much more inviting. The €20-€33 pre-fixe menu included a glass of any wine at lunch, as well as coffee. At dinner, those are extra.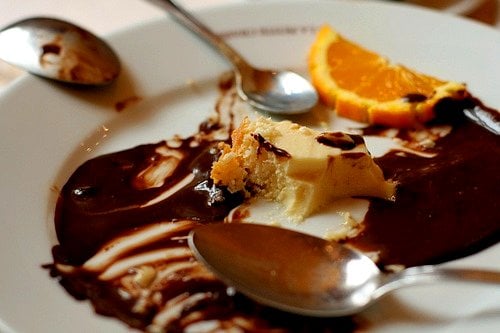 By the time dessert rolled around, we were ready to be rolled out the door, so we passed on the crème brûlée and the bitter chocolate cake, in lieu of the coconut flan with ultra-dark housemade chocolate sauce, which was cool, creamy and delicious. There's also ice cream and sorbets, but we'd had our fill. At least for one meal.
A La Petite Chaise
36, rue de Grenelle (7th)
Tél: 01 42 22 13 35
The restaurant is open every day of the week, which is great if you're looking for a place for Sunday dining.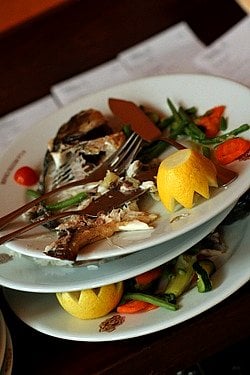 Bistro Volnay
In addition, I just had a nice lunch at Bistro Volnay (8, rue Volney, 2nd, tél: 01 42 61 06 65), a new restaurant and wine bar in an area not necessarily known for especially great dining (example: the "American Dream" restaurant, just around the corner.) But at lunch, the place was also full of businessmen.
The food was fine, but the wine list was terrific. There's a €24 lunch menu (un plat, a glass of wine, and Illy coffee) or a €33 three-course prix-fixe. The engaging sommelier put together a list of somewhat unusual wines, many for just €3 a glass. She spent a lot of time talking to us about the wines, and I had a lovely Juraçon, rich and minerally and slightly exotic, an unusual and perfect choice with my garlic and butter-braised razor clams.
If you find yourself in that neighborhood, it's the perfect place to stop in for a bit of charcuterie, including Spanish ham and chorizo, along with a glass of wine, or two.
Related Posts:
10 Insanely Delicious Things Your Shouldn't Miss in Paris
Recommended Paris Dining Guides
Where to Find a Good Cup of Coffee in Paris
Two Delicious New Dining Guides to Paris