My Favorite Sesame Baguette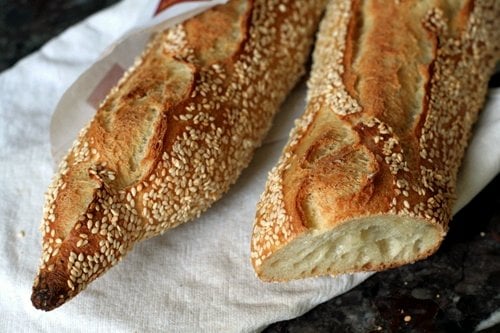 A woman who writes highly-regarded bread books recently contacted me. She was coming to Paris, and wanted to ask me some questions about various bakeries and their baguettes, specifically, which I liked. I wrote her back and told her that when you live in Paris, you buy your bread from the local boulangerie (there are four within a block of my apartment) rather spending thirty minutes on the métro, crossing town, for bread. Few, if any, in Paris go farther than that for bread.
That said, at the moment, the best baguette I know is on the street where Romain has his studio, up near Montmarte. The bakery is dowdy looking; stained fluorescent lights grimly flickering their way to a slow death, faux-wood paneling whose plastic is yellowed, cracked and peeling, and the couple that owns it (he makes the bread and she sells it) always look like they're rather be doing anything else instead of baking and selling bread.
But of all the breads in Paris, including the hearty sourdough loaves of pain Poilâne or the crackly-crunchy baguettes at Landemain, this is the bread I crave. I never bother toasting it in the morning; I just make sure the night before that there's plenty of salted butter left at room temperature so the following day, it glides on in a glorious thick yellow, buttery slick.
No matter what happens the rest of the day, (and considering the way things have been going around here lately, hooo-boy…do I need it…) at least the first ten minutes have been almost close to perfect.
I can't share the name of the bakery, since not only do addicts never give up the names of their dealers, but the hours are erratic, and they only make, like, six or seven loaves pain au sésame a day and run out all the time. Which is why I buy two or three at once. I'm stockpiling them in my freezer, carefully-portioning them out in zip-lock freezer bags, for the day when those folks decide to let the last flickering light bulb die in their run-down shop and just give it up once and for all.
I can eat one of these sesame-topped baguettes all by my lonesome and it's become my favorite around here. But I know I'm not alone. Often I see another fellow, about my age, leaving the bakery wild-eyed, carrying three sesame baguettes as well. I don't know if he's stockpiling them too, but I do know that I find myself lying awake at night, wondering if I should be trying to get there before him, to make sure there's going to be enough for me.
So far I've been successful. But mon dieu, may the lord help him if I ever get there and find out they're all gone. Because we all know how drugs affect the mind, and although the mind is a terrible thing to waste, in my case, the mind is a terrible thing to mess with—and so are my drugs.
Update: Oh no! (The bakery closed, another took it over, and that was closed, too.)
Update 2 (2019): My new favorite sesame baguette is available at Boulangerie Utopie.