Some time ago I switched my allegiance to grainy bread. Perhaps it was because I was thinking, "If I'm going to eat all this bread around here, I should at least be eating grainy bread." Or perhaps I got bored with the one-note flavors of white bread, and began enjoying the fuller flavors of whole grain loaves. But over the last few weeks, while I've been in between kitchens (and toasters), I now wake up each morning with the sole goal of scoring a fresh baguette for breakfast.
I'm often asked what I would miss about Paris when I'm not here, and although you can pretty much get anything you want nowadays anywhere in the world (thank you, internet…well, I think…), the bread in Paris is still pretty great. Not every bakery makes a good baguette, but when you get a perfect specimen, one that crunches audibly when you bite through the crust and the inside has a creamy color and a slight tang from a bit of levain – save for a swipe of good butter or a bit of cheese – anything else is simply unnecessary.
In Paris, one settles on a bakery in your neighborhood that you like, and that's the one you go to. However not every bakery makes a great baguette, which is why you need to find your personal favorite. The quality of baguettes vary, but some of the best ones in Paris get a yearly boost from an annual contest, Grand prix de la baguette de la ville de Paris, to discover who makes the best baguette. And subsequently, I get asked by visitors if I go all the way across town, switching métros two or three times, to head over to the winning bakery to get a baguette.
Frankly, I don't know anyone in Paris who goes farther than two blocks to get a baguette. Not just because you wouldn't dare take one on a crowded métro and expect it to arrive at your destination intact (and I'm not talking about the piece you snitch off the end) but because getting a baguette in Paris isn't an "event" – it's just something that you do as part of every day life.
In spite of its shape, la baguette is feminine. The word has several somewhat related meanings in French, including 'magic wand' and, curiously, 'chopsticks.' Also contrary to what some people think, baguettes are more Parisian than French, per se, and you won't find nearly as many baguettes at bakeries outside of Paris as you do here in the capital.
And for those who live out of the city, it can be a challenge to find good bread in the countryside, which is unfortunate because when I travel, I always hope to find some wonderful rustic bakery with a wood-fired oven with an array of amazing breads coming out of it. But even in Paris, the current trend seems to be to order a baguette pas trop cuite, or "Not too cooked" which used to surprise me, until I realized that the lighter, less-crisp baguettes meant less vacuuming. I'm not a fan of vacuuming, but if given a choice, I'll take a well-cooked baguette over stepping on a few bits of crumbs any day.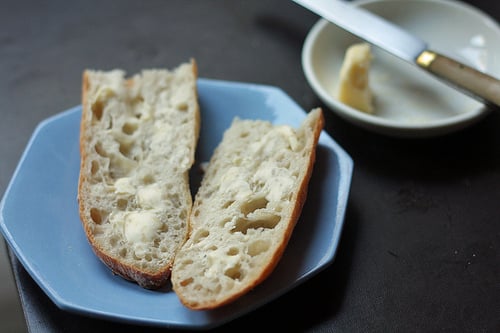 French people don't butter their bread in restaurants unless it's slices of the coarse rye bread alongside a plate of glistening, iced oysters, or they're dining in a fancy three-star restaurant. (And in most restaurants and cafés you don't get bread plates either, which befuddles visitors, who valiantly try to balance their bread on the edge of their dinner plates.) But they do butter their morning toast, generously. If the baguette is leftover from the night before, which it usually is, it's toasted to revive the texture.
(One of the best tips I know to keep it fresh and not let it get soggy, is to roll your leftover baguette up in a linen cloth or tea towel.)
But I must say, as someone who hates nothing more than getting dressed first thing in the morning – especially before breakfast, just lately I've developed a particular craving for fresh, untoasted sliced baguette in the morning spread with precisely the right amount of beurre salé, the life-changing butter from Brittany with big crystals of salt that light up your taste buds a little every time you crunch down on one. I'm so hooked that at this point, when I'm served unsalted butter – no matter what time of the day it is, I sprinkle a few grains of salt on top because otherwise it just tastes drab to me.
My current problem is that I'm overindulging in bread. Whereas I used to have two reasonable slices of grainy bread for breakfast, I'm now splitting a baguette down the middle and biting off more than I should chew – so to speak. And as the day wears on, I'm finding myself at the kitchen counter with a bread knife in hand, hacking off bits and bites whenever I'm within slicing distance. I know there are worse fates and I'm not complaining. In fact, I'm pretty happy to have rediscovered baguettes. Now pass the (salted) butter.

Related Posts
Ten Things to Bring Back from Your Trip to Paris