Much of what gets called Tabbouleh bears little resemblance to what Lebanese Tabbouleh is. When I moved to France and began eating in traditional Lebanese restaurants, I was served bowls heaped with fresh herbs, a few tomato chunks, and very, very few bits of bulgur (cracked wheat.) Unlike what is served as Tabbouleh in many places – which is often a bowl heaped with bulgur with a few tomatoes and bits of parsley and mint flecks in it – the cracked wheat is meant to be more of a garnish, and I've come to love traditional Lebanese Tabbouleh, which is a green, herbal salad with a touch of spices.
Anissa Helou is a highly acclaimed cookbook author and culinary guide, who I was fortunate to visit the market in Sharjah with, and I asked her to share her recipe for Tabbouleh in this guest post by her. Literally, right after I tossed in the dressing, I could not stop eating it. You will flip out when you try this. -David
Tabbouleh
by Anissa Helou
It's not summer yet but I have just bought my first good tomatoes, a variety called Marmonde, large and ridged with a green tinge running through the top which faded within a couple of days. The texture of this variety is firm without being hard, and they don't go mushy as they ripen making them ideal for Tabbouleh, where you need firm but ripe tomatoes.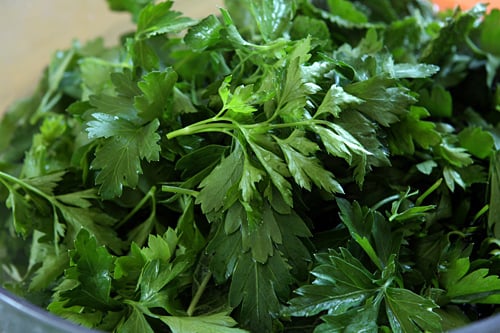 Tabbouleh has now gone truly global but before the world discovered and adopted it, it was one of very few dishes that the Lebanese could claim as their own – there has been a tussle for the last few years between Israel and Lebanon as to who owns tabbouleh!
At first, the western version bore no resemblance to the Lebanese but things have improved and you can now find much better ready-prepared tabbouleh although often it will have far too much bulgur in relation to the fresh herbs and tomatoes which should be the main ingredients. Bulgur plays only a minor role to provide a little starch.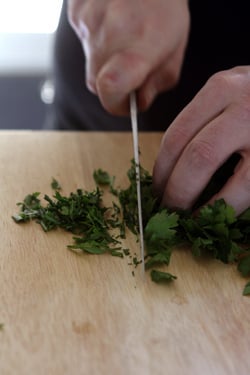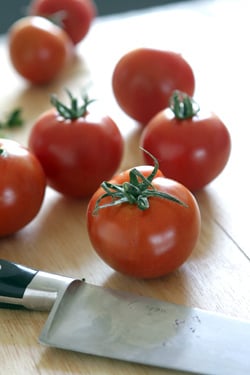 Here are my tips for the ultimate Tabbouleh. First you need to shop right. Get the freshest and tenderest flat-leaf parsley you can find. You will need a lot so better to buy it in a market or Middle Eastern shop rather than in a supermarket, if you can. The same with the mint. (Although you may want to use less, since it's generally more aromatic.)
And you ought to buy the best tomatoes you can find. As I said, firm but ripe. When I am not using Marmande or heirloom, I buy organic. Regular tomatoes are insipid and watery. The choice of bulgur (cracked wheat) is also important. It needs to be fine and preferably the dark Lebanese variety over the pale Turkish one. The latter goes rather mushy.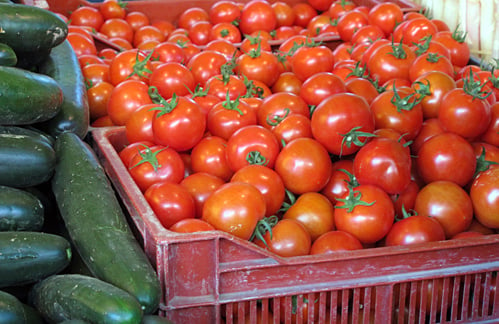 Now for the preparation: forget about using a food processor despite the copious quantity of herbs. It is a definite no-no. Instead, make sure your knife is very sharp. Then, gather as much herbs as you can handle under the palm of one hand (the parsley with a little stalk left and the mint, leaves only), holding them quite firmly but without crushing them and cut into the herbs as if you are shaving them into thin strips.
You can chop the parsley ahead of time, even the day before, as long as you store it loosely in a hermetically sealed bag or container and keep it refrigerated whereas it is best to chop the mint soon before you are ready to mix and serve the salad. It tends to blacken quickly once it's chopped. The spring onions need to be trimmed of any damaged outer layers and again 'shaved' into thin disks.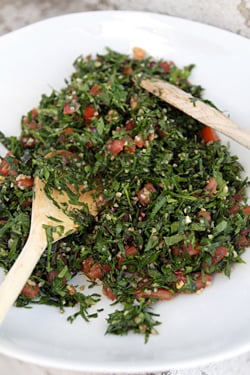 As for the tomatoes, you can de seed them if you like. I don't and I definitely do not peel them. The skin stops the cubes from going mushy. What is more important is to chop them ahead of time so that you can eventually drain the excess juice. This way you can keep the salad crisp. And the best way to dice the tomatoes into the required small cubes is to slice them thinly then put two or three slices on top of each other. Cut these into thin strips, then turn them and cut across into small cubes.
If you are using fine bulgur, you won't need to soak it. Simply rinse and drain it then let it fluff up for about half an hour, stirring it with a fork every now and then.
The seasoning varies from family to family or region to region. I learned from my mother and grandmother to use a pinch of cinnamon, a good dose of allspice (or the Lebanese 7-spice mixture), and some black pepper. My mother uses too much lemon juice. I prefer less, mainly because I often serve tabbouleh with wine. And of course olive oil, the best you can afford.
When I lived in Beirut, our supply came from my mother's uncle who had olive groves in the Chouf mountains. He picked his own olives and never left the press while they were being pressed to make sure they didn't mix his oil with an inferior one. Not to break with tradition, I get my oil in London from my friend Mary Taylor Simeti who grows her own olives in Sicily although I am not sure if she also watches her olives being pressed. I must ask her. And finally salt. I only use sea salt, and these days I have a new favorite, a pink flaky salt which I brought back from Australia.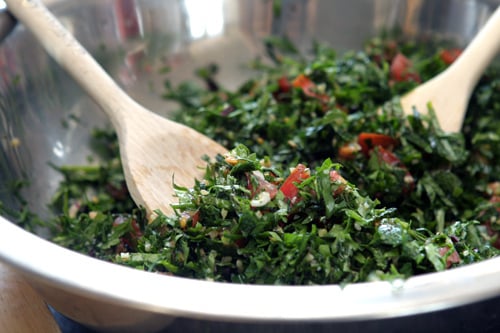 Tabbouleh
Anissa's recipe uses plenty of flat-leaved parsley. When shopping, if weighing them, each bunch I bought weighed between 3 to 4 ounces, or 85 to 115 grams, but if you want to be certain, simply weigh them at the market so you know you have the amount called for in the recipe. Once home, pick the parsley and mint leaves from the stems and wash them in a salad spinner. -dl
3

tablespoons (30g)

fine bulgur

3

medium (600g)

firm ripe tomatoes

,

diced into small cubes

2

(50g)

spring onions or scallions

,

trimmed and very thinly sliced

14

ounces (400g)

flat-leaf parsley

,

most of the stalks discarded, leaves washed and dried

2

cups (20g)

mint leaves

,

washed and dried, no stems

1/4

teaspoon

ground cinnamon

1/2

teaspoon

ground allspice

,

(or Lebanese seven-spice mixture)

1/4

teaspoon

finely ground black pepper

salt to taste

juice of 1 lemon

,

or to taste

2/3

cup (150ml)

extra virgin olive oil

4

gem lettuce heads

,

washed and quartered
Rinse the bulgur in several changes of cold water. Drain well and put in a bowl. Stir it with a fork every now and then to help it fluff up.

Put the diced tomatoes in a bowl and set aside while you prepare the herbs. A word of warning: do not chop the herbs with a mezzaluna. This will only bruise them.

Using a razor-sharp knife, grab as much of the parsley and mint as you can handle in a bunch, and slice them very thin, to end up with nice, crisp slender strips.

Drain the tomatoes of their juice and put in a large bowl. Add the spring onion and herbs. Sprinkle the bulgur all over. Season with the cinnamon, allspice and pepper. Add salt to taste. Add the lemon juice and olive oil and mix well. Taste and adjust the seasonings if necessary. Serve immediately with the quartered gem lettuce.
Anissa Helou is the author of several cookbooks, including Lebanese Cuisine, Mediterranean Street Food, and Savory Baking from the Mediterranean. She leads culinary tours and teaches cooking classes. You can follow her on Twitter.
David's Notes:
-This recipe makes quite a bit. And although it's easy to eat it all, feel free to cut the recipe in half.
-Tabbouleh is best served the same day it is made. Anissa gives some do-ahead tips in the post, and although it changes a bit overnight, I dressed all the salad and happily enjoyed the rest the following day.
-The best way to chop the herbs is to gather them into a tight wad then using a chef's knife to chiffonade them, cutting them in thin strips.
-If you can only get medium bulgur, you can use it in place of the fine bulgur. I've made it with medium grains and it came out fine. If you're concerned it won't soften, let the cracked wheat sit in cold water a few minutes before draining.
-Like others, I was surprised that Tabbouleh had spices in it. But in fact the word "Tabbouleh" is a derivation of the word Tābil, which means "to season" or spiced, and is also the name of a Tunisian spice mix.
-If you wish to track down Lebanese seven-spice powder, it's available on Amazon, at Kalustyan's, or can be found markets that specialize in Middle Eastern ingredients.
-Cracked wheat, or bulgur, is available in natural food stores and ethnic markets, Many well-stocked grocery stores carry it as well.
-Because this recipe relies on a small amount of cracked wheat, you can make a gluten-free version by substituting a few spoonfuls of cooked quinoa or millet.
-There are several spellings of Tabbouleh (tabbuleh, tabouleh) and bulgur (burghul, boulghur, bulghur) are amongst them.
Related Recipes
Fattoush (Kalyn's Kitchen)
Israeli Couscous with Butternut Squash and Preserved Lemons
Roasted Root Vegetables and Wheat Berry Salad
Quick Coconut-Saffron Ice Cream