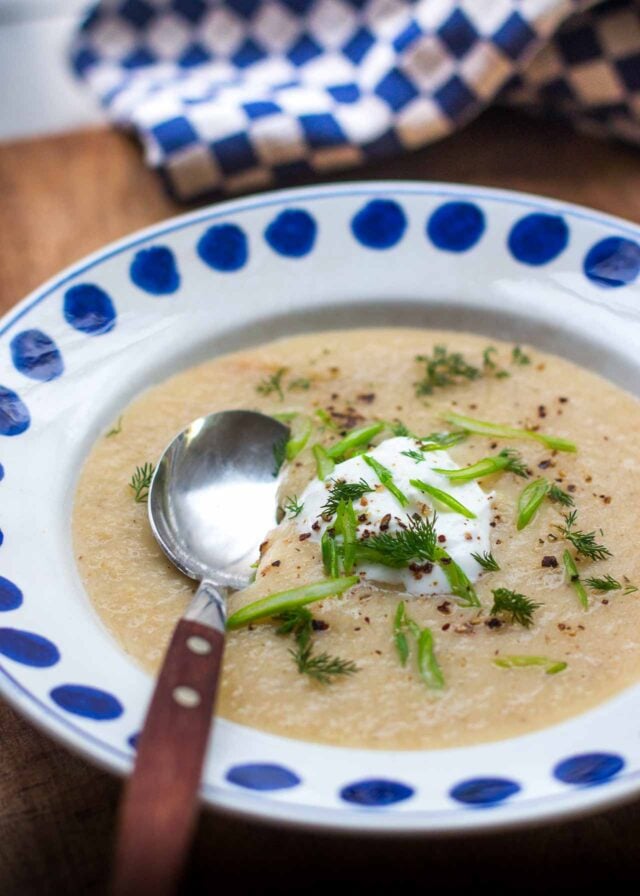 I've always dreamed of writing a soup cookbook. A book of recipes where there's no need to carefully measure or weigh things, variations are not only allowable…but encouraged, and cooking times are not cast-in-stone instructions to be followed like the ten commandments. It's no wonder the French love les soupes so much!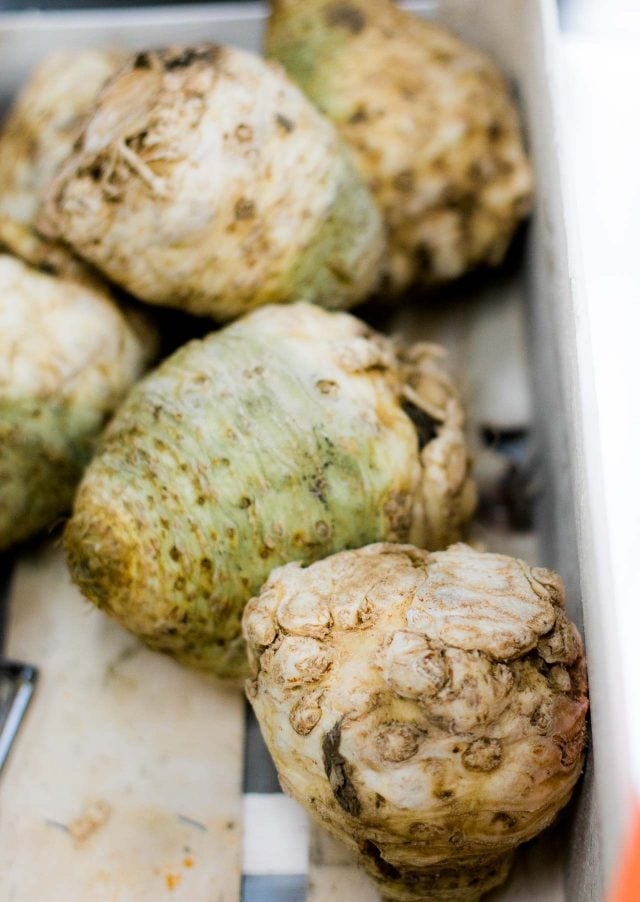 The word "supper" comes from soup, and in parts of France, the verb souper means having dinner, or supper. Being French, there are a multitude of ways to conjugate the verb, such as Nous avons soupé, or We had soup…or We had dinner, and Ils eurent soupé (the passé antérieur), which is even more of a mouthful. I'm not going to try to teach you French verbs, because I have a ways to go before I master them myself (although it's a relief to know that even the French have difficulty with them too.
While French verbs may be a challenge, soup is easy. And the French don't complicate those. Most homemade soups are purées, or véloutés, enriched with cream, so they're velvety. (See? French isn't that hard to understand…)
In addition, soup recipes can be successfully multiplied or divided, and made in advance and frozen. They're also not that finicky; if someone adds an extra bit of leeks, or an additional clove of garlic, to the pot, the world won't open and swallow us all up and life as we know it won't end. What's not to like about that? It's certainly something worth writing about.
However, the soup cookbook likely won't happen. Still, that's not going to stop me from making soup, which, aside from clutching our hot water bottles, Parisians use to keep warm during the winter by eating lots and lots of hot soup.
Making soup in the winter is easy in France as root vegetables and squash are readily available at the markets and grocery stores. I rarely order soup in restaurants, since I can't see paying ten bucks for a bowl of something that's ridiculously easy to make at home. No thank you.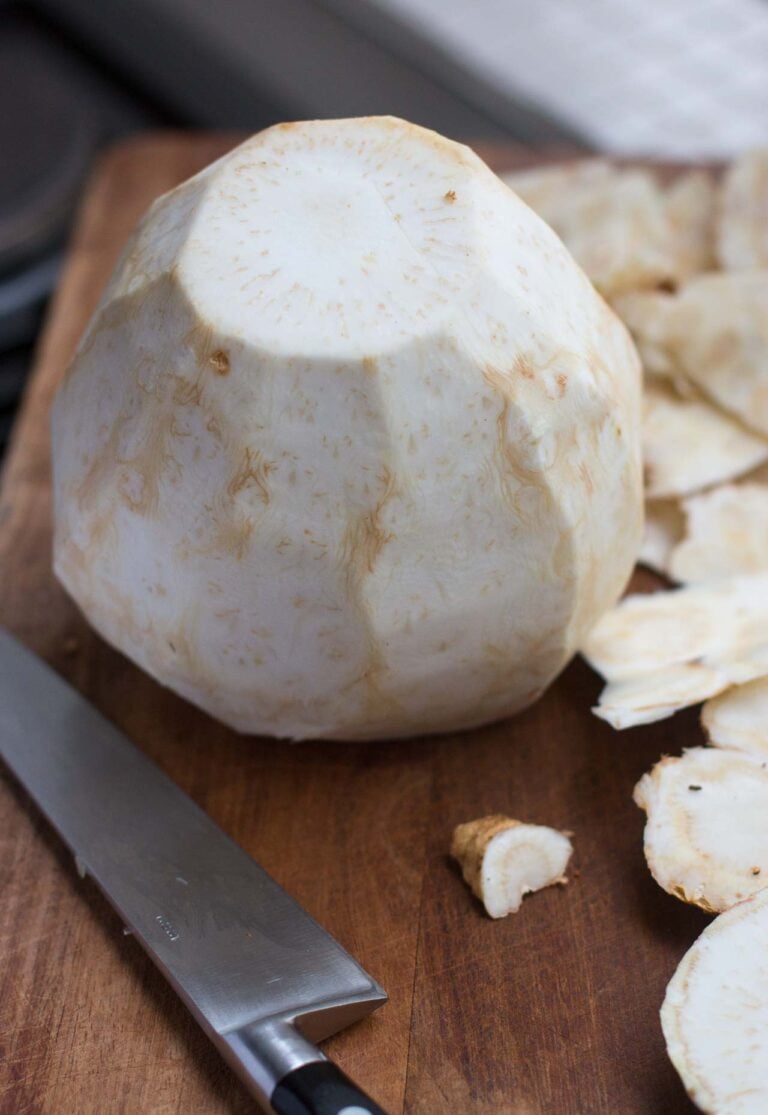 For a number of years, some root vegetables were harder to find, like rutabagas, salsify, and parsnips, while others, like turnips, beets, potatoes, squash, and celery root are seemingly everywhere. When I arrived in France and tried to track them down, I was told that they weren't widely used was because of their association with the poverty of the war. (Although the war ended in 1945, nearly eighty years ago…)
But now many "forgotten vegetables" (légumes oubliés) have become branché or trendy, which is a trend I'm happy to hop on.
Celery Root Soup is very easy to prepare—and cheap. I think an entire pot of soup cost me less than five euros in ingredients and took me less than ten minutes to put together. While leeks are very French – faire le poireau means to wait forever for someone (because leeks grow slowly) – they are quickly scooped up at the markets, but onions will do well in this soup in their place.
The best way to clean leeks is to cut off the very dark, tough, green parts, which the sellers will do for you at the markets, making it easier for you to put them in your shopping basket. (Although there are ways to cook with them.) Use a knife to cut them lengthwise, starting just below the Billy goat beard-like end, keeping it intact. Then turn the leeks a quarter turn and make another lengthwise cut in each. Fill a deep bowl with cold water, spread open up the layers with your fingers, and swish them around briskly until there's no grit at the bottom of the bowl or between the leek layers. Depending on the leeks, you may need to double-wash them to ensure there's no grit. (There are some pictures here.)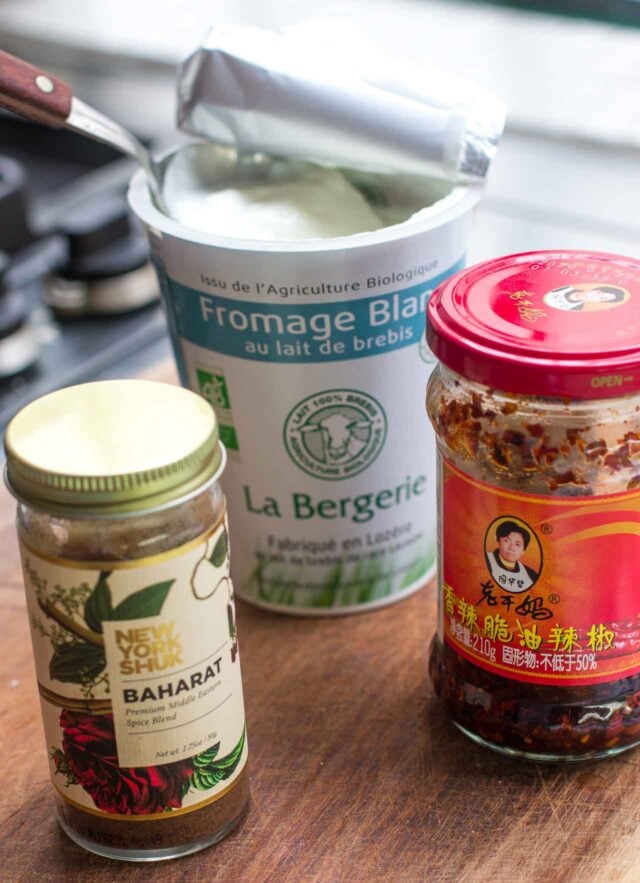 I've recently come around to using water for soup, rather than stock. For one thing, boxed stock isn't available in France (although Maggi just introduced it), but water is easily available and works just fine.
This soup is also quite healthy and I don't add cream or anything like that, but instead finish each bowl with a swirl of olive oil or a dab of crème fraîche or yogurt (sour cream works, too). I also use white pepper; the good brands have a lively, zippy flavor, although black pepper is fine. You're welcome to use various toppings, depending on your mood, which can include everything from toasted croutons, crisp bacon, and fresh herbs, to chili crisp, toasted pumpkin seeds, or a sprinkle of a spice mixture like za'atar, baharat, or dukkah, to take it in another delicious direction.
Celery Root Soup
A friend who teaches cooking in Tuscany, Judy Francini, taught me to slice garlic very thinly, rather than mince it, which can cause it to burn. And I've been doing that ever since. It's also easier! I sometimes add a few springs of fresh thyme and/or a bay leaf or two for additional flavor, but you can leave them out if not available or try some sage.
If you'd like to use some stock, you could replace half the water with chicken or vegetable stock, although I find it just fine made with water. I did suggest a few favorite toppings in the post, but feel free to add your own!
2

tablespoons

butter

,

salted or unsalted

2

tablespoons

olive oil

2

leeks

,

cleaned and chopped

2

garlic cloves

,

peeled and finely sliced

sea salt

1

large, or several smaller, celery roots

,

(about 3 pounds/1.5kg) peeled and cubed

6

cups (1.5l)

water

1

bay leaf

,

(optional)

10

sprigs

fresh thyme

,

(optional)

1 to 1 1/2

teaspoons

freshly-ground white pepper

,

(or black pepper)

scant 1/8

teaspoon

chili powder
In a large pot, melt the butter with the olive oil over medium heat.

Add the leeks and cook for about five minutes, stirring frequently. Add the garlic cloves and season with salt, and continue to cook until the leeks and garlic are soft and translucent. If the leeks begins to stick and brown too much on the bottom, add a pat of butter or pour of olive oil.

Add the cubed celery root and water. Increase the heat to high, bring to a boil, then reduce to a strong simmer. Add the bay leaf and thyme, if using, and cook with a lid ajar on top until the celery root pieces are soft and easily pierced with a paring knife, about 30 to 45 minutes.

Turn off the heat and add white pepper and chili powder, pluck out the herbs, if you used them, then purée the mixture using an immersion blender, or let the soup cool to room temperature and whiz in a standard blender until smooth. (Do not puree hot soup in a blender as it can create a vortex and blow off the lid, which is dangerous.) Taste the soup, and season with additional salt and pepper if desired. If the soup is too thick, it can be thinned with additional water.

To serve, rewarm the soup in a saucepan and ladle into bowls.
[Note: This post was originally published in 2008, and has been updated in 2022.]