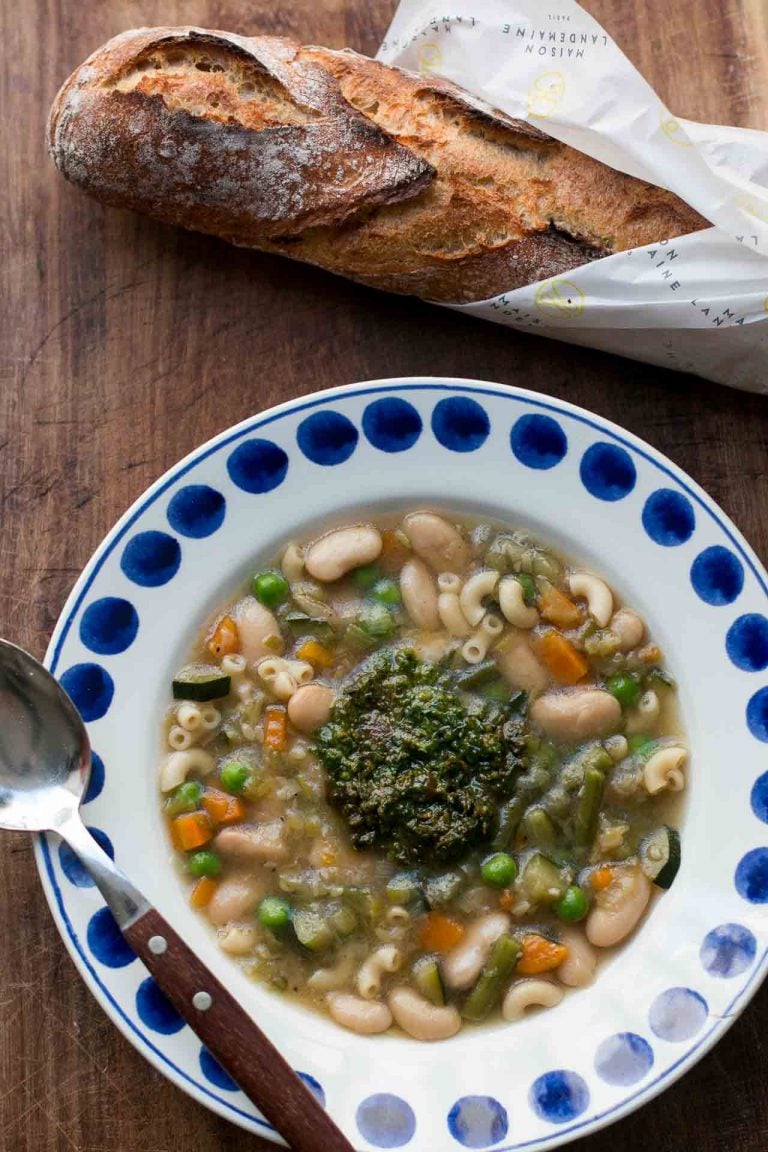 One of the great French dishes that I make every summer, when I gather fresh vegetables and basil at my market, is Soupe au pistou. Originally from Provence, the soup is meant to use the lovely vegetables of the season, and is crowned with a spoonful of pistou in the middle of each bowl, which guests are encouraged to swirl in themselves.
Being French, of course, there is some controversy about the right way to make this soup. I don't vary too much from the classic, which is said to use only water, not stock, and you can add whatever vegetables are best where you are. I have seen versions that use stock, or the broth may be flavored with a hunk of salt pork. But I prefer it as simple as possible, to let the vegetables shine through.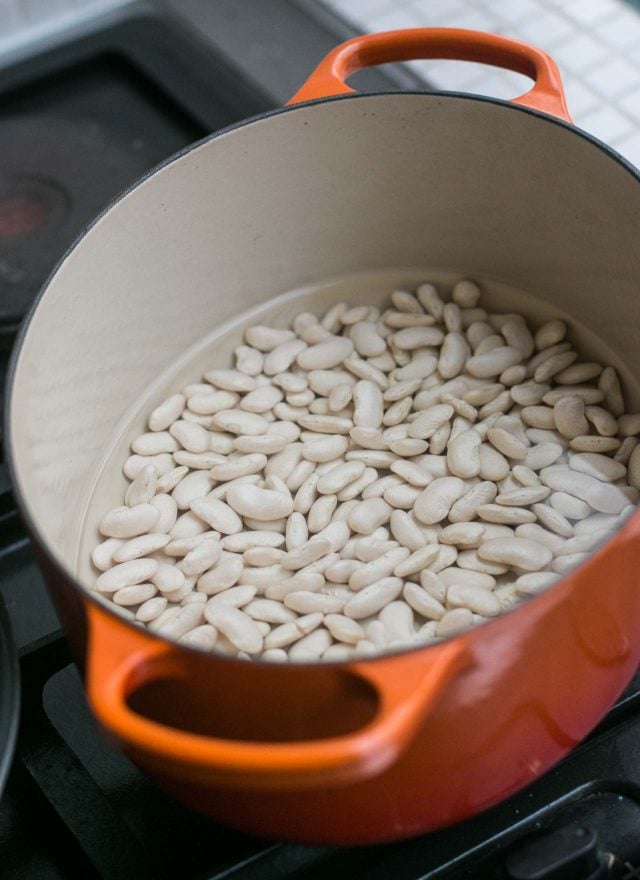 Feel free to vary the vegetables from what I've given: turnips, potatoes, pumpkin, and Swiss chard leaves, all work well. Some put tomatoes into the soup, so you can add 3/4 pound (300g) of fresh diced, de-seeded tomatoes, or the contents of a similar sized can of chopped tomatoes. And if you do use tomatoes be sure to save one because – yes, it's controversial – but I like to pound a small one into the pistou which helps it disperse nicely into the soup. (Pistou is related to pesto, but has no nuts.)
If you can get fresh shelling beans, those are a real treat. I took the liberty of using good-quality dried white beans for this pot of soup. But most of all, be sure to have lots of fresh basil. To me, it's the star of the show at the market in the summer, and in the soup.
Soupe au pistou
Try to have all the vegetables diced and sliced about the same size, which makes for a nice presentation. Of course, you can vary the vegetables according to what's available. Feel free to add any other herbs when sauteing the vegetables. If you wish to use canned beans, use 2 cups (300g, drained) or for a real treat, use 2 cups of fresh cooked
shelling beans
. There are a variety of ways to make this soup. Some people will cook the beans in one large pot with 3 quarts (3l) of water, then just add the vegetables once the beans are tender. I like to cook or "sweat" vegetables, in a saute pan first, which encourages extra flavor out of them.
For the soup
1

cup (200g)

dried beans

2

bay leaves

3

tablespoons

olive oil

2

medium onions

, peeled and diced, or 3 leeks, cleaned and sliced

2

teaspoons

chopped fresh thyme

2

medium carrots (6 ounces

,

170g) carrots, peeled and diced

2

medium zucchini (1 pound

,

450g) diced

8

ounces (260g)

green beans

,

tips removed and cut crosswise into quarters

6

cloves

of garlic

,

peeled and minced or thinly sliced

1

tablespoon

sea salt

,

and freshly ground pepper, to taste

1

cup (250g)

fresh or frozen peas

1

cup (100g)

dried pasta; any small variety will do

,

such as orzo, vermicelli, elbows, or shells
For the pistou
1

large clove

of garlic

,

peeled

pinch

of salt

2

cups (40g)

gently packed fresh basil leaves

1/4

cup (60ml)

olive oil

1

small tomato; peeled

,

seeded, and diced

1 1/2

ounces (45g)

Parmesan cheese

,

grated
Rinse and sort the beans. Soak the beans overnight covered in cold water.

The next day, drain the beans and put them in a large saucepan with the bay leaves and enough water to cover the beans with about 1 1/2 quarts (1.5l) of water. Cook the beans for about an hour, or until tender, adding more water if necessary to keep them immersed. Once cooked, remove the beans from the heat and set aside.

In a Dutch oven or large stockpot, heat the olive oil.

Add the onions or leeks and cook, stirring occasionally, until soft and translucent.

Add the thyme, diced carrots, zucchini, green beans, garlic, and salt. Season with pepper, and cook, stirring occasionally, until the vegetables are completely cooked. Add the cooked beans and their liquid, then the peas and pasta, plus 2 quarts (2l) water. Bring the soup to a boil, and simmer a few minutes until the pasta is cooked.

While the soup is cooking, make the pistou.

Pound the garlic to a paste in a mortar and pestle (or use a food processor) with a generous pinch of salt.

Coarsely chop the basil leaves and pound them into the garlic until the mixture is relatively smooth.

Drizzle in the olive oil slowly, while pounding, then pound in the tomato and cheese. Taste, and season with more salt if desired.
Notes
To serve: Ladle hot soup into bowls and add a generous spoonful of pistou to the center and swirl gently. Keep extra pistou within reach because you'll likely want to add more to the soup as you go. Notes: If the soup is too thick, thin it with additional water. If not planning on serving all the soup right away, keep the cooked pasta separate and add only what's needed for each serving. If left in the soup for a long period, it will continue to swell up and become overly soft.
Related Recipes and Links
Soupe au Pistou (101Cookbooks)
Soup au Pistou (Tea & Cookies)
Red Pistou Pasta (Serious Eats)