Nice
If there's anything nicer than taking a break and heading to the south of France, I can't imagine what it could be right now. My first day in Nice, we ran from socca stand to socca stand, tasting as many as we could. Fortified, we hit the wonderful market in the old part of town to select our fixings for a lovely dinner.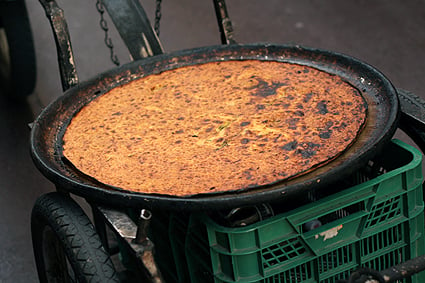 The way of life down here, and the cooking, are a world away from Paris. Generous bunches of basil find their way into pistou, which we pounded in the mortar and pestle until almost smooth.

Afterwards, it was stirred into a fresh vegetable-laced soupe au pistou. The locals told me it was traditional to stir it in very well, but I couldn't bear to since there's nothing better than big spoonfuls of that bold garlicky basil and pine nut sauce. I can never get enough pistou and it's figured into every meal I've had here, somehow.
Dessert was baked apricots and sour cherries with a few drips of plum kernel oil and chestnut honey. I added a sprig of lavender only because the fragrant and colorful bushes outside the door were begging to be used in something. It was paired with a incredibly fresh brousse; a fresh, soft Corsican cheese. I was surprised we still had room after the obligatory stop at Fennochio for some ice cream on the way home. I'm heading back later in the week to meet with the ice cream maker and I can't wait.
No trip to Provence—or anywhere in France—is complete without sampling the local wines. Rosé is the wine of choice around here.
And I'm happy to oblige.