Where to Find the Best Socca In Nice
"The great thing about socca," Rosa Jackson told me, as we ripped into our second double order of the giant chickpea crêpe between us, "is that even if you're not hungry, you can still eat it."
A few days later, while standing on the square in Vence, waiting while a young man poured chickpea batter onto a very hot oiled griddle, a timid young American woman asked him for a crêpe. He explained, in fractured English, that he only made socca, and she started to walk away.

Because I hate to see anyone miss out one something so delicious, I brashly stepped in, telling her the chickpea griddled-cakes were a specialty of the region and that she really should try one, but she wasn't convinced and left empty handed.
Me? I was waiting for my second.
Socca is a specialty of the region and you're not likely to find them being made anywhere else. And it's not something one makes at home: to be authentic, socca should be baked over a fire. (Here's a socca recipe, in case you're determined to try one at home.) The best are baked on a searing-hot griddle, and even though I've been on the Côte d'Azur less than a week, I think I've tried so many that I can crown myself an expert.
And I've got the gut to prove it. Believe me, there's nothing that will make one feel more tubby than to spend a day on a beach surrounded by French people in those micro swimsuits.
Here's the three best places I found for socca in and around Nice…
1. Chez Pipo
Rosa Jackson, who's been leading culinary tours of Nice for years, and lives in the old part of the city herself, asked me where I wanted to go when we met. Not hesitating for a moment, I said "For socca", so we breezed past some great food shops, where she pointed out some of the local specialties, until we arrived at Chez Pipo (13, rue Bavastro, Tél: 04 93 55 88 82).
A bit off the beaten track, it's well-worth the effort to take a detour to this corner hot-spot, which I mean in the most literal sense. Each socca is piping-hot…and massive, about 5-feet in diameter, and raked as it's baked which makes the surface extra-crispy. When the giant disk is yanked from the oven, it's brought to your table seconds later. Don't wait—dive right in! The drink of choice is icy rosé and be sure to request a double order, since you'll eat every bite. Rosa tells me the place gets packed, so try to go in off hours. (Opens at 5:30pm, and closed Mondays, except in summer, when they're closed on Saturdays.)
2. The guy at the outdoor market in Vence
There's a lovely little market in Vence with local farmers selling their fruits and vegetables. But the big draw is the socca-maker. (He told me he's just there on Fridays and Sundays.) Each socca feeds two, and you have to wait for him to make them, which he does two at a time, to order, in his small, but effective, wood-fired oven.
Super-crisp and sprinkled with salt and pepper, after I did my rounds of the market, I found myself back at his stand, ordering my second. Then I found myself back there today…so in case you were in the area, and saw some guy hovering impatiently by the oven, that was me.
3. Chez Thérésa
In the midst of the daily Cours Saleya market, in Vieux Nice, stands an overly made-up woman, serving socca from a larger, fire-breathing drum. Thérésa will scrape off shards and bring them to your table, along with plastic cups of well-chilled rosé from the Var. And I can't imagine a better way to spend ones first morning in Nice, which is where I spent mine.
The socca is actually baked just a few blocks away and rushed to her stand via bicycle. Be sure to arrive early, as she runs out around 1pm and when she's done, that's it for the day. Très provençal. Later in the week, eager for more, I arrived at 1:02 and had just missed her last batch.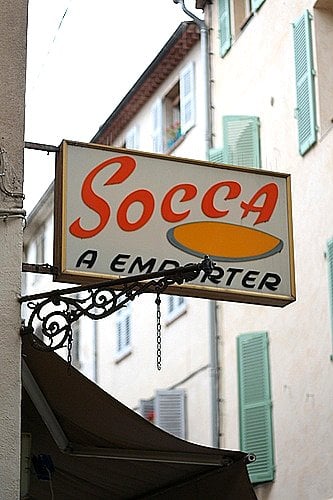 Related Posts