Fresh Shelling Bean and Tomato Salad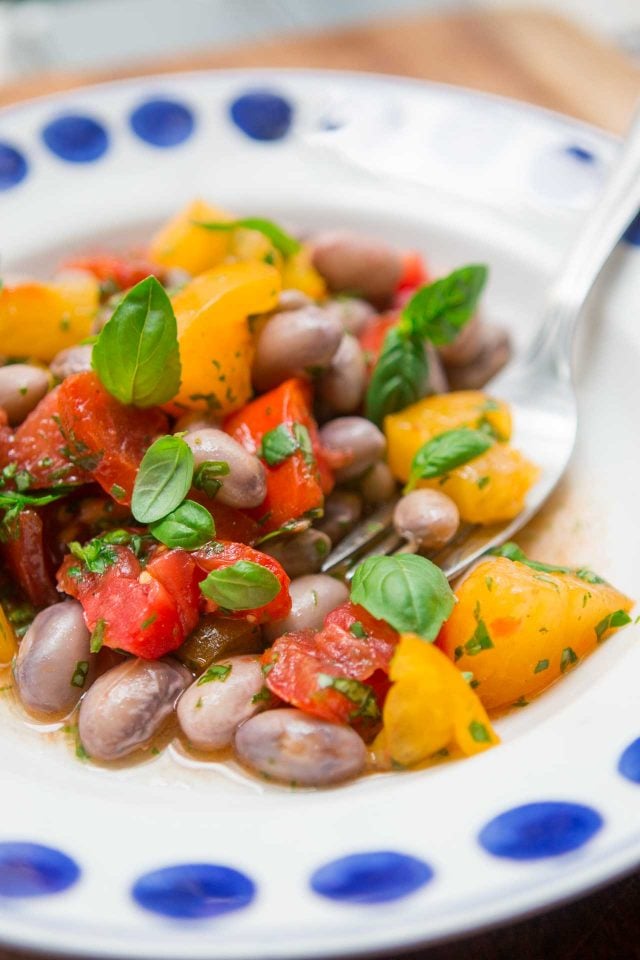 You may have seen the fresh shelling bean at your market, but passed them by since you didn't know what to do with them. True, in their pods, they look like something that's going to be a lot of work. Or something you'd rather not bother with, since the pods aren't edible. Whatever your preconceptions are, it's time to get rid fo them. Fresh shelling beans are great! And I'm going to show you the best, and easier way to use them…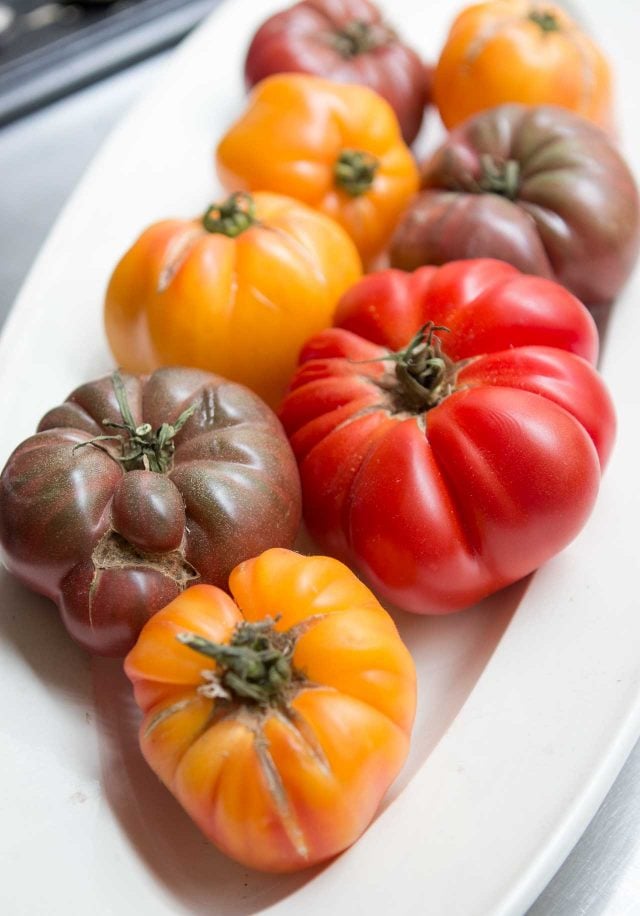 Once shucked, you just cook the beans in boiling water, that's not at a rapid boil, but a low, steady one. I salt the water modestly and keep an eye on them. Most cook for around 20 to 25 minutes, but some may take longer, others may take less time. To best way to tell when they are done is to take one out with a fork, wait a few moments until it's not too hot, and taste it. It should give way when you chew it without any trace of resistance. But don't overcook them. No one likes mushy fresh beans, which if it sounds like an oxymoron, it is.
Fresh shelling beans can generally be found in the markets in the summer. There are a lot of varieties and if you go to a farmers market or greenmarket, you can ask about whatever variety they grow, and maybe get some tips on cooking them.
While this salad is shown dressed simply in olive oil with salt and fresh basil, below I offer up some variations, but feel free to take this salad in any direction you wish!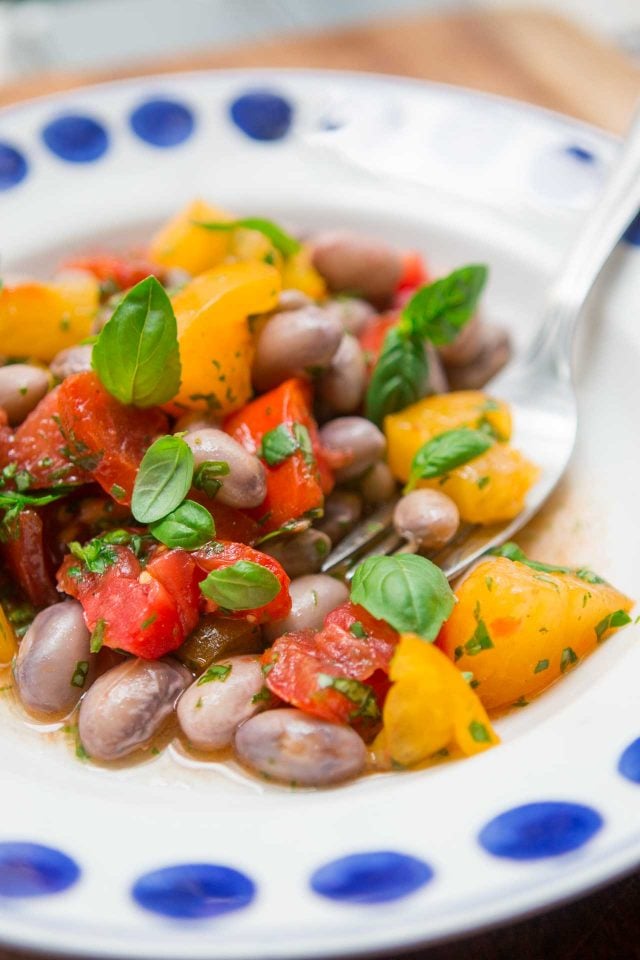 Fresh Shelling Bean and Tomato Salad
1

pound (450)

shelled fresh shelling beans

,

(weight is based on weight after shelling)

extra-virgin olive oil

salt

fresh tomatoes

fresh basil
Tear open the bean pods and pluck out the beans. A pound (450g) of beans will give you enough for about 4 people.

Bring a pot of lightly salted water to a boil and drop the beans in. Let them simmer for about 20 minutes. Taste one (careful, they're hot!). I like my just slightly firm, but not too crunchy. Most fresh shelling beans cook in 20 to 25 minutes. When done, drain them and transfer them to a bowl. Drizzle the warm beans with extra-virgin olive oil and season them with a little salt. Another option is to add walnut or hazelnut oil, the latter being really, really good. I often add a minced shallot or two, which lends a nice flavor to the beans. (Garlic is good as well, but I'd skip that if using a nut oil.)

At this point, you can either chill the beans to use later or use them immediately. (The beans will last 3-4 days in the refrigerator.) If using them later, let come to room temperature before using.

For the salad, dice some fresh tomatoes and mix them with the beans along with some chopped fresh herbs. Basil, tarragon, parsley or chives, are some of my favorites. I prefer not to do a mix, but you could.Then, feel free to add any of the following: Fresh corn kernels, black or green olives, and/or feta cheese. Toss everything together and taste. It may need a splash of vinegar, a little more olive oil, more salt, some black pepper.

Quarter some tomatoes, coarsely chop some fresh mint and flat-leaf parsley, and toss them with the beans. Taste for salt and seasonings.
Notes
Serving: I enjoy this for lunch on its own, but to make it a more complete meal, serve it alongside roast chicken or quarter some hard-cooked eggs and drape anchovies over them. It goes lovely with grilled fish, or made a platter of charcuterie (cold cuts) and cheese...and have some good bread to sop everything up.