Fresh Shelling Beans
It's been said the hardest thing about fresh shelling beans is finding them. If that's true where you live, you're missing something very special and one of the great treats of summer. You may have seen them at your market, but passed them by since you didn't know what to do with them. And for some, cooking beans bring up images of beanpots simmering for hours, which can turn your summertime kitchen into a sauna.
But fear not!
Fresh shelling beans take just a few minutes to cook, and taste worlds away from those dusty dried beans in that crumpled brown sack that you got years ago at the health food store thinking at the time that they'd be fun to cook, but once you got them home, they lost their appeal and are withering away in your cupboard along with that rusting tin of ancient curry powder you used a teaspoon of a few years ago to make that recipe from one of the hottest chefs from the 1999 issue of Food and Wine from that chef with the wind-swept, and perfectly up-jelled haircut, named Grant who converted an abandoned loft into Charleston's super-hot new restaurant (it's now closed) with industrial fixtures his model/girlfriend found at the flea market and arty waiters (who seem to spend as much time at the gym as they do in their art studios) in jeans and tight black Banana Republic t-shirts and one waiter had kind of a cool tattoo, as seen in the close up shot of his arm while delivering a plate of grilled curried monkfish.
(Also in the back of that same cupboard is the bottle of dark corn syrup that you bought to make pecan pie and a few months later you found teeming with ants along the rim where the bottle didn't close tightly and you washed it in under boiling water, scattering ants around your sink, but made you fearful of re-opening the bottle and getting the rim and neck all sticky again and having ants scramble all over your fingers. You've think you've gotten them all, then you discover one three minutes later scrambling up your arm.)
I rest my case. It's better to buy fresh.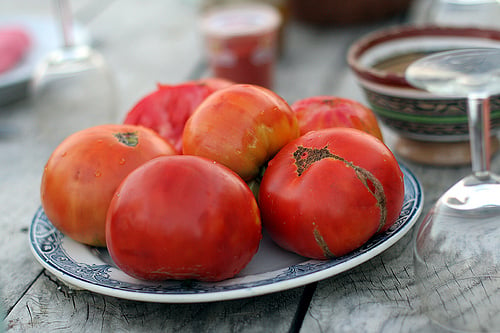 Fresh shelling beans are wonderful in summer soups, but I prefer them as unadulterated as possible. They're a snap to cook too. In France, there's even a shelling bean, les haricots de Paimpol, which have their own AOC status, which I used to make this simple summer salad. (If you want to see how reverential the French can be about their beans, be sure to click on the link.)
Fresh Shelling Bean Salad
To make a gorgeous summer salad with shelling beans, simply tear open the pods of the beans and pluck out the beans. A pound of beans will give you enough for about 4 people.
Bring a pot of lightly salted water to a boil and drop the beans in. Let them simmer for about 20 minutes. Taste one (careful, they're hot!). I like my just slightly firm, but not too crunchy. Most fresh shelling beans cook in 20 to 30 minutes. But cook them to your liking.
While they're cooking, make a simple vinaigrette using olive oil, your favorite vinegar, and if you have it, you won't be disappointed if you add a little pour of nutty walnut, argan, or hazelnut oil.
When the beans are done, drain them.
Toss the beans in the vinaigrette while they're warm, allowing them to absorb the lovely flavor of the vinaigrette better. If you want, add some chopped herbs, like basil and thyme, some freshly-ground black pepper and minced shallots (which are one of the great secrets of French cooking. Professional chefs use lots of shallots too. How come you don't use them?)
Let cool to room temperature. You can allow the beans to marinate for a few hours, which will improve their flavor.
Quarter some tomatoes, coarsely chop some fresh mint and flat-leaf parsley, and toss them with the beans. Taste for salt and seasonings.
Did someone mention tossing in some fresh, sweet kernels of corn?
Did I hear something about adding big chunks of crumbled feta cheese?
Isn't there anyone out there fighting for coarsely chopped green or black olives?
Yes, yes, and yes!
I eat bowlsful of this salad on it's own all summer long. It's great just as it is, or as an accompaniment to roasted chicken or pork loin, or grilled fish. And it's perfect for do-ahead entertaining.
Shelling beans: try 'em today!