Fresh Tomato and Shelling Bean Salad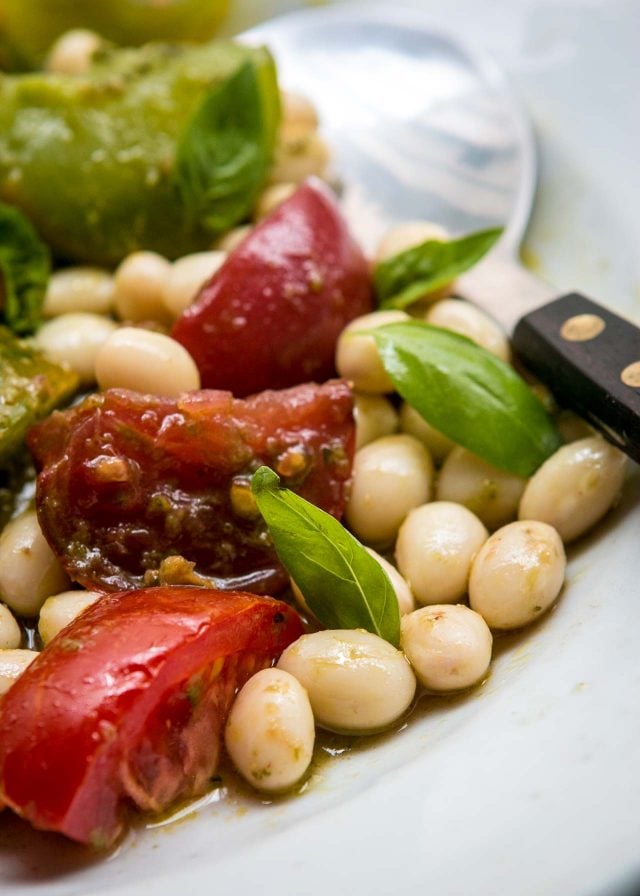 When I applied for my job at Chez Panisse, I'd just left a restaurant where the chef was, what we call in the business, a "screamer." One of those chefs who flips out in the kitchen and yells indiscriminately. Contrary to what television might lead you to think, this isn't a new phenomenon. I didn't really yell all that much when I was a chef. But whenever I would see someone wasting something as precious as raspberries, and letting them go bad, then I'd have a word with someone.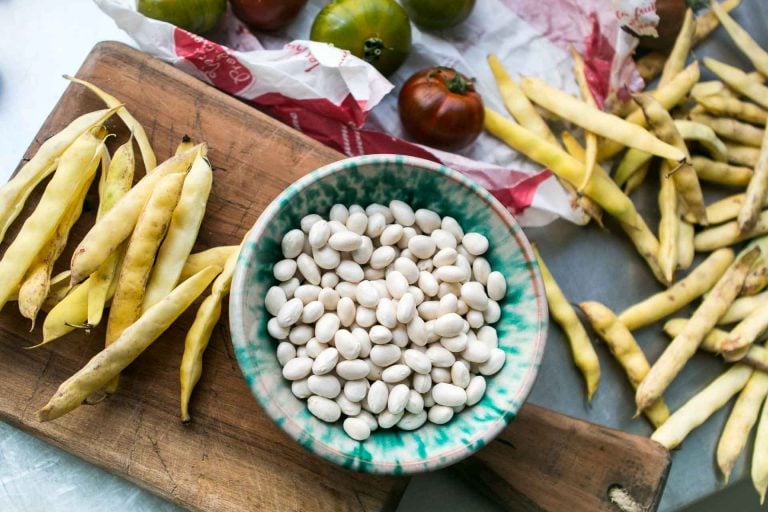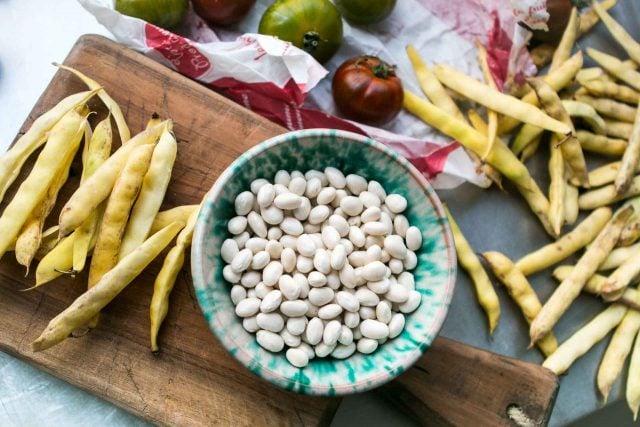 Shelling beans are another precious commodity. Although they're not terribly expensive (one pound cost me roughly €2/$2 in France), they do take a bit of preparation and I remember preparing a meal for a group which included a nice pile of fresh shelling beans as part of the main course. Then watching the plates come back into the kitchen with a majority of the hard-earned beans untouched. Merde!
Fresh shelling beans make their appearances at the market in late summer and during the fall. In France, the most famous are the haricot de Paimpol from Brittany, which are so esteemed, they have their own AOC status. Some have wild markings, like Borlotti beans, which have lovely shades of red, rose, and white on the pods, and on the beans inside.
They're really easy to prepare; just peel off the husks then simmer the beans in gently boiling water with a little salt it in. When they're done, I douse them with olive or in enough vinaigrette while they're still warm so they absorb the flavor of the dressing. Any fresh herbs you want to add – basil, mint, parsley, or tarragon, make a nice addition. Even easier is just to drizzle them with walnut or hazelnut oil and a bit of sea salt, then let them cool.
Fresh Shelling Bean Salad
You can use a favorite vinaigrette (about 1/4 cup, 60 ml) and perhaps include a chopped shallot to mix with the warm beans, too. A handful of fresh herbs is delightful, but I wait until the beans are cool to add them so they don't lose their oomph. I enjoy them often tossed with good summer tomatoes and lots of fresh basil, or
basil vinaigrette
, which is pretty much my favorite summer salad.
3

quarts (3l)

of very lightly salted water

1

pound (450g)

shelling beans

,

shucked

optional: a bay leaf

,

or a few branches of thyme or savory
In a large covered saucepan, bring the water to a boil.

Add the beans and any of the optional herbs.

Reduce the heat to a low boil and cook for 20-305 minutes with the lid ajar, until the beans are tender. But be careful not to overcook them. You may need to add more water while they're cooking.

Drain the beans, then toss with while warm with vinaigrette, olive oil, or a drizzle of walnut or hazelnut oil and sea salt.
Notes
To serve, add a handful of fresh herbs, such as thyme, chives, or basil. Toss well, and mix with tomatoes or par-boiled green or yellow beans.
Related Posts
Do you know beans? Haricot de Tarbes
8 Tips for Using and Choosing Olive Oil