Double Chocolate Pudding with Caramelized Cocoa Nibs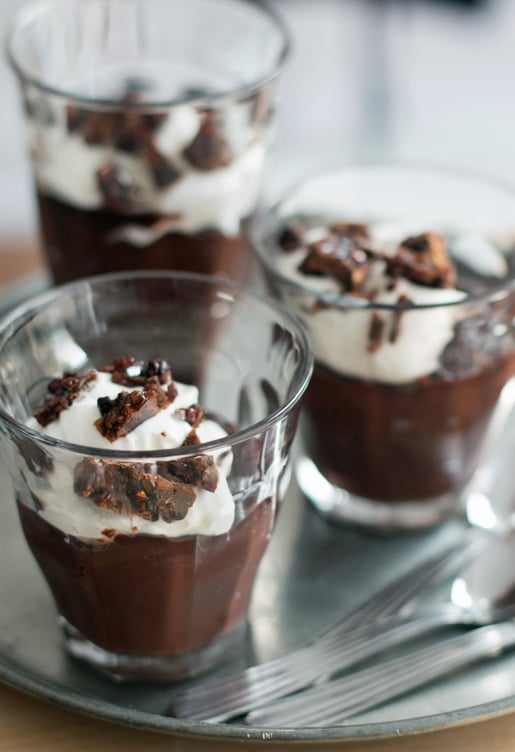 I've been a bit out of sorts recently, getting a little buried under things that are less-fun than cooking and baking. Fortunately, I gotta eat. And I also have to have chocolate, frequently. (As in, daily.) Otherwise I turn into some kind of crazed person. It's a little strange, but I guess there are odder things to be addicted to. But if I don't have a tablet of chocolate in my kitchen (or living room, or bed room, or…), I go a little mental and find myself wandering around wherever I am, searching for a bar to break the end off of and nibble on.
Which is why unsweetened chocolate is so vexing. While it's great for baking, and giving things like chocolate pudding an especially intense bitter chocolate flavor, it's hard to keep my hands off the little chunks when I can chopping it up for a recipe.
In spite of the fact that Americans are known for our love of sweets, we tend to bake with unsweetened chocolate, which is available in any supermarket, often called "baking chocolate." And it's an essential ingredient in classic American brownies. I'm in New York City for a spell, working a bit here and there and getting started on a new project, working with my editor who I'm hoping will hold my nose to the grindstone and keep me undistracted from things like stocking up on bars of chocolate and make sure that I am firmly in place in front of my computer (and in front of my stove), so I can focus on something other than making sure that I've got plenty of chocolate on hand. But with unsweetened chocolate so readily available, why not do my part and put some of it to good use?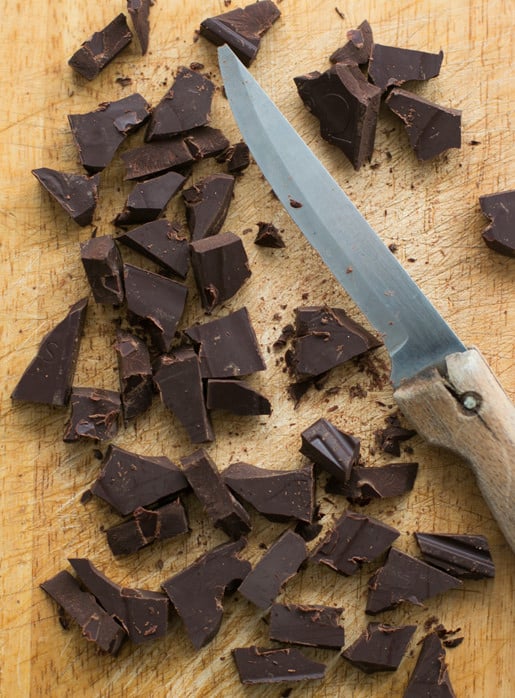 In the meantime, in America, Romain has discovered body pillows, customer service, and the salad bar at Whole Foods. He also can't believe that delivery people will leave packages with neighbors or in the common area of a building. "Don't people steal them?"
We've also had to get used to "kale clog," those blockages of bits of kale in the kitchen drain that need to be constantly cleaned out. And because America seems to be the land of innovation – or, depending on how you feel, the land of excess – I'm surprised that someone hasn't come out with a special tool for removing those stubborn pieces of kale from drain holes.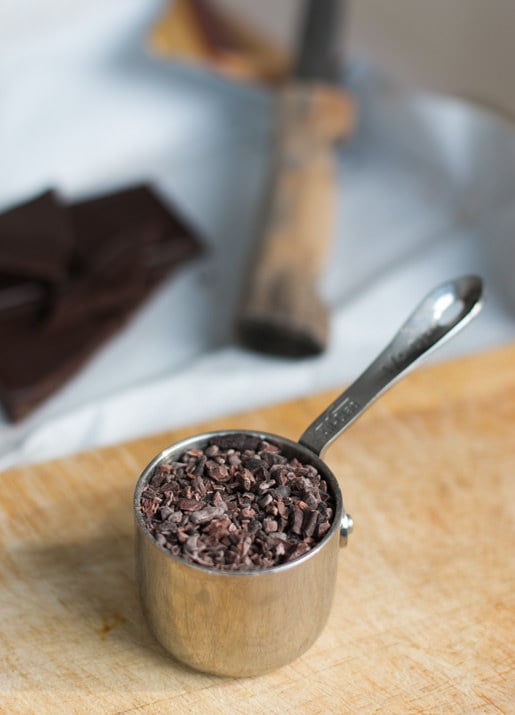 Fortunately chocolate doesn't require any special tools to use, just a knife and cutting board. And while the French have mousse au chocolat, Americans have our chocolate pudding — dense, creamy custard, thickened on the stovetop, then poured into glasses and chilled.
I decided to ramp up the chocolate flavor of this chocolate pudding with cocoa powder, because if you're going to eat chocolate, you don't want something wimpy. You want a full-on, direct, hard-core, chocolate experience. At least I do.
And to top it off, I made a crackly brittle with roasted cocoa nibs, which are ground up bits of cocoa beans. Cocoa nibs were practically unknown a decade ago. But now, I see them sold in well-stocked supermarkets in America, and they're terrific mixed into brownie and cookie batters. They also provide a nut-like, chocolatey crunch to the brittle, which I crumble over the puddings, after topping each with a dollop of softly whipped cream.
Double Chocolate Pudding
In the United States, unsweetened chocolate is often called "bitter chocolate" (not bittersweet chocolate) or "baking chocolate." In France, it's called pâte de cacao, or cocoa paste, sometimes with a "99%" or "100%" notation before it. (Lindt makes a bar, which is available internationally. Otherwise check professional baking supply shops. In Paris, they stock it in bulk at
G. Detou
.) If unsure, check the list of ingredients. Unsweetened chocolate will not have any sugar in the list of ingredients. Cocoa nibs are available in well-stocked supermarkets, specialty food shops, and
online
. If you can't get them, or would prefer, you could use an equal amount of lightly toasted, chopped nuts, in place of them for the cocoa nib brittle. If you've not made caramel before, you may wish to review my post,
How to Make the Perfect Caramel
, which includes step-by-step pictures.
For the double chocolate pudding:
3

tablespoons

unsweetened cocoa powder

,

natural or Dutch-process

3/4

cup plus 2 tablespoons (175g)

sugar

3 1/2

tablespoons (30g)

corn starch

1/8

teaspoon

salt

2 1/4

cup (530ml)

whole milk

3

large egg yolks

2

ounces (60g)

unsweetened chocolate

,

chopped

1/2

teaspoon

vanilla extract
For the cocoa nib brittle:
1/4

cup (50g)

sugar

1/4

cup (25g)

cocoa nibs
To make the double chocolate pudding, in a medium saucepan, whisk together the cocoa powder, 3/4 cup plus 2 tablespoons of sugar, corn starch, and salt.

Gradually whisk in 1 cup (250ml) of the milk, stirring until it's lump-free. Mix in the rest of the milk, as well as the egg yolks and cook the mixture over moderate heat, stirring constantly with the whisk, until the mixture starts to boil and thickens enough to coat the back of a spoon.

Once it starts to thicken, reduce the heat if necessary to keep the mixture at a very low boil, stirring constantly with the whisk or a heatproof spatula until the pudding is thick and holds its shape, about 2 minutes. Remove from heat and scatter the chocolate over the top. Stir the chocolate in with a heatproof spatula, along with the vanilla, until the chocolate is fully melted and the mixture is smooth.

Divide the mixture into 4 or 6 glasses or bowls, and chill for at least two hours. Cover the tops if you wish to avoid a skin forming on the surface. (Which is my favorite part, but some don't like it.) If the mixture seems lumpy before you scrape it into the glasses, give it a couple of brisk stirs with a whisk, or press it through a mesh strainer to smooth it out.

To make the cocoa nib brittle, lightly oil a 12-inch (30cm) area on a baking sheet. Set aside.

Spread the 1/4 cup of sugar in a skillet, in an even layer. Heat over medium heat until the edges liquify, then begin to turn an amber color. Using a heatproof spatula, or other utensil, gently stir the liquified sugar in toward the center, stirring the mixture as gently as possible until the liquified sugar is a dark amber color and just begins to smoke.

Remove from heat and immediately stir in the cocoa nibs, just enough to that they are coated with the caramel. Scrape them onto the oiled part of the prepared baking sheet and spread as best you can, before it hardens. (If it gets too cool in the pan, you can rewarm the caramel with the nibs slightly over low heat, to make it spreadable.) Let the brittle harden at room temperature. When cool, crumble into little bits.
Notes
Serving: Serve the pudding with a dollop of lightly sweetened whipped cream, with crumbled brittle over the top. Storage: The puddings will keep for up to four days in the refrigerator. The brittle can be made up to two weeks in advance and kept in an airtight container at room temperature. It can also be frozen, if well wrapped, for up to two months.
Related Posts
How to Make the Perfect Caramel
Baking Ingredients and Substitutions
How to Find Foods and Other Items Mentioned on the Site