Strawberry Frozen Yogurt with Summer Fruits and Italian Meringues
I was once on a panel about blogging and everyone was surprised when I said that at any given time, I have about seventeen posts started, either sitting on my kitchen counter or partially written on my computer. With the focus on blogs being a little more spiffy than they used to be, back when you could – for example – write a haiku to a espresso-filled chocolate candy, now you've got to me a bit more alert as to what you put online.
I never really thought of this space as a bijou, as the French might say, a jewel. It's unpolished and casual, more so than a cookbook, and a place to share stories and recipes in a freestyle fashion. I love taking pictures and writing stories, but I worry about flaws, goofs, and that kind of stuff. But back in those days, it was kind of fun to share kitchen disasters and things that I wouldn't put on the blog today. (Which some of you are probably grateful for.)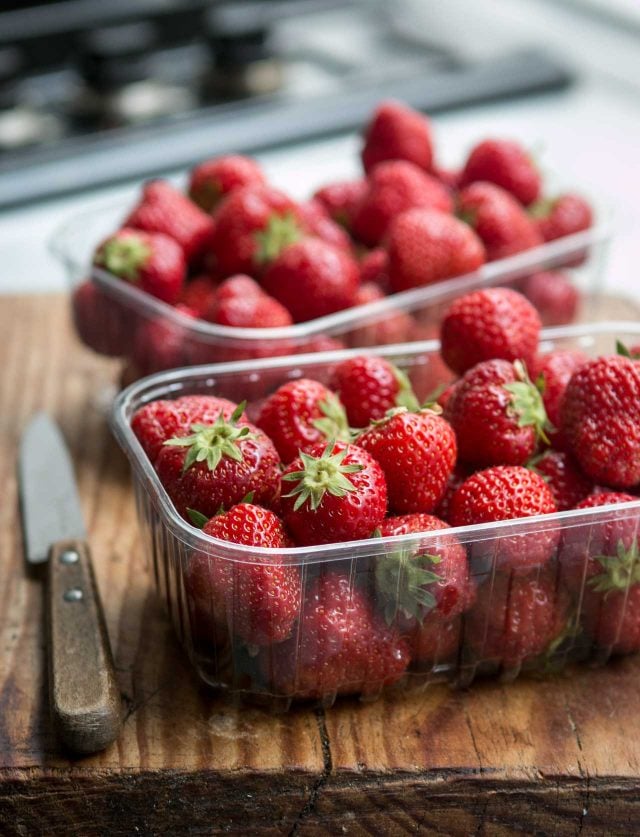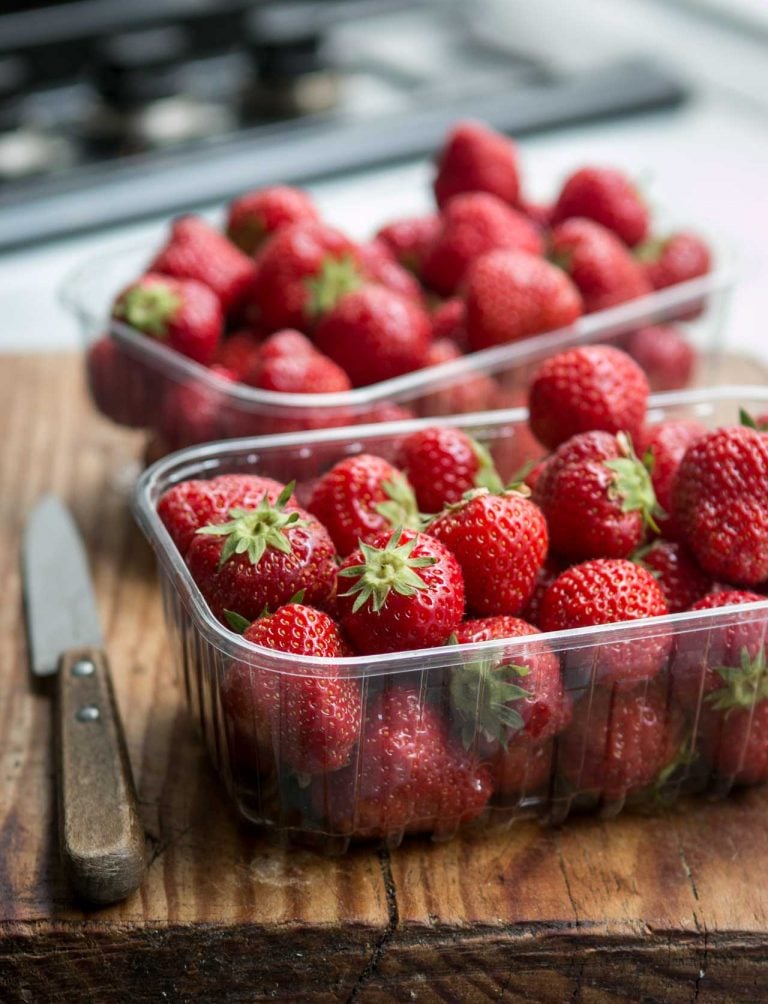 Sometimes I look back at posts from ten years or so ago, with pictures taken with a point-and-shoot camera, which at the time, was cutting-edge, breakthrough technology. Seeing them now is like looking at pictures of myself wearing bell-bottoms in the 70's. (And every time I see young men wearing their trousers halfway down their thighs now, I want to yank them up and say, "Dude, I'm doing you a favor. Trust me, you'll thank me in twenty years when you see the photos.")
So occasionally I'll go back and revisit a recipe and a post, like the one for strawberry frozen yogurt, which is one of my favorite frozen dessert recipes, but the old photos were the size of a postage stamp and looked like I shot them in an airplane bathroom. Looking at the photos on the blog right now, I wonder if I'm going to have to update them in ten years as well. But for now, when I see such beautiful fruits at the market, I try to do the best I can, which is really all we can do, isn't it?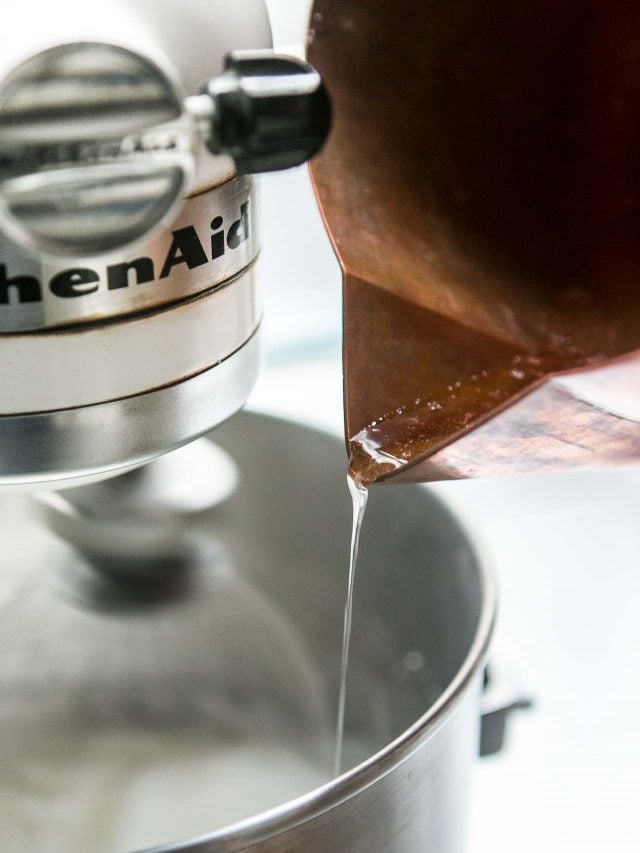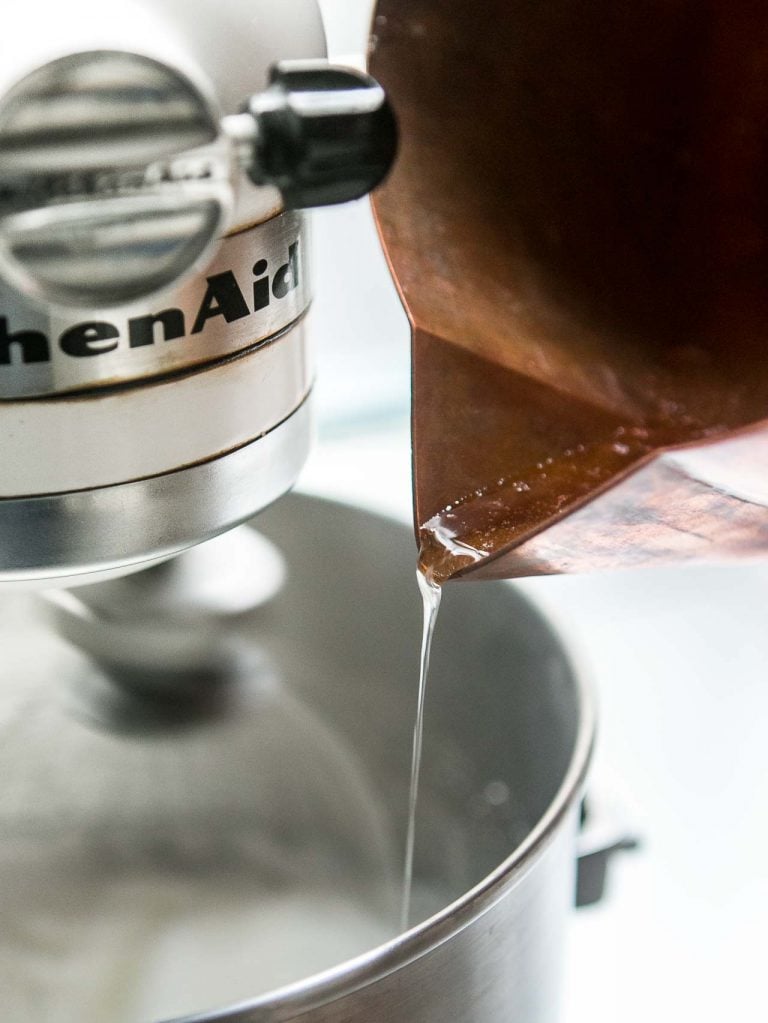 I remember my third-grade teacher once humiliated me in front of the class for trying to write with my left hand, because my father was left-handed and I thought I'd try it, too. I'm no expert on child-rearing but think it's probably normal to want to copy what your parents do. But she stood by my desk and told a little boy in the third-grade that he was a show-off and made me sit in the middle of the classroom, all by myself, as punishment. (She got her comeuppance years later when a neighbor told me the same teacher was so mean to her kids she took it up with the school board, who removed her from her teaching position.)
Although we look back and regret things, that's part of life and there's not much we can do about it now. We did the best we thought we were doing at the time. And the blog is sort of a running commentary about what I'm cooking and baking now. I may need to go back and update this post in the future as well, but I think that the idea of a bowl of fresh fruit and a scoop of ice cream, sorbet, or frozen yogurt is always going to be in style. Even people who beg off dessert will dig into a dessert like this, especially with a crisp meringue parked alongside.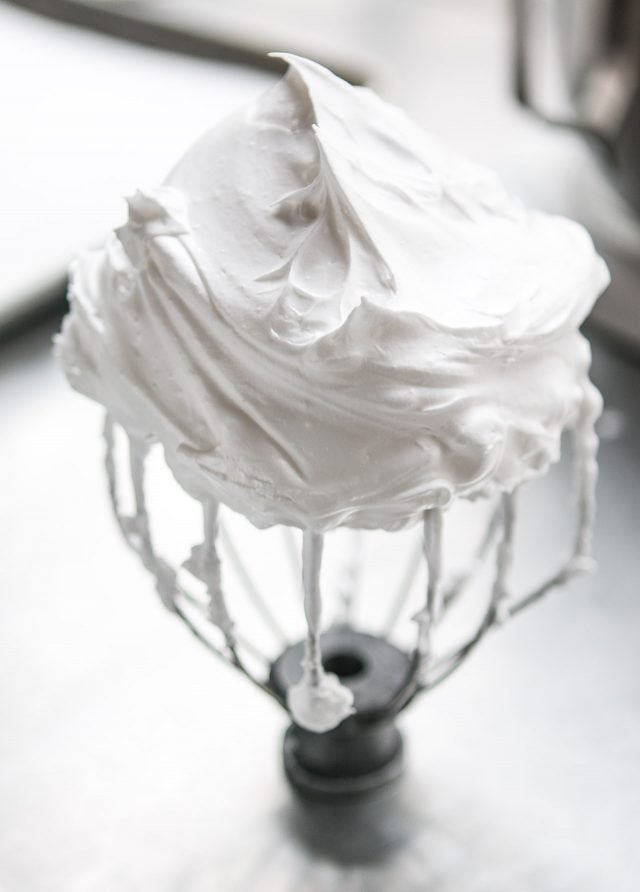 You could make a standard French meringue but an Italian meringue, made with a sugar syrup, is good for a number of reasons. One if that the egg whites are cooked so if you have concerns about eating uncooked eggs (but can't resist taking a taste of anything that you're baking – like I do), you can taste away. And the meringue is more stable than other kinds of meringues and is nice if you want to pipe it out into swirly shapes or whatever you fancy.
Now that I'm a well-adjusted adult, I don't have to worry about being called a show-off because my piping skills don't rival those of a cake decorator. (That's why they get the big bucks.) We all have skills that are better than others, so best to be happy with what you can do and not compare yourself to others, even under the watchful eyes of the internet ; )
My only regret was that after I took these snapshots, we sat down and had our dessert. But then I pondered if I should have made a sauce to go with it. Instead of starting all over from scratch, we finished the rest of the bottle of wine, I said good night to a neighbor who came by for dinner, then called it a day and went to bed. So perhaps that'll be my update in the future. In the meantime, I've given a recipe for a sauce if you want to make one to accompany it, so you can sleep soundly, too.
| | |
| --- | --- |
| Strawberry Frozen Yogurt with Summer Fruits and Italian Meringues | Print Recipe |
Mixing up the fruits is entirely up to you: plums, melon, blueberries, blackberries or peaches work nicely together, or you can take it in a tropical direction with pineapple and mangoes, maybe sprinkling toasted coconut over the top. Or pair the strawberry frozen yogurt with a scoop of mango frozen yogurt, white chocolate-fresh ginger ice cream, frozen zabaglione, or vanilla ice cream. I've included a recipe for a fruit sauce to serve with this or serve it in a pool of cool creme anglaise. I plucked tiny basil leaves and used them as a garnish. If you use basil, the small leaves aren't as sharp as the large ones. Meringues are fairly easy but do not make them on a humid day as they won't crisp up. If the idea of making a meringue with a syrup seems daunting, you can make a traditional French meringue. This will make more meringues than you need but you can store them. After the recipe I've given some troubleshooting and storage tips.
Italian meringues
1/2
cup (120ml, from about 4 large eggs)
egg whites,
at room temperature
optional: 1/8
teaspoon
cream of tartar
(see below)
To assemble the dessert
One batch strawberry frozen yogurt
A mixture of ripe summer fruits and berries;
any combination of stone fruits (which include plums, peaches, apricots, and nectarines) and berries
Mint or tiny basil leaves
for garnish
1. Preheat the oven to 200ºF (93ºC). Line two baking sheets with parchment paper.
2. To make the meringues, put the egg whites in the clean, dry bowl of a stand mixer fitted with the whip attachment.
3. Heat the water and sugar in a small saucepan fitted with a candy thermometer. As the temperature of the syrup climbs close to 240ºF/115ºC, begin whipping the egg whites on medium-high speed, adding the cream of tartar, if using.
4. When the syrup reaches 240ºF (115ºC), remove from heat and in a slow, steady stream, pour the syrup into the egg whites, making sure you're pouring it between the whip and the side of the bowl. Pouring the syrup on the whip will cause it to fling and stick to the sides of the bowl, not go into the whites.
5. Continue whipping the meringue on medium-high speed until smooth and glossy, 5 to 10 minutes. If you lift the whip and they look grainy, continue whipping them.
6. Using a pastry bag fitted with a star tip, pipe the meringue into shapes on the prepared baking sheets. You can use a plain tip to pipe another shape, or even make the meringues into "nests" using a soupspoon, shaping them like a mound of mashed potatoes with a crater ready to hold gravy in the middle.
7. Bake in the oven for 1 1/2 to 2 hours, until they feel close to dry when you touch them. Turn the oven off and let the meringues rest in the oven until cool and dry.
8. To assemble the dessert, arrange the fruits and berries in shallow soup bowls. Place scoops of the strawberry frozen yogurt nestled amongst the fruits and berries, and garnish with herbs.
If you wish to make a strawberry sauce, puree 1 pound (450g) hulled strawberries with 2 tablespoons of sugar and 1 teaspoon lemon juice. Press through a strainer to remove the seeds, and taste, adding more sugar if desired.
Troubleshooting meringues
The bowl must be clean and dry and free of any grease. If not, the meringues will not whip. Any traces of yolks in the egg whites will have a similar effect. Do not use a plastic mixing bowl as they retain oil, which will prevent the egg whites from whipping properly, too. They meringues may stick to silicone mats, so I use parchment paper for baking them.
I added a dash of cream of tartar, which isn't the same as tartaric acid. I bring it over from the U.S. It's not necessary, but does help stabilize the egg whites. In Europe, it's available from Dr. Oetker and Marks & Spencer carries it. You can omit it, if you wish. If you live elsewhere, check out my Tips for Finding Foods Online.
If you take the temperature of the sugar syrup above 240ºF/115ºC by accident, you can add a few tablespoons of water which will lower the temperature, then continue cooking it to bring it back up to the correct one.
If the texture of the meringue before piping is grainy, it likely needs to be whipped more. If small amounts of syrup leaking out while the meringues are cooking around the base, either they haven't been whipped enough or humidity is causing it. In most cases, that can be easily removed after baking.
Meringues can usually be kept at least a week or more, in an airtight container. They are extremely susceptible to humidity so store them in a cool, dry place. I've not frozen meringues but I don't recommend it as they may get soggy when defrosted.