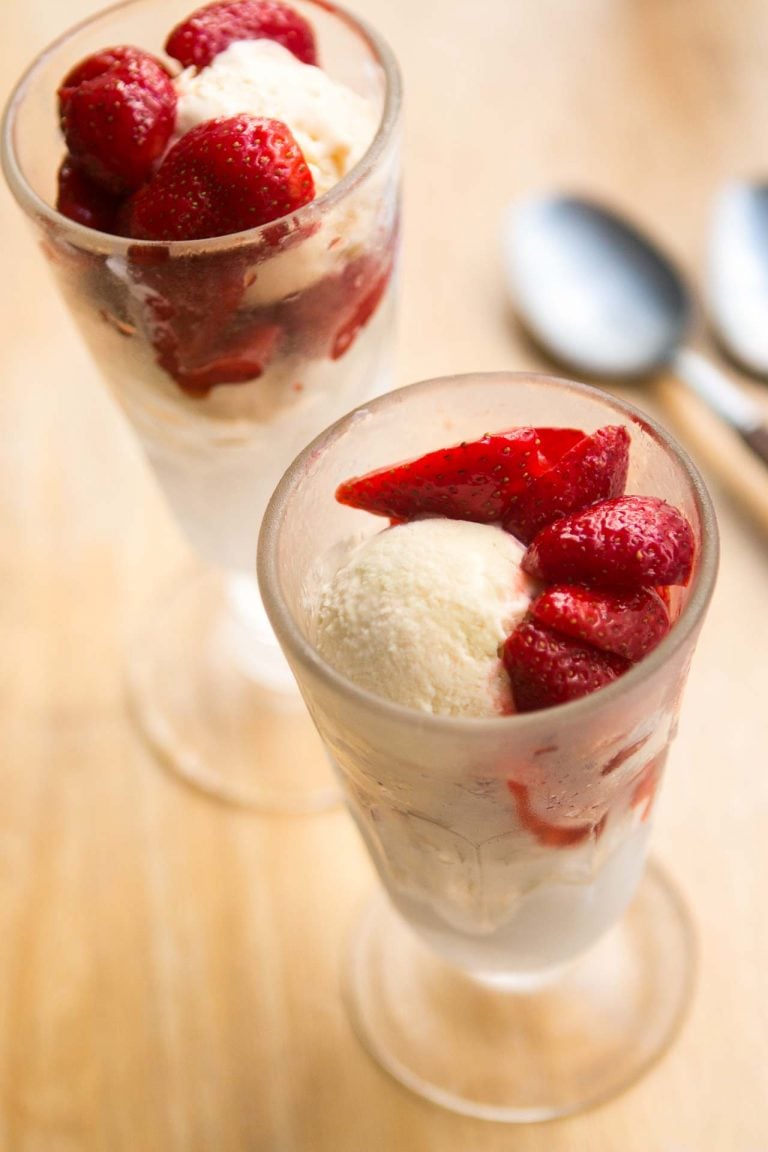 Some people don't have a big kitchen, or a lot of kitchen equipment. I think I have everything that's available, and at some point, may start an equipment rental business to drum up some extra cash. I've had friends (French and American) desperate for things like angel food cake pans, muffin tins, rimmed baking sheets, and even an ice cream scoop in every possible size available. In fact, I have a whole drawer dedicated to just them, which is kind of crazy.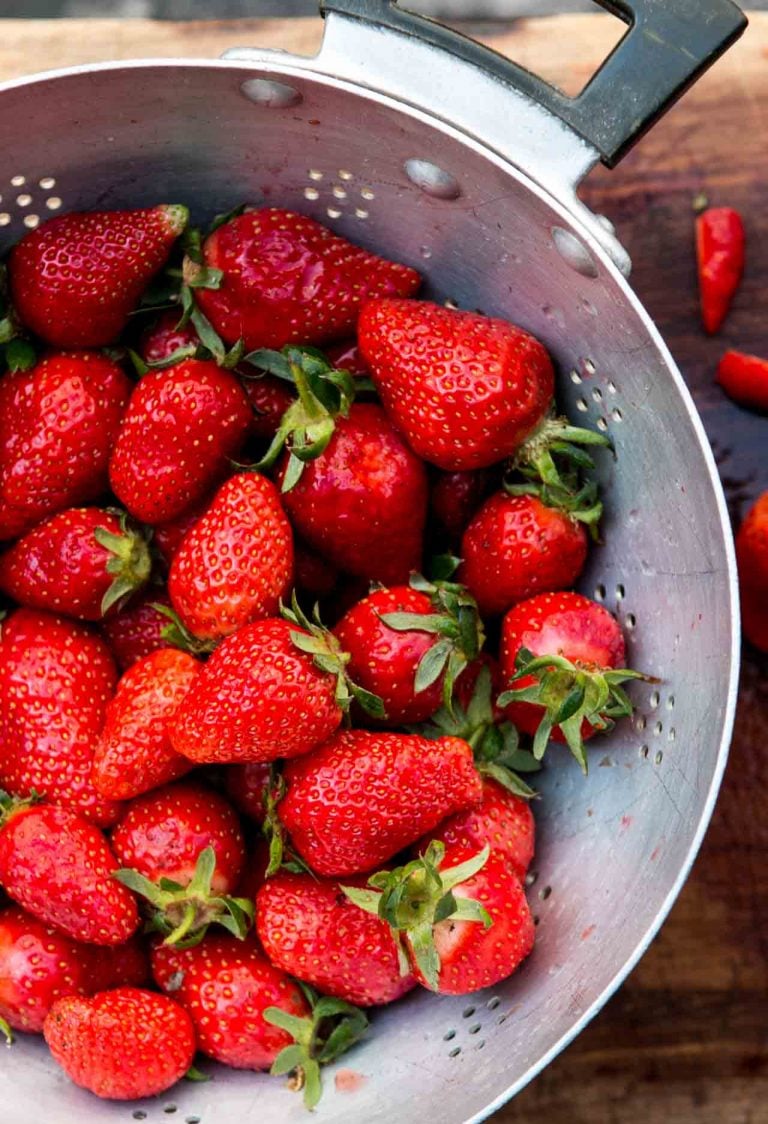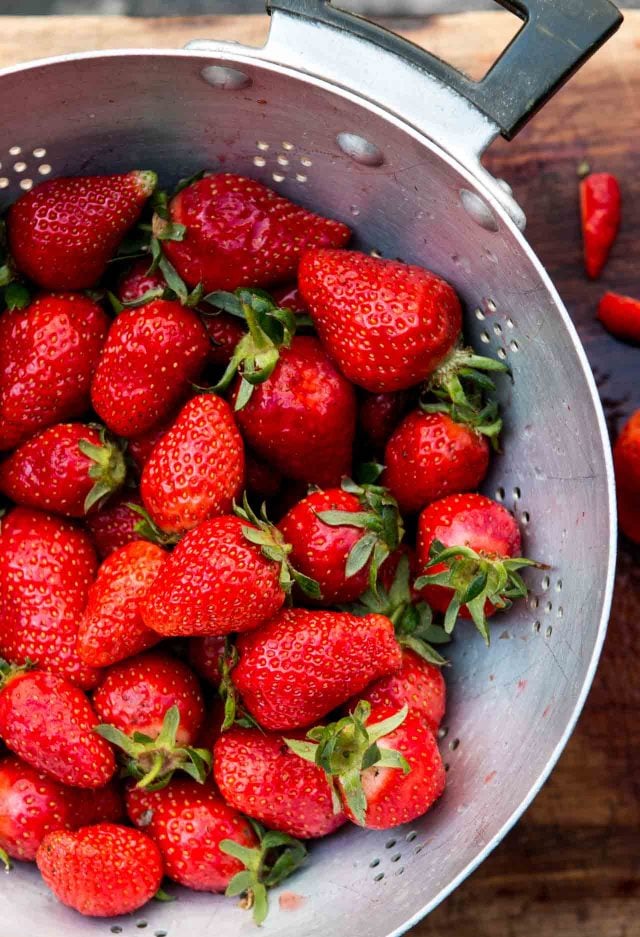 I do, however, love having an ice cream maker. Not just because I wrote a book on ice cream, but because I really do like to make ice cream and they're pretty minor investments. But for those that don't have one (or even if you do), frozen zabaglione is a great no-churn option for pairing with all the delicious fruits and berries coming forth at the markets at the moment. A few baskets of ripe berries, a couple of mixing bowls and a whisk, and – voilà – you've got a luxurious frozen dessert.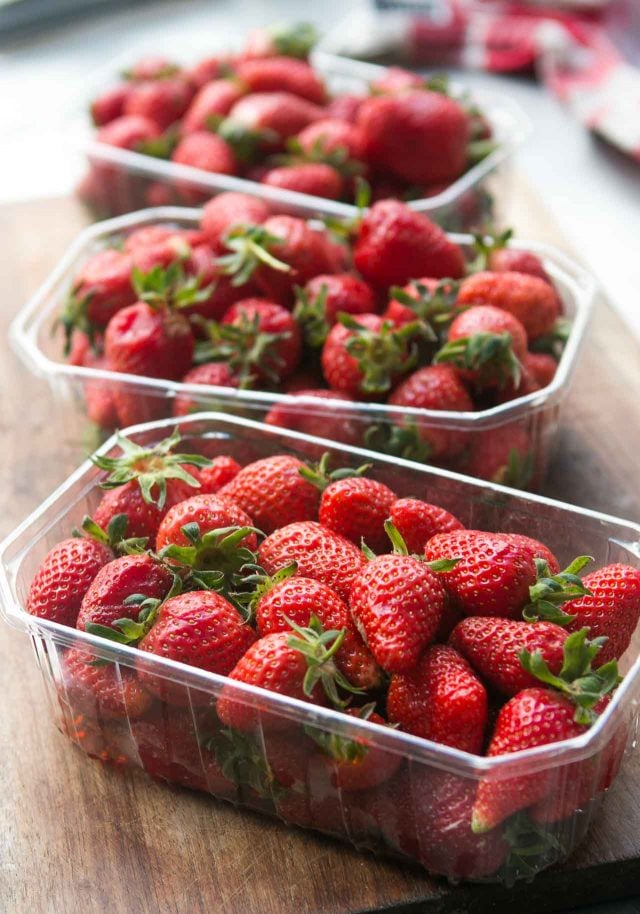 I am a sucker for fruits and berries, what they call in France, "pour la confiture." Some vendors sell dented fruits and berries for making jam (confiture), and I find most of them perfectly acceptable for everything from making a strawberry sorbet or frozen yogurt, to eating just as-is. I don't mind a few dents here and there, and as you can see, these berries were so ripe and juicy, and perfectly red all the way through, so I couldn't resist buying four baskets of them the other morning.
I am powerless to resist a bon marché (deal), and got to work on my berry bounty.
I made a few pots of strawberry jam with the berries that didn't look like they were going to last until the end of the day (a lot of French strawberries are especially fragile and don't keep well). I am sure my French partner, who seems to be able to go through jam at an alarming rate on his morning toast, will be done with both jars by the end of the week. The rest I dedicated to serving with a frozen zabaglione, one of my favorite frozen desserts. It's not only because it's easy to make, but I love the flavor of the chilly, sweet wine flavoring a lightly textured scoop of frozen zabaglione.
You can use any sweet dessert wine that suits you or that's available. I've mentioned some suggestions in the headnote to the recipe, although it'll work with Marsala, which is the base of the classic zabaglione. You do need to use alcohol in sabayon (or zabaglione) to make it scoopable. (Alcohol doesn't freeze so gives the frozen zabaglione its silky texture.) If you ask if you can make it with something else, you'll incur the wrath of 66 million French, or 59 million Italians.
Frozen Zabaglione
This will work with any sweet dessert wine, such as late harvest Riesling, Beaumes de Venise, moscato, dry or sweet sherry, Tokaj, Barzac, or Montbazillac, although there are lots of others. (Avoid port, which will tint the zabaglione a color you might not find it as appealing as a clearer wine.) The good thing is that many dessert wines come in half-bottle sizes, so you don't need to pull the cork on a large bottle. Sparkling wine, such as Champagne, cava, or prosecco can also be used. The alcohol keeps the sabayon from freezing too hard once frozen, and is necessary. Frozen zabaglione is lovely garnished with sugared berries, peaches or nectarines, or a compote of stewed plums. In the winter, it's a good match with
poached pears
. To add a little crunch, crumble some amaretti cookies over the top or add a few toasted sliced almonds.
6

large

egg yolks

3/4

cups (180ml)

dessert wine

1/2

cup (100g)

sugar

1

cup (240ml)

heavy cream

,

softly whipped

a few drops fresh lemon juice
Make an ice bath by adding ice to a large bowl so it's half-full with ice, and add a small amount of cold water.

In a large heatproof bowl, whisk together the egg yolks, wine, and sugar. Set the bowl over a saucepan of water that's at a low boil and vigorously whisk the mixture. (You can also use a hand-held electric mixer.) It will become frothy, and after a few minutes, will start to thicken. It may take up to 8 minutes to reach the point where it's done. It's ready when you lift the whisk and the zabaglione holds its shape on the surface of the sauce in the bowl for a few seconds. Do not overcook it.

Remove the bowl from the heat and place the bowl in the ice bath. Gently stir the mixture over the ice bath infrequently to cool the zabaglione. (It may deflate a bit, which is normal.)

When at room temperature, fold in the whipped cream and the lemon juice. Transfer the mixture to a shallow container and put in the freezer, covered, for at least eight hours.
Related Recipes
Recipes for Using Leftover Egg Whites