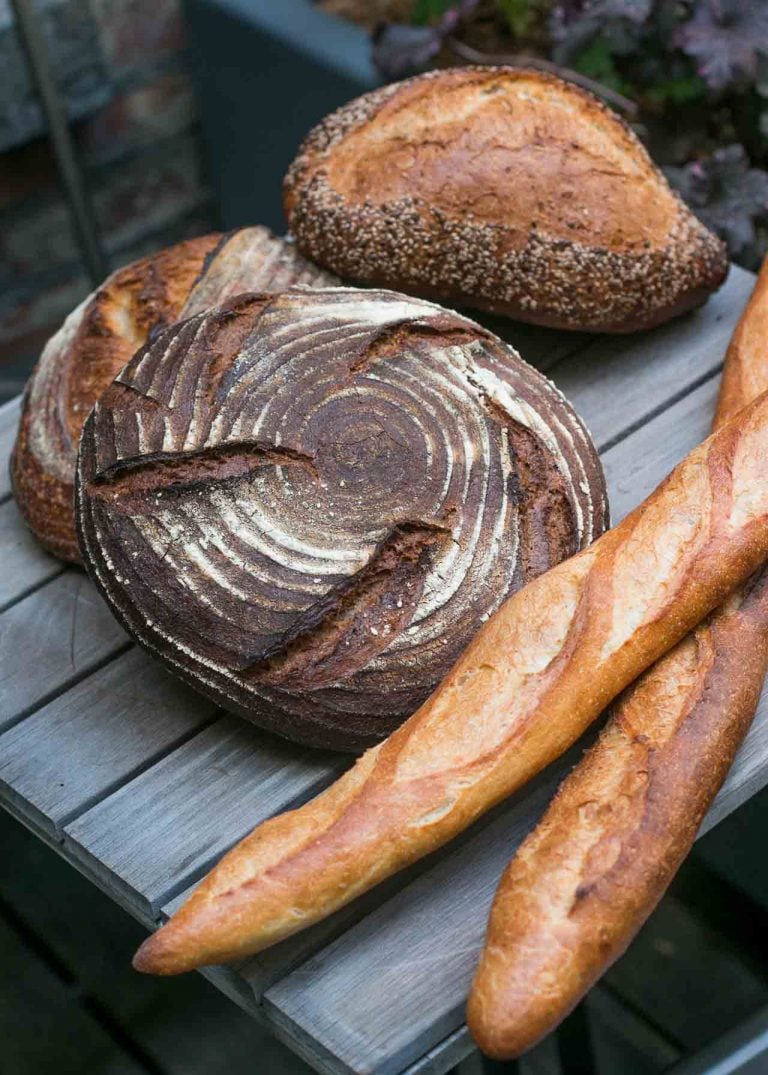 I'm often dismayed when I take a trip back to the U.S. and people tell me they wonder why they can't get good food where they live, like they have in France. While it's certainly true there aren't bakeries on every street corner in America (I think people would miss all those 24/7 drugstores and coffee shops), there are places that offer fresh-baked goods, nice cheeses, wines, and chocolates. You just have to scope them out.
I was happy to discover, in a somewhat off-beat part of Brooklyn, L'imprimerie, a bakery that surprised even me. One day during my trip, I'd had a great Detroit-style pizza lunch at Emmy Squared with a friend (Tip: Go for the Roni Supreme with pepperoni and Calabrian chili) and wanted a coffee afterwards. He said we could get one at the bakery, which was on my list of places to visit. I was surprised when he said that, because very few bakeries serve coffee in France. I forgot that about the States; very few bakeries just sell bread or pastries, and send people on their way. So, on the upside, you can multitask a pick up a coffee along with your bread.
It's nice to have a place to sit and eat something, along with your coffee if you want to stay and chat with a friend. And it's also nice to give people credit when they're doing something well, as is happening in many places around America.
Last time I was in New York, I was with some French friends who have a bakery in Paris and we were talking about why there wasn't high quality bread readily available in the United States. I thought about it for a while, and while we can get good bread in most cities, it's not something that people in America automatically put out on the table. I have to remember to bring bread as a gift when I go to dinner parties in America because I find myself searching for the bread basket. The only snag is when they think it's merely a gift, and don't put any out for the guests, including me. (I hope it's not rude to bring it up. Maybe I should arrive with it already sliced, in a basket?)
The reason I think Americans don't eat bread as much as Europeans, specifically the French, is that we didn't really have a culture of peasantry, where diets were based on bread. (And wine). As much as people think they want fresh bread every day, like they have in France, I'm not sure there is the support for it.
(Another reason that the French can serve bread so freely and keep their business afloat is that the bread basket in France is usually recycled – it's whisked away as soon as the dinner plates are, and replenished for another table. I'm not sure how many Americans would tolerate a bread basket arriving from a neighboring table. But lest you think the French are lax about hygiene, one reason that doggy bags are frowned upon is that it's considered a pas hygiénique way to transport food.)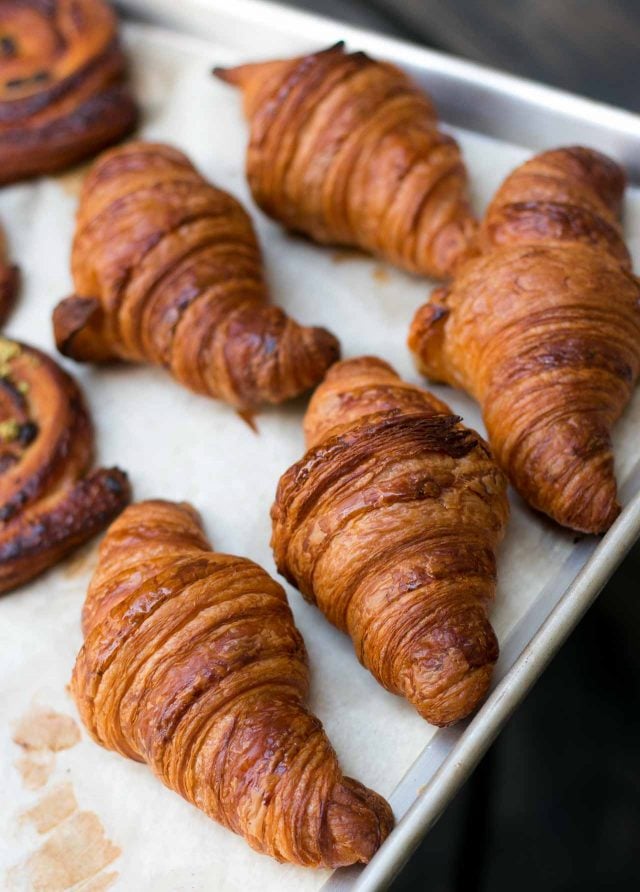 Either way, bread is more important to the French meal than it is elsewhere. It's something I miss on the table when I'm traveling. While not all bread in France is great, it is plentiful and you're never far from a boulangerie. And I'll admit that I will go farther than others for good bread, including Bushwick, a section of Brooklyn that's gentrifying, but still retains a "rough around the edges" feel.
It was there that I found some of the best bread I've ever had. Just across from the White Castle, sandwiched between cell phone stores and barber shops, is L'Imprimerie. What a find! Originally from Nancy, in the Lorraine region of France, Gus Reckel is the owner and baker. In France, he was a banker who eventually went to London to work. Then he decided to move to America and took baking classes in New York before opening his bakery a year ago.
You'd never know that he hasn't been a baker that long from the look, and taste, of his spectacular breads and pastries. After my first visit, I posted a picture of a loaf of his gorgeous miche on my Facebook page, similar to the one he's holding in his right hand, and a number of viewers said it was burnt. The French call that bien cuit and there are people who prefer it. There are a number of people in France that like their bread pas trop cuit, or "not well-cooked" (I'm not one of them), which French bakers are lamenting. So I love, and celebrate, a good, hearty crust that's crackles when you slice into it, and am happy to show my support when I find bread like that. (Although maybe you can circle back to me in a few years when my teeth aren't as sturdy as they are now.)
When I sliced into the loaf for dinner that night, I loved the ruddy interior, and coarse, yet butter-friendly crumb. To me, it's the perfect bread.
I liked it so much that I had to go back to L'imprimerie a few days later, to meet up with Gus, since I was too shy to ask if I could meet him. Over coffee in the backyard, he told me he opened the bakery in a former print shop that still has a working printing in the window. He starts work at 4 in the morning, mixing up the doughs for the breads and viennoiserie (yeast-leavened pastry).
I steered the conversations towards the miche, that big, round country loaf, made of white flour, whole wheat, rye and buckwheat, leavened naturally for three days. There's also a lovely looking, lighter sourdough and a grainy bread. But to be honest, it'd be hard to wean me off the miche if I lived closer. (Since they make a limited amount of miches each day, you can pre-order one 3 days in advance, although they do bake them daily.)
The bread gets made into tartines, open-faced sandwiches with cheese and honey or avocado. They're available all day, as are the "morning" pastries, such as the croissants and escargots, snail-like coils of yeasted puff pastry with raisins and pistachio.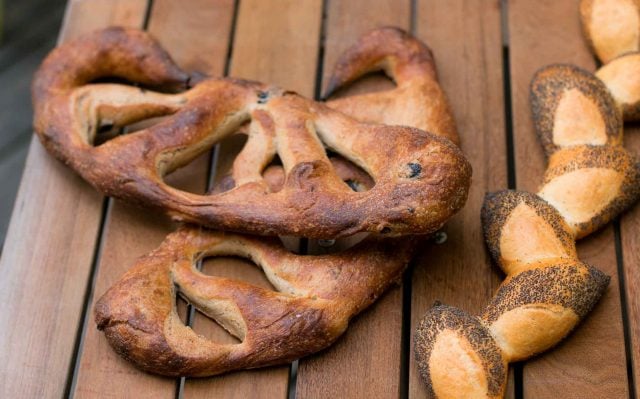 And that honey on the counter? Some of it is from the surrounding boroughs, some of it from the roof above the bakery.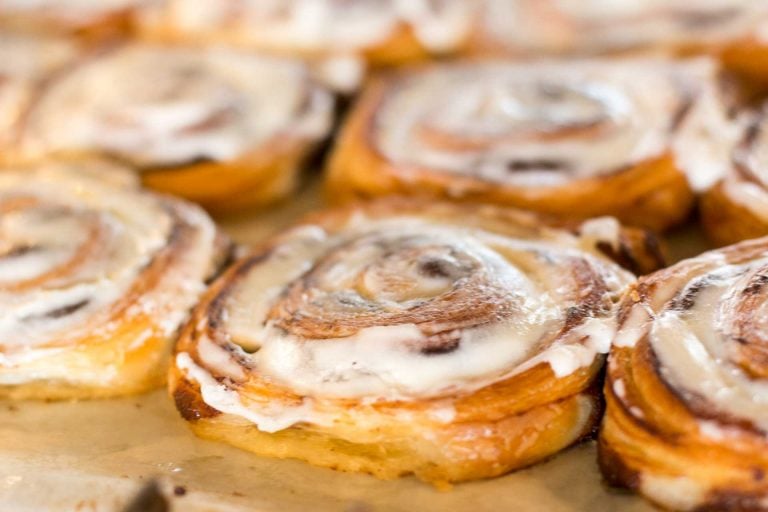 I had to beg off tasting everything, even though I wanted to, especially Gus's pain au chocolat, baked with a bar of Valrhona chocolate inside, some with jalapeños (…which I don't think we'll be seeing in Paris anytime soon!), and Cinnamon buns, which I joked with him if he actually liked them because the French generally aren't that fond on cinnamon-laden pastries.
But one of the biggest draws of L'imprimerie (aside from the miche, and the super-nice Gus) are the salty chocolate chip cookies. They're conclusive proof that don't have to be from somewhere to make good food from that place. And if you still don't believe me, his chocolate chip cookies were voted the second best chocolate chip cookies in New York. I haven't tasted my way around all the chocolate chip cookies in New York, but I have had a lot of chocolate chip cookies, and Gus's are taking their rightful place at the top.
They're soft, a bit salty, and mine was warm so when I broke it in half, the soft chocolate chunks melted into glossy strands of darkness. Whatever mix of flours he uses in his cookies, just like his miche, he found the right combination.
L'imprimerie
1524 Myrtle Avenue
New York (Bushwick Brooklyn)
Email: limprimeriebrooklyn AT gmail.com
Open daily, 7am to 7pm
---
Related Links
The Absolute Best Baguette in New York (Grubstreet)
How to Find a Good Baguette in Paris