New York Restaurants and Bakeries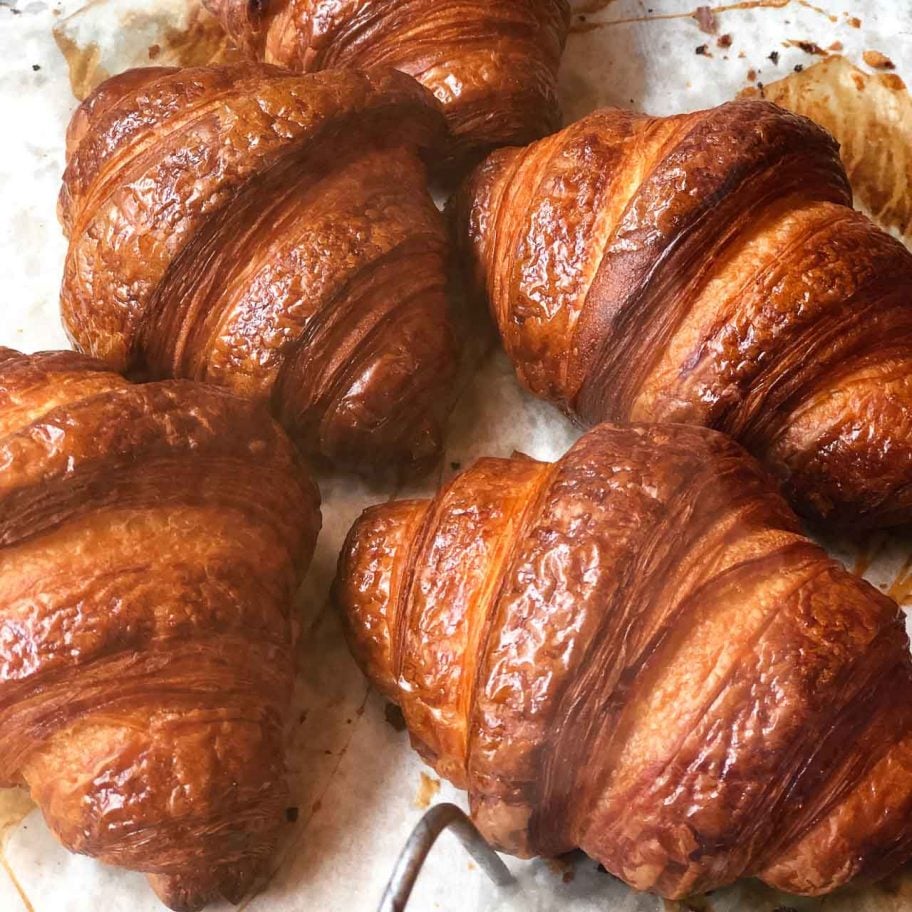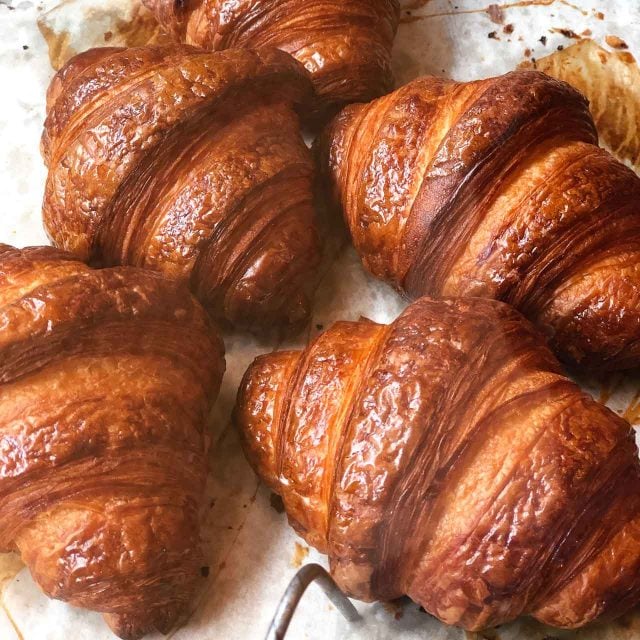 Here's a round-up of places I visited recently in New York City. One happy change (which is also happening in cities elsewhere) is the proliferation of excellent bakeries making top-quality artisan bread, as well as bakeries with a global focus. While Americans don't buy bread daily, as the French do, you can get terrific bread and pastries if you know where to look.
Restaurants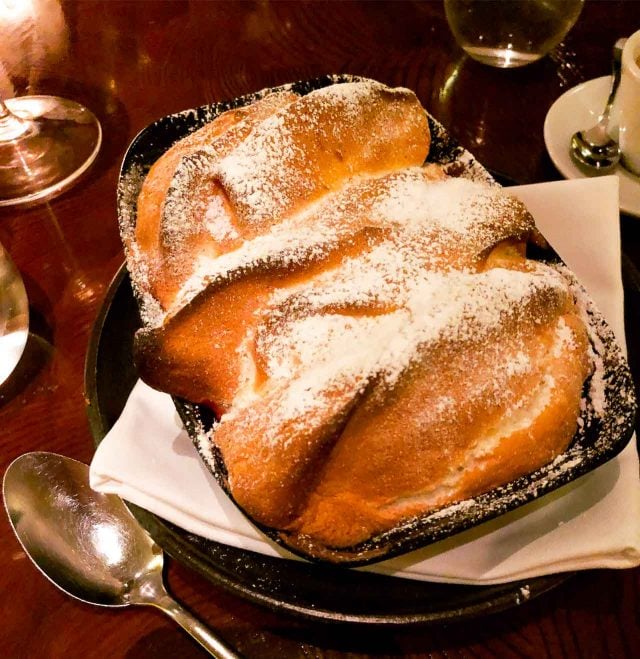 Bâtard is what modern French (and European) cooking should be, done with respect for tradition, but using it as a jumping off point, rather than strictly adhering to old formulas for the sake of whatever. It was hard not to wolf down the stellar housemade brioche buns topped with wisps of fleur de sel, but we saved room for seared scallops in saffron sauce, Arctic char with spring peas and favas, and finishing up with a soufflé (above, a riff off Salzburger Nockerl) baked over a confit of perfect strawberries that were so good, I scraped the dish clean. Kudos to pastry chef Julie Elkind for creating a dessert that has me thinking about it weeks later. The seedy bread they serve with the brioche, also made on the premises, was one of the best breads I've had. (239 West Broadway.)
It's hard to say whether the sausage & kale pizza with young pecorino and stracciatella cheese, braised short ribs under a hillock of herbs and shaved asparagus, or shrimp marinated in tomatoes and garlic with jasmin rice was the top dish of the evening, but my cousin's wife said the shrimp was "probably the best thing I've ever eaten in my life." As memorable as the rest of the meal was, I'd have to agree with her. Named after the town in California that chef Justin Smillie comes from, each plate evokes a west coast passion for freshness of ingredients. The cookie plate for dessert was also an embarrassment of riches. Rumor has it that the cheeseburger at lunch is one of the best in the city. It's on my docket for my next visit. (345 Park Avenue South.)
I'm wowed by the food at Via Carota every time I've eaten here. I always want to try everything, but the Cacio e Pepe pasta really stands out for its simplicity and is perfection in a bowl, so I usually go with that. (Nothing wrong with having good habits, right?) Everything here, though, is as close to perfect as it can get, including the deceptively simple green salad. I also like that they have small (25cl/1 cup) pitchers of wine, just right for sharing at lunch. One downside is the restaurant doesn't take reservations, so go for lunch or try it hit it at off-hours. (51 Grove Street.)
The team that owns Via Carota just opened Bar Pisellino across the street. I wandered in one afternoon while waiting for friends. They're still finding their footing but once I got to the bar, I had an excellent White Negroni and munched on Cacio e Pepe-flavored potato chips. Using Italian aperitivo bars as a reference, the drink list offers several low-alcohol drinks.
Normally a tough reservation, Misi now serving lunch opens up entirely new possibilities, and tables, making it possible to get into this pasta hot-spot. Missy Robbin's pastas are justifiably revered, and while I crave her deceptively simple rigatoni with spicy tomato sauce at her other restaurant in Brooklyn, Lilia, the Corzetti with mint, Italian broccoli, and pinenuts at Misi, is a favorite, as are the Spinach and Mascarpone tortellini in brown butter with dried ricotta and Buffalo-butter slicked Fettuccini with aged Parmesan. The Grilled baby artichokes, when in season, served with mint salsa verde are obligatory to order as a starter. Finish with housemade Mint stracciatella gelato, if you know what's good for you, as my nonna (my decidedly non-Italian grandmother) used to say. (329 Kent Avenue, Brooklyn.)
I don't always get excited about the Chinese food in Manhattan and Brooklyn, in spite of people passing on les bonnes adresses to me. But Han Dynasty usually delivers. This mini-chain offers up Szechuan specialties which include Dan Dan noodles, sauteed pea shoots (which Romain keeps asking why we don't get them in Paris – if someone knows, please pass it on to me and I'll tell him), and terrific wontons in chili oil. (You can skip the Kung Pao chicken.) Lunch is a deal. (90 3rd Avenue, check website for other addresses.)
This may be my favorite restaurant in the U.S. right now. If I told you that it has a Michelin star, you might be tempted to blow it off. But don't. Mexican food is one of the great cuisines of the world, and the food at Claro! is rooted in Oaxaca. I started off with a mezcal-like cocktail made with Estancia Raicilla, which can't be called mezcal due to geographic designations, but its similar smokiness lent an alluring backbone to my cocktail. The star dish of the night was the Yellowfin tostada (above) with Cara Cara oranges, kumquats, pasilla chile, and chicharrón (crunchy pork skin) on a housemade tortilla. The wild mushroom memela with goat cheese, epazoté and pasilla was also superb; the especially engaging waitress nodded vigorously when we ordered it. This isn't a taco joint but it's not fancy either, hence my apprehension about touting its Michelin star. Although it's tempting to order everything on the menu, the food is quite filling so just remember, you can always go back. (284 3rd Avenue, Brooklyn.)
We hit this hotspot the first week they opened and it seems they've already hit their stride. Some of the restaurant is devoted to walk-ins, including the breezy outdoor space out back with a pétanque court which I'm sure will be put to good use come summer. The specialties here are French/Japanese mash-ups. Yakis (skewers) make up the main courses, but the firsts really blew us away. I didn't know ducks rillettes could taste so good. (I was eating with a food writer friend and we both paused, and were like, whoa, these are good!) Lowly escargots are made a lot more interesting doused with herby shiso butter. (Sorry butter and garlic…) When I ordered the puffy Pommes Dauphine, the waiter assured me I made the right choice, and he was right. And the warm, house-made baguettes with yuzukosho butter I could eat every morning for breakfast. Nothing on the menu is more than $10, which is subject to change, but I hope nothing here does. (626 Vanderbilt Avenue, Brooklyn.)
Some say the New York deli is dead. This family-owned deli in Greenpoint offers smoked fish, smoked and braised meat, all top-notch and served at a counter. I assumed people on Instagram that the well-piled pastrami sandwich I posted, I was sharing, to stave off any questions about how I seemingly eat so much. But if no one was watching, I'll admit that I could probably polish off a whole one. (631 Manhattan Avenue, Brooklyn.)
Grand Army and Maison Premiere
These two bars are the best of the genre, with very, very good cocktails and bar food that matches the quality of the drinks. Both places have oyster happy hour, where fresh oysters are only $1 a piece, hours listed on their websites. Both places also have inventive cocktails, with those at Maison Premiere incorporating French spirits, so I always feel right at home. Grand Army takes reservations and I suggest you make them if you want to get a seat. (Grand Army: 336 State Street, Maison Premiere: 298 Bedford Avenue.)
One of the great things about New York is that there are lots of places to eat outside. And since smoking is forbidden, you can enjoy your food en plein air. Romain always wants to eat overlooking the water, which isn't always possible in New York but Fornino on Pier 6 in Brooklyn offers up wood-fired pizzas not far from the river. Warm weekends it gets quite crowded and it's less pleasant than during the week, as the pizza oven (and the bar) get backed up. (Pier 6, Brooklyn Bridge Park.)
I met up with Michael Rhulman, a ne plus ultra drinking and dining buddy, and his wife Ann Hood for drinks and dumplings. The wontons in spicy peanut sauce are a must-order. The Manhattans are pretty good as well. (292 Grand Street, Brooklyn.)
The website says Bar Sardine is "laid back" but when I went with my friend, spirits writer Brad Parsons, the place was hopping. Famous for their Bloody Marys, extra-friendly bar director Brian Bartels wrote the book on them, although we arrived at 10pm, so it seemed a little late (or early?) for one. After a cocktail tasting we attended beforehand at Momofuku, I went with orange wine, something uncommon in Paris, which was the right choice with the especially crisp pig ears with hot pepper jelly and deviled eggs with chickpea puree, which we followed up with Fedora burgers served with bbq mayo, smoked cheddar, and les frites. A good time was had by all. (183 West 10th Street.)
While I like Miss Korea (warning: their website opens with music, which scared the kimchi out of me), and it's fun to hit the salad bar-style Woorjip for a quick Korean bite, I think it's good to mix things up in life, and hit The Kunjip for lunch. Lunch menus in Koreatown offer bargains and my Kalbi beef (above) was $19 and came with six banchans, soup, and an overly generous bowl of cold buckwheat noodles. The young woman next to me, who was also dining alone and wasn't familiar with Korean dining, was startled when the server came over with a tray overloaded with side dishes, soup, etc. just for her, protesting she didn't order all those things, until they explained that they were included. She didn't eat as much as I did. I finished everything. (32 West 32nd Street.)
---
Tip: A number of people on social media asked about getting into high-demand restaurants. Restaurants that are on RESY allow you to set a notification and will send you a text if a table opens up on the date and time(s) you've requested. I was on the notification list for a lunch table at Misi, which was completely booked the day I wanted to go. Within a few hours, I got several notifications of dining times that opened up, one of which I jumped on. Some places also hold back reservations from online booking services so you can sometimes call or walk in (due to no-shows), although best to have a back-up if you decide to just show up, as that strategy may not yield seats.
Bakeries and Sweets
I was in New York to tape a few television shows and in the green room, other guests on the show insisted I stop in at Stick with Me. When I looked at the website, I wasn't so sure: colored chocolates don't usually do it for me. But I had to admit, once in the shop, the chocolates were gorgeous and perfectly presented, and made me want to try them all. Each chocolate made by Susanne Yoon (former pastry chef at Per Se) was creamy inside, but had the intensity of its intended flavors, from guava-passion fruit to peanut butter & jelly, as well as bourbon-maple pecan and my favorite, kalamansi meringue pie, with a tangy kiss of citrus. (202A Mott Street.)
Supermoon Bakehouse is my happy place in New York City, a whimsical pastry wonderland with boldly-flavored croissants. They weren't baking the "Everything" croissants the day I was there, which are filled with cream cheese, smoked salmon and dill, topped with a multitude of seeds, but there were Reuben croissants rolled up with pastrami, housemade mustard, sauerkraut and topped with a cornichon. You've got to hand it to Ry Stephen, the owner and baker; no one can dial up a croissant like he can, especially his chocolate ones (above) filled with dark chocolate pastry cream and cocoa-laminated dough. But even if you're not interested in fillings or frostings, his standard croissant laminated with French beurre d'Isigny, is one of the best croissants you'll have anywhere. I had a scoop of his sweet corn ice cream with freeze-dried corn, which was amazing. Rumor has it the soft serve croissant butter ice cream is also a winner. (120 Rivington Street.)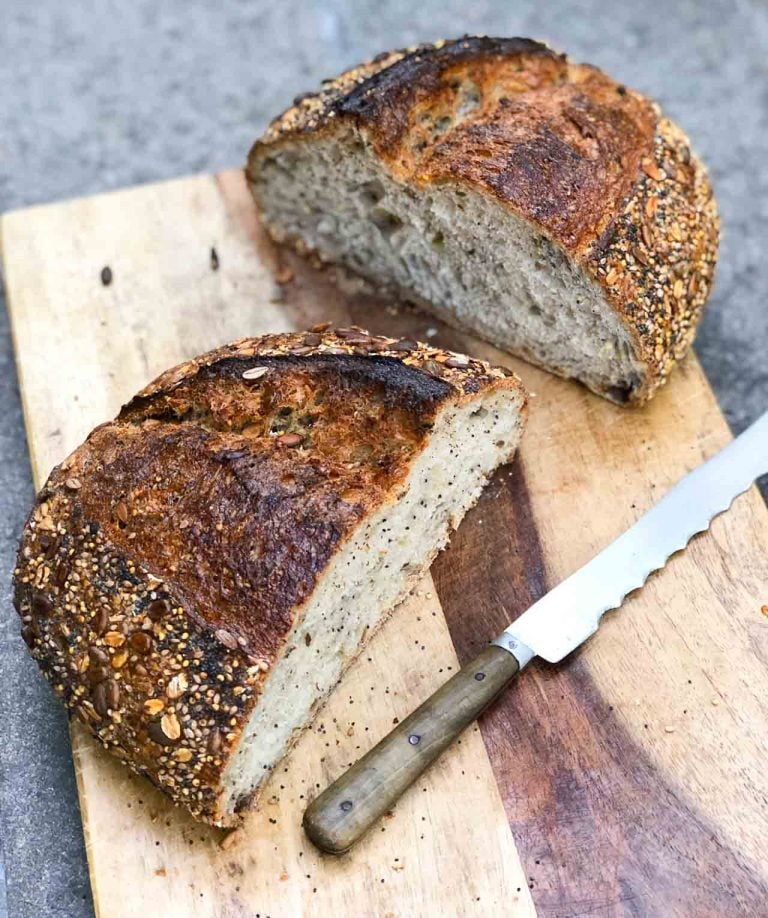 I loved meeting French baker Gus Reckel, aka: Monsieur Gus, who starts baking at 4am to prepare a line-up of breads that beat many of the bakeries of his homeland. His Chocolate Chip Cookies have won kudos for being contenders for the absolute best in the city, beating the locals at their own game. My friend (and chauffeur) Nato and I tried his new vegan version, which was also absolutely delicious. (1524 Myrtle Avenue, Brooklyn.)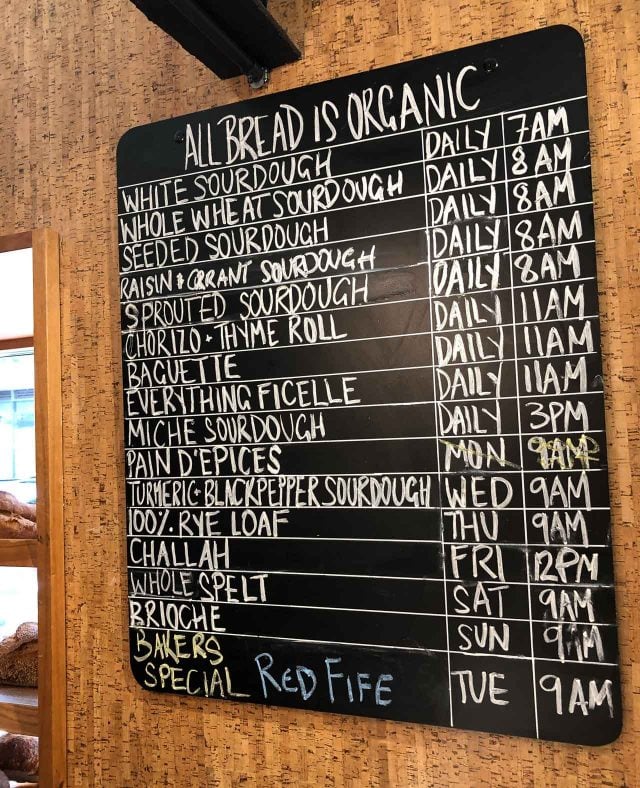 The fine folks from this popular bakery in Australia have opened up in New York, causing such a buzz that when it opened, it was hard to squeeze in. Many were Aussies, scarfing down their legendary sausage rolls with chili sauce, or the famed custard tart with spicy ginger and a brûléed crust. I came for the bread, which was as good as I remembered. (15 East 28th Street.)
This American outpost of a Danish bakery serves up open-faced sandwiches and Scandinavian pastries. My chocolate-covered marshmallow puff, on a crisp shortbread, was light, fluffy…and sweet. The rugged bread that was a solid mass of grains was hearty and filling. Open from breakfast through dinner. (873 Broadway.)
The former chef at famed Breads bakery, a transplant from Tel Aviv, presents his own babkas, available in chocolate, poppy seed-hazelnut, and cinnamon, plus kugelhopfs and rugelachs, as well as a selection of burekas; bite-size Middle Eastern pastries. The feta-filled puff pastries treat we had would have shined brighter if hot from the oven, but it was nice to sit in the modern room and munch on flaky chocolate rugelach. Next time I want to try one of the pretty alfajores cookies. (115 Division Street.)
Sweden has also planted a bakery flag in New York at Fabrique. The knotted cardamom rolls (above) were delicious but I was really into the granola bar; a solid block of seeds and grains, with dried cranberries providing some tartness. A little off-the-beaten-track, with a line up of nice-looking breads and croissants (shown at the top of this post), this is exactly the kind of bakery you want in your neighborhood. It's no secret, though; according to Eater, they have 20 locations in Stockholm and five in London. (348 West 14th Street.)
My search for a great Black & White cookie led me here. (There's a recipe for them in my book, Ready for Dessert.) AT the Donut Pub, doughnuts are made with everything, from salted butter caramel to bacon, which lined the shelves and are featured in the window. But I was there for the Black & White. The cookie was HUGE; literally big enough to feed four. It was quite thick, and a good one. But if they made them thinner, which would tilt the ratio of icing to cookie more in favor of the frosting, I probably could have finished it off by myself. A big plus was the terrific salesperson, who kept calling me "honey." (203 West 14th Street.)
My friend Renato, who founded Baked bakery (who kindly squired me around for a few days), is striking out on his own with an Italian-accented cafe and bakery in Brooklyn. They're still building the venue, but you can follow their progress on their Instagram feed, and I'll see you there when they open. (550 Vanderbilt Avenue, Brooklyn.)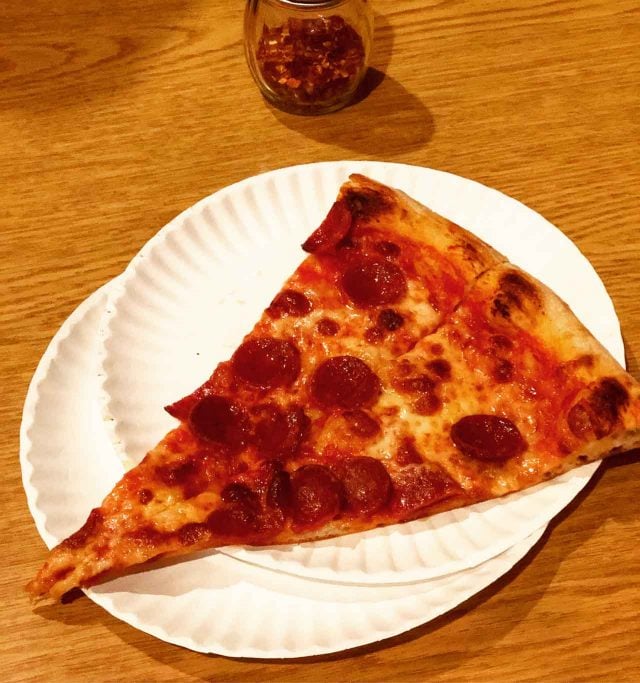 Pizza
When in New York, I always get a pepperoni square at Prince Street Pizza, but also discovered Scarr's Pizza on the Lower East Side, a compact pizzeria meant to replicate an old-style New York pizzeria. (Well, old for the 1980s.) Another favorite pizza in town is the Roni Supreme at Emmy Squared, a Detroit-style pie with pepperoni, smeared with Calabrian chili paste.
I also discovered D. Coluccio & Sons in Bensonhurst. (If you're in that area, you might want to check out Kerekes baking supply company. I didn't make it, but if you're a baker it might be worth a stop in there, too.) Dom Coluccio and his family have been importing foods from Italy for generations and while there, a number of Italians were doing their shopping, which a few that I spoke with, said they'd been doing there for decades.
Being an importer, prices are less than elsewhere. There are too many items to mention, but I picked up a bag of "smoked wheat" pasta, which pasta expert Maureen Fant told me a few days later over dinner, was a holdover from the days when poor people would use the sweepings of the pasta factory floor to make noodles, toasting the wheat first. I also found salted Sicilian sardines (a large tin, which packed nicely in my suitcase), the tiniest Bialetti moka pot I've ever seen (because I can't resist anything in miniature), and a few sandwiches to share with my friends made from their inviting selection of salumi and fromaggi.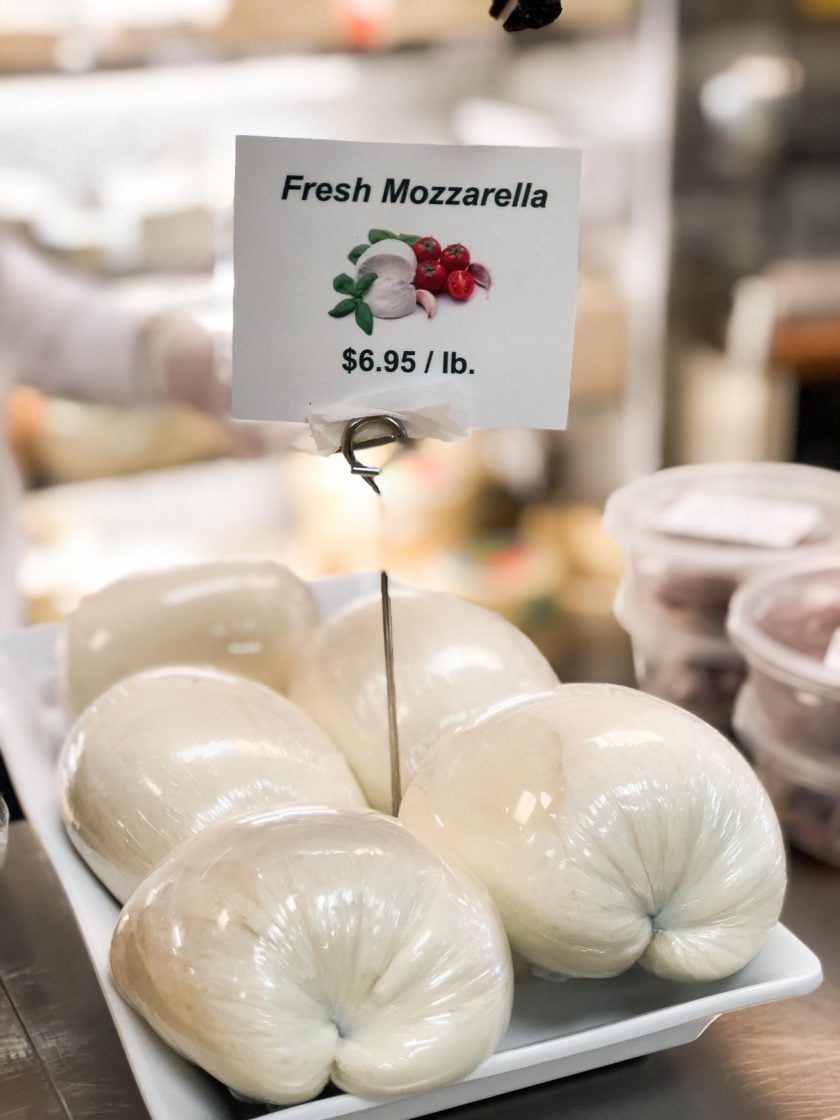 Other New York Addresses and Posts
New York City Dining and Travel Notes
Eating Out and About in New York City
All New York City posts (archives)