Doughnut Plant, NYC
Could the Doughnut Plant be the best place in the world?
I'm sorry, but I don't remember the name of each and every doughnut we had at Doughnut Plant in New York City. Frankly, I was so caught up in ordering doughnuts, passing them around, trying to take a few snaps, while going berserk over each and every flavor of doughnut we tried, my sanity took a temporary leave and I just let the overwhelming experience of being surrounded by fluffy, just-made, extraordinarily wonderful doughnuts pass over (and into) me.
It was standing in the middle of a storm of doughnuts, literally playing referee between the hungry mob I arrived with.

The fellow behind the counter told me, "Just sit down and I'll pass over what you want", and viewing the line of people crammed into the little storefront, surging forward, I took his advice and we took our place in the window seat, and watched the action.
On the way in, I heard someone in our group say "Tres Leches doughnuts", which are now my three favorite words in the English language. A creamy doughnut, moist and sweet, with a silky-smooth filling and a sugar-crusted exterior. One bite and I knew we were going to be in for something special.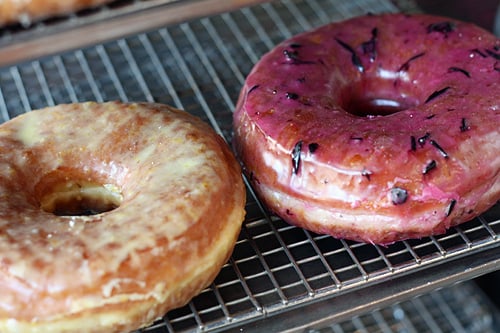 I'm not a fan of fruit or jam-filled doughnuts (it seems odd to fill something sweet with something even sweeter) so passed on the wildly-blue blueberry and jam-filled square doughnuts that everyone else was swooning over.
But also, I figured while they were all filling their craws with the fruity specimens, I would distract them away from the Blackout Doughnut (my favorite) and the giant, puffy Valrhona chocolate doughnut. Both were so…so good.
Since I was with a group of deranged doughnut–lovers, I felt like I was in the eye of the storm. Or like the hole of the doughnut, since everyone around me was passing around and ripping into the doughnuts while I seemed to be in the 'dead zone'.
Even though Doughnut Plant is pretty far downtown, I think I'm going to have to go back. They were closed yesterday but have started their ovens up again, to prepare for the crowds of doughnut-lovers who are going to start lining up today.
And I will be one of them.
Doughnut Plant
379 Grand Street
Telephone: (212) 505-3700
(Closed Monday)
Related Posts
Sugar-Crusted Popovers (Recipe)
German Chocolate Cupcakes (Recipe)
New York City Dining & Travel Notes