I sometimes think about stepping back into the restaurant world. I miss being around all that energy and cooking alongside others instead of toiling in the kitchen all by my lonesome (…and with you, of course). But it's nice to bounce ideas off of others and do more involved presentations, plus I'll admit, I miss having a team of dishwashers on staff just as much—or even more.
I love what the new generation of pastry chefs have been doing. There's a lot of fresh talent out there, and I guess I should just continue to leave things (and the pots and pans) in their hands and be happy to remain a stay-at-home baker.
One place that has fascinated me ever since I heard about it is Momofuku Milk Bar, run by pastry chef Christina Tosi.
I like her combinations which touch on classic desserts (pies, ice creams, and cookies) yet use them as touchstones for going off in crazily askew directions. Cookies get crushed potato chips and crumbled pretzels mixed into the batter to create her now-famous Compost Cookies, which deserve all the acclaim they get. They're amazing and it's a good thing I haven't mastered her Compost cookie recipe because I'd find myself making them a little more often than prudent.
And I had little in the way of expectations for the humble Corn Cookie, a yellow dome of corn powder and corn flour when I slipped it out of the little bag it was packed in. But I took one bite and was like, "Pass the butter and salt!" The cookie had the exact same flavor as eating an ear of fresh corn. I don't know how Christina got the taste just right, but this rich cookie was a bit of a mind-bender; I was expecting a simple biscuit made with cornmeal, and she turned that on its side, dialing up the vegetal taste of corn in this astoundingly buttery cookie.
Adding to the revival of soft-serve ice cream, at Momofuku Milk Bar you'll find a few kicky flavors such as cereal milk, bbq, and my favorite, Purple Drink, the most colorful of the cups and captured the forceful flavor of Concord grapes in a delicate creamy swirl. Cereal Milk is infused breakfast cereal in a milky base, which is their most popular flavor, but I found myself dipping my hand into the little cups of cornflake and potato chip crunch. I am desperately waiting for her cookbook to come out so I can reproduce them at home.
And I'm glad to know that there's actually a word for the orange dust leftover on your hands, from eating Cheetos (cheetle), and I suspect once this recipe gets out, we'll need to come up with a word for the salty, sugary dust left on your fingers from eating sugared potato chips.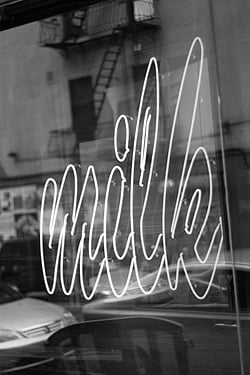 I'll have to admit, the kimchi butter gave me pause. I will also admit that I've been thinking about making a dessert with my homemade kimchi for a while now, although like a lot of things, it's an idea that is probably going to remain in that little area in the back of my brain where I file away ideas for later. Which is pretty crowded as it is.
Suspicious I was, but after I took a picture of it, I inadvertently licked the spoon and found it eerily delicious. Am not sure what you're supposed to do with it, or how it's served (although I was too late to taste the kimchi and blue cheese croissants they serve at the bakery), so the little jar is back in the refrigerator, and I welcome any and all ideas. And no, I'm not rolling out my own croissants with it back in Paris. I don't think they're quite ready for kimchi-infused croissants back home.
Christina is also the inventor (or inventrice?) of Crack Pie, a deceptively slender wedge of pie; a toasted oat crust filled with a dense, creamy, buttery filling. (Whose name was changed in 2019.)
Admittedly, I'd eaten a few cookies, sampled every soft-serve flavor, and had a few licks of kimchi butter, (and this was after lunch at Porchetta) so I wasn't able to do it justice. But I did my best. Forgive me.
Momofuku Milk Bar
207 2nd Avenue (at 13th Street)
and
15 West 56th Street
For recipes, check out the Momofuku Milk Bar Cookbook by Christina Tosi
Related Posts
New York City Dining & Travel Notes