When I was speaking at the Blogher Food Conference last year, one of the organizers was telling us that on the last day of each month, she carries out what she calls E-mail Amnesty Day. On that day, she deletes all her e-mail in her Inbox, then issues an all-points-bulletin to everyone she knows that if there was anything important in there, to e-mail her again. She swore that it drastically reduced her e-mail and any meltdowns one might have trying to answer it all.
I thought that was an interesting idea, and when I looked around my apartment the other day, (which wasn't half as scary as my Inbox), I realized that I had a huge miscellany of half-bags and jars of stuff left over from various baking projects, odds and ends that I was saving, which I said to myself (at the time) that I'd certainly use in the future. And this weekend, I thought it was high time to do something about it and get rid of them all, to do an exhaustive, clean sweep and get rid of everything.
What also prompted the purge was when I read where Adam made something called "Compost Cookies", a recipe which includes anything you wish to dump in it, from chocolate chips to Fritos.
He replied, on Twitter, "What would you put in your version?" And then it hit me, that I should give these highly-praised Compost Cookies, a recipe from pastry chef Christina Tosi of Momofuku Milkbar, a try.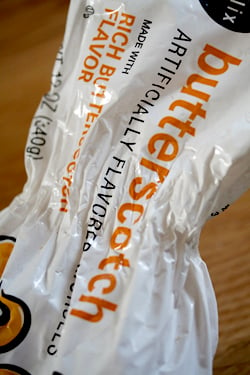 I puttered about my apartment, gathering up goods, like that small blob of caramelized white chocolate I'd been picking at whenever it rose to the top of the pile of stuff, the 3/5ths of a bag of butterscotch chips that I used for Triple Chocolate Scotcheroos, four chocolate truffles I didn't get around to eating which looked lonely, a half-jar of croquante from a brush with a molecular gastronomy, three miniature Kit-Kat bars from Japan, and the last morsels and bits from the bottom of a five kilo box of French chocolate pistoles.
Sine the recipe pretty much gives you leeway to use up three cups of stuff, including pretzels, potato chips, or whatever snack foods you want (or have on hand)…I kissed those Kisses goodbye, gave a scissory guillotine to some orphaned oursons guimauve, and said au revoir to all that.
Well…one of the three Kit-Kat bars didn't make it into the mix. I had to taste one, to make sure they were was still usable, right? And maybe a few marshmallow bears, before sending them off to meet their melting fate.
For better or worse, in France, there's all sorts of goofy snack foods, including one that I didn't know if it still existed in the states or not: Bugels.
(I used something called "Google" and found out that yes, they do. I guess since no one sold them at the San Francisco farmer's market, I sort of forgot about them.)
Although the supermarket shelves in France aren't the all-out assault the American snack foods aisles are (re: shelves vs. aisles), we do have roast chicken-flavored potato chips, and there's plenty of other nutritionally-dubious stuff to choose from, nonetheless. And the versions that you see here are often close to the original ones we had in the states, before everything thing in them got banned. Most likely because a lot of them fly under the radar here, they still taste the same as they did in the old days, since they're full of insidious hydrogenated fats and even le glucose.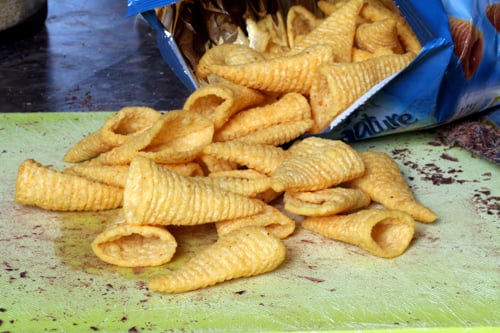 Like America, France is still a relatively-free country (although the banks and mobile phone companies here would like it otherwise), the great thing is that you can put anything the heck you want in this batter: thin mints, Pepperidge Farm goldfish, crisp bacon, Captain Crunch, salted butter caramels, Bugels, peanut brittle—whatever. Everything…out, out, Out!
As Adam mentioned, the dough was oh-mes-étoiles good. Don't even think about tasting it before you bake the cookies, because if you do, you won't likely have enough to bake off a single sheet pan of these. The salty pretzels embedded in the brown sugared batter, and corny Bugels a-plenty mingled with the big hunks of top-quality chocolate and low-quality butterscotch chips makes a dough that's one salty-sweet, buttery-crunchy, amazingly delicious mess.
Unlike when Adam said to Eve, "Stand back! I don't know how big this thing is gonna get!", when I scooped the cookie batter on to the sheet, I knew for sure they were going to be mighty-big whoppers. (Unlike Adam. Well, I mean the Adam of Adam and Eve. I don't know about Adam Roberts.)
The recipe says to use a 6 ounce ice cream scoop. Do you have any idea how big a six ounce scoop is? That's about 3/4 cup of batter.
Per cookie.
Hey, the bigger the better, I suppose. And I had a lot of stuff to plow through, so I wasn't questioning anyone.
However.
Being a good little baker, I followed the Compost Cookie recipe almost precisely, and the first batch were puddings of underdoneness, with lava rock-like edges. Someone on my Flickr page said they looked like "chicken pot pie cookies."
I guess I was so excited to get rid of things that in my haste, I neglected to read where in the recipe, it said it was obligatory to freeze the scoops of dough for at least one hour, which I then dutifully did with the rest of the batter.
After baking off another two baking sheets, each one producing six identically flat cookies, which luckily didn't resemble caramelized savory hand pies (although there's an idea for anyone enterprising out there who wants to run with it) I went back and re-read the recipe yet again, and realized that the baking sheet needs to be frozen as well. So it was back to the chopping block for me.
Considering there isn't space for a postage stamp in my freezer, finding space in there was no easy chore, let me tell you. But if I could clear out some space in my cabinets, gosh darn it, I could give it a go in my freezer.
And because when I'm having a problem I do what everyone else does: blame the French. So I resorted to dipping into my stash of American flour.
And sure enough, success. Whew!
Oh, and what did I do with those extra cookies, the flat, the chicken pot pie-like, and overbaked, too thin ones? I cut them up and put them in the freezer, where I'm storing them, to use for another baking project in the future.
Oh, no!. . .