Banana and Chocolate Chip Upside Down Cake (Lowfat)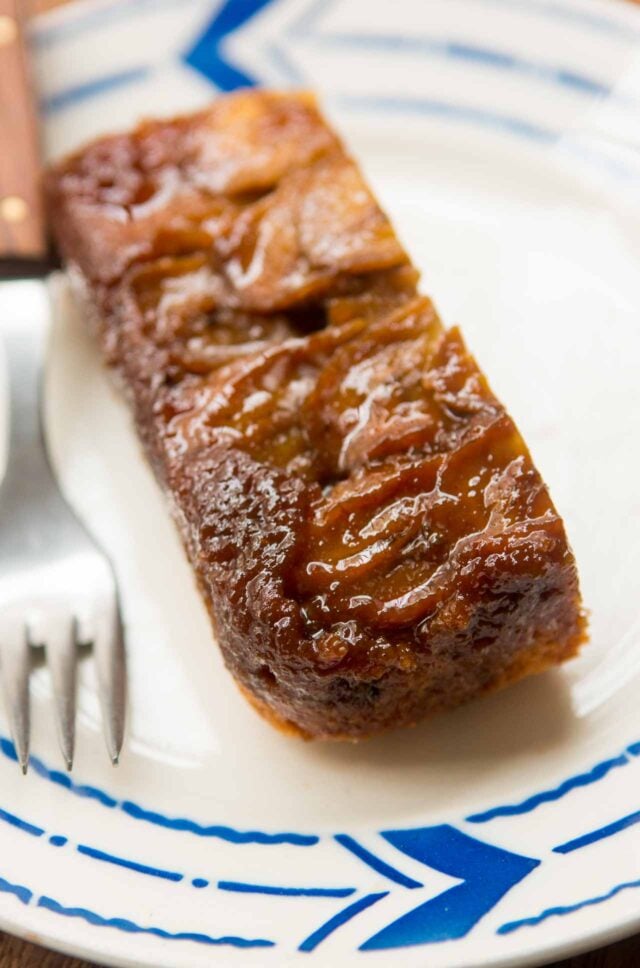 I'm happy to be taking care of two things with this recipe. One is that about a week ago, my neighbor gave me two bunches of bananas. He's in the photography business and needed a few large bunches for a photoshoot. When it was over, he sent me a text message asking if I could use any bananas. Free fruit? I ran over there to get them.
They were in pretty good shape so I asked why he didn't just take them home for himself. He said he was concerned about getting them banged up on his bicycle riding back to his place, so he'd be delighted if I took them off his hands. When I mentioned that the bananas had survived a trip from the tropics, before their arrival in Paris, and surely they'd make it back to his place just fine, which was ten minutes away, he waved me away. I didn't press it because I'm always happy to have free fruit. But a few days later I realized the bananas were very ripe, on their way to becoming too ripe to eat, so I thought I'd make this Banana and Chocolate Chip Upside Down Cake, which I hadn't made in a while.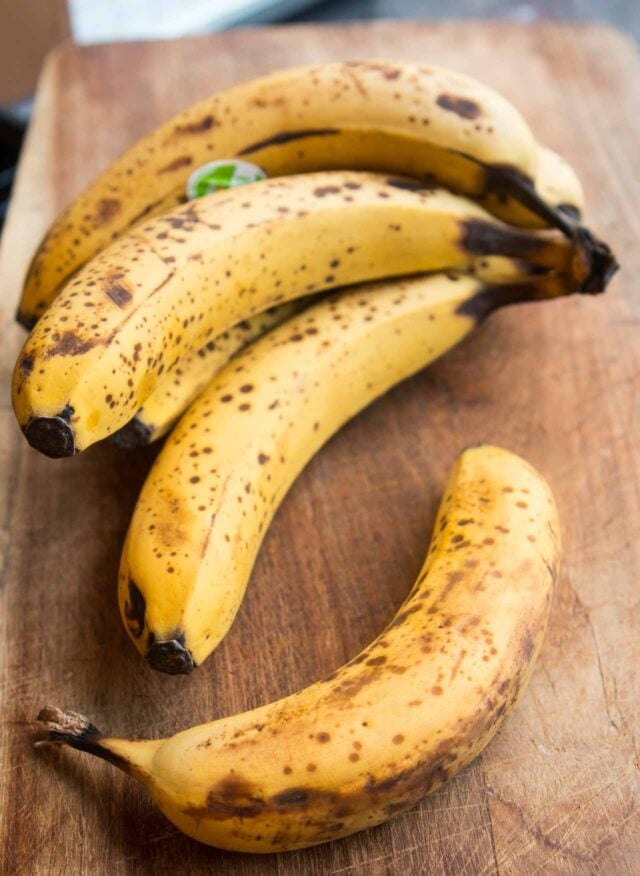 When I first came up with this cake, lowfat baking was in vogue. While I don't mind eating butter, sour cream, and eggs, I challenged myself to come up with some lowfat recipes that didn't taste lowfat, but tasted just as good – if not better – than their full-fat counterparts.
Another thing about this recipe is that it couldn't be easier. Just mix some mashed bananas with lowfat sour cream (although full-fat will work, too) and egg and an egg white, and a small amount of butter, then stir in the dry ingredient, although with a handful of dark chocolate chips or chunks. Chunks will be a little melty whereas store-bought chocolate chips hold their shape once baked, so it's up to you.
Every time I make this cake, I wonder why I don't make it more often? And that was the same way I felt when I pulled this out of the oven and unmolded it onto a serving plate. It's a great cake studded with melting chunks of chocolate, the rich-tasting batter scented with a hint of cinnamon, and rows of bananas lined up on top, gooey and caramelized in a pool of brown sugar topping.
Banana Chocolate Chip Upside-Down Cake
When I originally developed this recipe, as mentioned, I was writing for a magazine that requested low-fat recipes, hence the single egg white. But if you're not all that concerned, simply add an additional egg, yolk and all, and reduce the sour cream by one tablespoon. If you live somewhere where sour cream isn't available, you can use buttermilk, plain whole milk yogurt, or fromage blanc. You'll notice that you can use either butter or water in the topping. If you're skeptical, I can honestly say that both versions are very good.
For the topping:
1/3

cup plus 2 tablespoons (60g)

packed dark brown sugar

2

tablespoons

water or butter, cubed

,

at room temperature

3-4

ripe medium bananas

a few drops of lemon juice
For the cake:
1 1/2

cups (210g)

flour

1

teaspoon

baking powder

1/2

teaspoon

baking soda

1/2

teaspoon

salt

1

teaspoon

ground cinnamon

3/4

cup (150g)

granulated sugar

2

tablespoons (30g)

melted butter

,

salted or unsalted

1

large egg

1

large egg white

1

cup (250g)

banana puree

,

about 2 bananas

1/2

cup (120g)

sour cream

,

regular or low-fat

1/2

teaspoon

vanilla extract

1/2

cup (80g)

chocolate chips or chopped bittersweet or semisweet chocolate
To make the topping, place the brown sugar and water or butter in an 8-inch (20cm) square cake pan. Warm the pan directly on the stovetop over low heat, stirring until the sugar is thoroughly moistened.

If using water, simmer the mixture for about 45 seconds. If using butter, stir just until the sugar is moist and bubbling, then remove from heat. (It won't melt completely smooth, and there may be a few bare spots, which is normal.) Let cool to room temperature.

Peel and slice the bananas in 1/4-inch (1 cm) slices. (Tip: Slicing them on the diagonal will give you better coverage with the bananas.) Arrange the slices in slightly overlapping rows over the melted brown sugar. Sprinkle with a few drops of lemon juice.

Preheat the oven to 350ºF (180ºC).

Whisk together the flour, baking powder, baking soda, salt, and cinnamon in a large bowl, making sure there are no lumps. Mix in the granulated sugar.

In a small bowl, mix together the butter, egg, egg white, banana puree, sour cream, and vanilla.

Make a well in the center of the dry ingredients and stir in the wet ingredients until almost combined. Do not overmix. Gently fold in the chocolate pieces.

Scrape the batter into the pan over the bananas, then use a spatula to carefully spread the batter over the sliced fruit.

Bake for 35-40 minutes, or until the cake feels just set in the center when you touch it.

Cool the cake for about 20 minutes, then run a knife along the edges of the cake to help it release from the pan. Invert the cake onto a serving platter.
Notes
Serving: The cake is best served warm with whipped cream, vanilla ice cream, or by itself as a snack. If made an hour or so in advance, it can be inverted on the serving platter, and left with the cake pan over it, to keep it warm. Otherwise is can be rewarmed in a low over, covered with foil. Or enjoyed at room temperature.
Storage: The cake can be made up to two days in advance, although like most cakes, it is best the day it's made.
Related Recipes and Posts
The Easiest Chocolate Ice Cream Ever
Quick Coconut Saffron Ice Cream
Ingredients for American Baking in Paris