Banana-Brown Sugar Ice Cream
My recent banana windfall gave me the chance to play around a bit with various banana ice cream combinations.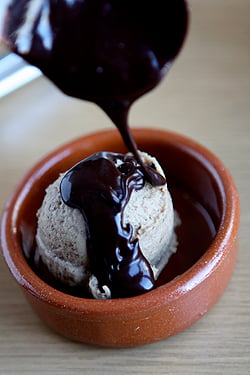 Since bananas are such a natural partner for coconut, I reasoned, "Why use milk or cream when there's coconut milk?" So I reached for a can of coconut. Continuing with that train of thought, I figured it'd be interesting to use jaggery, raw cane sugar that's used in Indian cuisine, in my ice cream as well.
I'd bought the husky, ultra-dark sugar up near the gare du Nord, in the Indian and Sri Lankan neighborhood, for no other reason than I was attracted to its rich color and the aggressive scent that wafted through the bag when I pressed it against my nose. When I moved to Paris, I remember people telling me to avoid that neighborhood, that it wasn't safe. But it's become one of my favorite quartiers, mostly because of the lively ethnic communities that have settled there. (As well as being the home to the Paris chapter of the Hell's Angels.)
Aside from the shops with all sorts of unusual pungent spices, dusky flours, sugars, leafy herbs, and odd-shaped fruits, which I love poking through, the Barbès market on Saturday morning is pretty wild and it like stepping into another country: it can be rather riotous and certainly isn't for the timid, and if you're not watching your back (and front…and sides) you'll likely come home with a few bruises. But your shopping basket will be overloaded with lots of oddities, as mine invariably is, which makes it worth braving the masses.
I like playing around with different sugars since their flavors can vary so much. By simply swapping out another sugar in a recipe, you can change the flavor of a recipe. Many natural or unrefined sugars add a wonderfully harmonious flavor when paired with ingredients from similar regions and cuisines.
Most smart folks agree that anything tastes better caramelized, so I sliced the bananas (which, unlike me, are improved by bruises) and cooked them in a bubbling mixture of jaggery and coconut milk. But after cooking the mixture, then letting it chill overnight, the next day when I went to churn the mixture, I opened the lid of the container and, well…let's just say it was not a pleasant sight. It didn't really bother me, but I figure readers might scoff at something that was so dark in color.
Like my voyages to unusual markets, being the adventurous type, I took a spoonful and it tasted great. So I whisked it well to thin it out and poured it into my machine. And waited. After about thirty minutes, I lifted the lid off the canister in the machine and took a taste. It was pretty wonderful stuff.
Still wary of reactions to the color out htere, I decided to ask my Twitter followers what they thought (since I thought it resembled frozen pâté), but everyone responded favorably.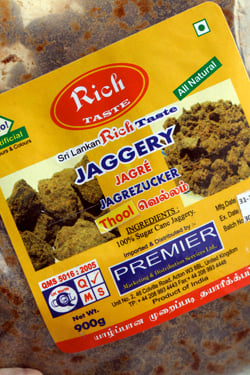 Jaggery can be pretty strong stuff. So if you're not prepared for the full-flavor of it, look for one that's light in color. You can also use palm sugar, unrefined cane sugar, or even regular light or dark brown sugar, depending on your preferences. Another voice on Twitter chimed in, and mentioned cardamom, which would be a lovely addition as well.
If you use coconut milk, the ice cream is vegan, although I made a version with fromage blanc (similar to sour cream) and good for those of you who don't have access to coconut milk, although it's pretty easily found in most well-stocked supermarkets, nowadays. And you don't need to brave any crowds to get it.
Banana-Brown Sugar Ice Cream
If using sour cream or fromage blanc, when cooking the bananas, the mixture might curdle a bit. That's fine; just proceed with the recipe and it'll smooth out when blended. Bananas should be soft and quite ripe; lots of black speckles on the outside is the best indication of ripeness. Because this isn't a custard-based ice cream, it's easier to make, but freezes harder when stored for a while in the freezer. So be sure to take it out at least five minutes before serving, or longer, so it comes to the right scooping temperature.
1 1/4

pounds (600g)

very ripe bananas

,

(6-7 medium), peeled and cut into 1/2-inch (1 cm) slices

3/4

cup (135g)

light or dark brown sugar

,

or jaggery

2

cups (500ml)

coconut milk or full-fat sour cream

big

pinch

of sea salt

1

teaspoon

dark rum

1/2

teaspoon

vanilla extract

optional: lemon juice
In a wide skillet or saucepan, heat the brown sugar with one-quarter of the coconut milk or sour cream, stirring, until smooth and bubbly.

Add the bananas and salt, and continue to cook, stirring occasionally, until the bananas are soft and completely cooked through. It should take about five minutes.

Remove from heat and stir in the remaining coconut milk or sour cream, rum and vanilla. Taste, and add a few drops of fresh lemon juice if it tastes too sweet.

Puree in a blender or food processor until completely smooth.

Chill thoroughly, then freeze in your ice cream maker according to the manufacturer's instructions. (If it's too thick when you take it out of the refrigerator, whisk it briskly, which should thin it out so you can pour it into your machine.)
Related Recipes, Posts, and Links
How to Make Ice Cream Without a Machine
White Chocolate-Fresh Ginger Ice Cream
Tips for Making Homemade Ice Cream Softer
Milk Chocolate and Black Pepper Ice Cream
Quick Coconut Ice Cream with Saffron
Salted Butter Caramel Ice Cream