Bleu de Termignon
One thing I've learned in France, is that if someone who's an expert tells you to eat something—you should eat it. (Except squid, of course.) When I lead tours, right before I place their hand on the bible, I make guests promise that if I tell them they have to try something, they will. It's not that I'm on commission, it's just I've sifted through a lot of stuff and it's not worth filling up on the bland when the extraordinary is within equidistant tasting distance.
When my girlfriends Peggy Smith and Sue Conley, who make the wonderful cheeses of Cowgirl Creamery, were in town recently for the Salon du Fromage, they were surprised to be honored with a medaille along with an induction into the French Guilde des Fromagers.
I'd met Peggy way back around 1983, when I started working at Chez Panisse. She was a chef and I was a bit scared of her, standing over a large lamb carcass wielding a large, and very sharp knife, getting the beast ready to roast on the spit.
At the time, there were a few people in the kitchen determined to give the newby a difficult time. The French call it le bizutage, which we in America call "hazing". Of course, I wanted to do my best, and Peggy somehow took pity on me, pulled me into the walk-in refrigerator, and gave me her top-secret advice on how to deal with everyone who was having a field day on the new kid.
Now, after three decades cooking in restaurant kitchens, very little fazes me and there's nothing I haven't seen or heard. So as thanks for turning me into the bitter, jaded person that I am today, I offered to take her to a few of my favorite cheese shops in Paris.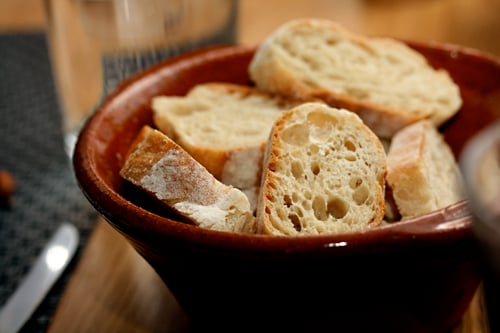 There's plenty of fromagers in Paris, but a few, like Marie Quatrehomme, are truly le top du top. Some of the fancy fromageries can be slightly snooty if you're not a regular (I won't mention any names…), but at Quatrehomme, they're always as nice as can be and when I told them that Peggy made cheese in California, the two salesclerks put down their cheese cutting knives, and quietly (mentally packing their bags) asked, "When can we go?"
Peggy scanned the counters and shelves, and pointed out cheeses that I didn't know, and told me things about cheeses that I already thought I knew. One that really caught her eye was a funky-looking bleu de Termignon, which she said was especially interesting because for one thing, the mold is natural and isn't from being inoculated.
And an interesting thing she told me was that the cows that produce the milk for this cheese graze very high up in the mountains of the Savoie and eat plenty of violets while also munching on the grass. (When I told a French friend this, she said, "You Americans will believe anything!") But I did a little research in my handy French Cheese guide, and found out the cows do consume flowers, which does seem natural since I doubt they're selectively eating around the pretty little flowers up.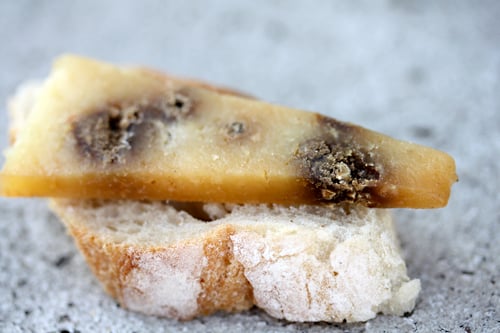 So I bought a wedge of the cheese, stuck it in my messenger bag, and brought it home. (I was trying to be vert and not take a plastic bag, which does have its caveats: I woke up in a panic in the middle of the night because it was forgotten and I left the pungent wedge in there, where it was 'perfuming' everything else.)
And she was right, it was pretty interesting. In spite of its odd appearance, it wasn't super-funky, or sharp and bitter, as some of the crust-covered aged cheeses like this usually are. Instead it had a surprising milky-mildness and didn't have the abrupt sharpness of a traditional bleu cheese, which I was kind of missing. It went well with the cool white sauvignon blanc we were drinking, and although I didn't taste any violets in the cheese, it was a nice change from the usual cheeses, like Comté, Saint Marcellin, and Beaufort d'été, that I invariably fall back on.
Peggy invited me to come back for a few weeks to spend some time working at their shop in San Francisco, which I'm thinking of doing. So if you happen to see me there, and I make a suggestion, take it. Because some people will believe anything. Or so I'm told.
Fromagerie Quatrehomme
62, rue de Sèvres (7th)
Tél: 01 47 34 33 45
(Quatrehomme closes at mid-day, from 1pm to 4pm.)
---
Related Links
Marie Quatrehomme (Rosa Jackson)
Guilde des Fromagers (Official Website)
Le Bleu de Termignon Selon Marcel Bantin (Production & Photos of Bleu de Termignon, in French)
Favorite Books on Cheese (Amazon)
Bleu de Termignon (Wikipedia France)