I've been thinking about Banana Bread lately, mostly due to an assortment of bananas that are taking up valuable real estate in my freezer. Another issue that's taken up (valuable) space in my brain has been trying to understand the difference between Banana Bread and Banana Cake. I've been trying to come up with an explanation but just can't think of one. Could just be the shape? But we don't call Carrot Cake baked in a loaf pan Carrot Bread…do we? But no matter. Everyone loves Banana Bread – or whatever you call it.
A number of years ago, during the low fat-era, when I was teaching cooking classes, the schools said that on every post-class survey, when asked what kind of classes people wanted to see on the roster, they invariably said, "Low-fat cooking." Yet no one ever signed up for them.
During that era, I was doing a demo in Los Angeles, making a batch of my Cranzac Cookies (from Ready for Dessert) which has 1/2 stick (2 ounces, 55g) of butter for thirty cookies. I'm not great at math but that's probably a piece of butter, the size of a green pea, per cookie. Nevertheless, a woman in the audience shrieked, "Look at all that butter he's adding!"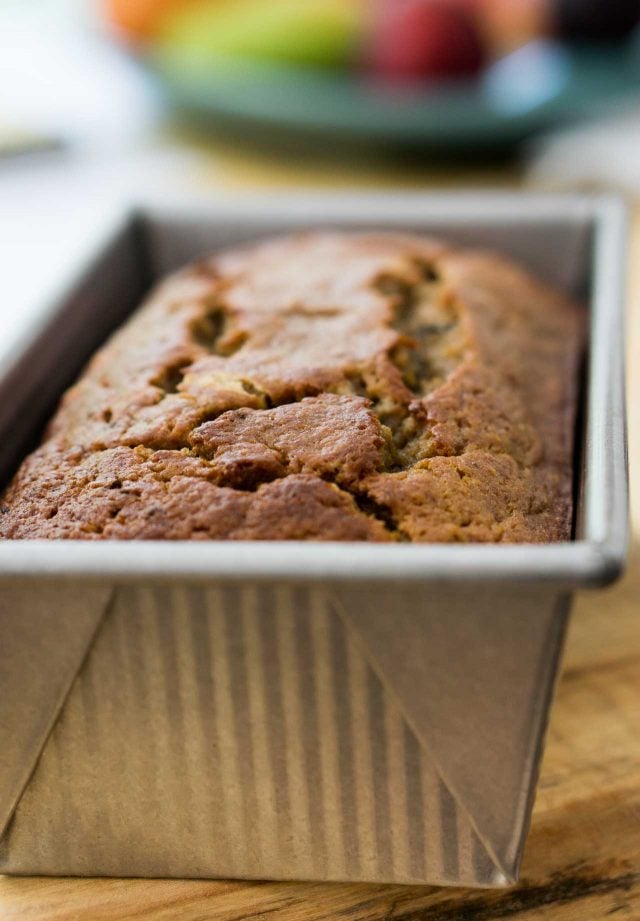 That said, I'm not one of those cooks or chefs that gets mad when people are gluten-free, or vegan, or on low-fat diets. To me, those things are challenges. Some recipes can be deliciously modified by swapping out more flavorful ingredients for those you are omitting; polenta or buckwheat flour for wheat flour, turbinado sugar for white sugar, cocoa nibs for chocolate chips, white chocolate for butter, etc. But it does require extra testing since butter, egg yolks, and sugar are in recipes for a reason, which is why when people ask about reducing something in a recipe, I tell them they'd have to play around with the recipe to see if it works.
(If you want recipes that are formulated to be low in sugar, for example, three excellent books as Baking with Less Sugar, Perfect Light Desserts, and The Sweet Spot, all written by very talented bakers.)
This Banana Bread is a recipe that I tested quite a bit, leaning it more toward the healthy side than other Banana Breads. I reduced the butter, used low-fat sour cream, and skipped out on an egg yolk. I also went for roasted cocoa nibs rather than chocolate, since cocoa nibs get right to the chocolate point, rather than chips. But if you put it side-by-side against a traditional Bread Bread, you wouldn't be able to tell the difference. In fact, I think it's even better.
Yet I recently revisited it, testing it a few more times, thinking I could go ahead and add more butter, add that errant egg yolk, and include a few other formerly vilified ingredients, and…nope, I didn't find it any better, so kept the recipe mostly as is. It just goes to show, that if it ain't broke, don't fix it. And this cake, or bread, ain't broke. (It's better sliced)
Banana Cake or Banana Bread
Be sure to use very ripe bananas: the skins should have black speckles on them and the bananas should be soft-to-mushy. (Frozen bananas, thawed, make excellent banana bread.) I often add a shot of espresso to the batter, which adds a nice background note of coffee, but it can be omitted. Additions include chocolate chips, roasted cocoa nibs, or toasted nuts. I like pecans or walnuts. If you don't have a 9-inch (23cm) loaf pan, this can be baked in a 9-inch (23cm) square cake pan. If baking in a shallow cake pan, the baking time will likely need to be reduced to 40 minutes, or baked until a toothpick inserted into the center comes out clean of crumbs.
1 1/2

cups (210g)

flour

1

teaspoon

baking powder

, preferably aluminum-free

1/2

teaspoon

baking soda

1/2

teaspoon

salt

1

teaspoon

ground cinnamon

3/4

cup (150g)

sugar

2

tablespoons (30g)

melted butter

,

salted or unsalted

1

large egg white

1

large egg

,

at room temperature

1

cup (250ml)

banana puree

,

made from about 2 very ripe, large bananas

1/2

cup (125ml)

sour cream

,

regular or low-fat, or buttermilk

1

teaspoon

vanilla extract

1

tablespoon

liquid espresso

,

cooled to room temperature

1/2

cup (80g)

chocolate chips

,

1/4 cup (40g) roasted cocoa nibs, or 2/3 cup (75g) toasted pecans or walnuts, coarsely chopped
Butter a 9-inch (23cm) loaf pan and line the bottom with a sheet of parchment paper. Preheat the oven to 350ºF (180ºC).

Whisk together in a large bowl, the flour, baking powder, baking soda, salt, and cinnamon, making sure there are no lumps. Whisk in the sugar.

In a large bowl, mix together the butter, egg white, egg, banana puree, sour cream or buttermilk, vanilla, and espresso, if using.

Make a well in the center of the flour mixture and use a flexible rubber or silicone spatula to stir in the wet ingredients with a spatula until partially mixed. Add in the chocolate chips, cocoa nibs, or chopped nuts, and fold them in until everything is just combined, but don't overmix. Stop when any traces of flour disappear.

Scrape the mixture into the prepared pan and bake for 50-55 minutes, or until the center feels done. A toothpick inserted into the center should come out clean.

Cool on a baking rack before removing from the pan and slicing.
Notes
Storage: This cake will keep well for 4 or 5 days at room temperature, if well-wrapped, or frozen for up to two months.
Related Posts and Recipes
How to tell if baking powder is still good
Why you should use aluminum-free baking powder
The easiest chocolate ice cream recipe ever