Green Salad with Peas, Green Beans, and Buttermilk Ranch Dressing
I love a big salad, especially in the summer. Actually, a big bowl of greens, one that includes lots of crunchy things, is one of my favorite things at any time of the year. My default dressing is a French vinaigrette, which is sometimes slightly creamy, courtesy of a large dollop of Dijon mustard, but it's fun to swap out another dressing from time-to-time for decidedly different results.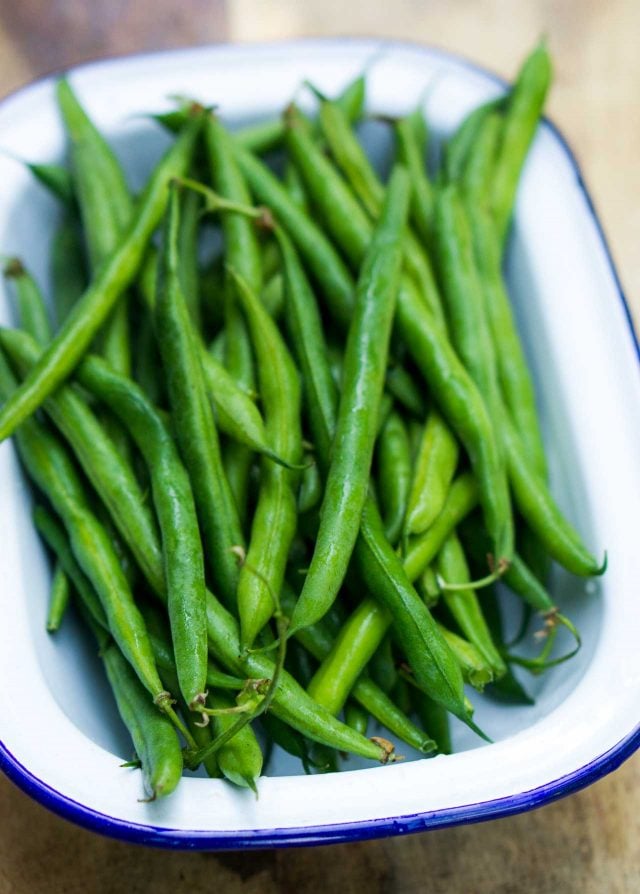 Buttermilk dressing isn't something one finds on menus in France, although buttermilk (lait ribot and lait fermenté) are available in most supermarkets and in épiceries that sell Middle Eastern foods. It's popular in Brittany where it's served in bowls alongside crêpes and buckwheat galettes, similar to café au lait, which is also served in a bowl. The coffee is meant to be sipped from the rim of the bowl (unless I'm doing it wrong…) although I'm never sure when I'm at a crêperie, if I'm supposed to lift the bowl of buttermilk up and drink it right from the bowl, or use the spoon provided?
My French partner uses the spoon, but not sure he's a reference for everyone else. He also refuses to drink cider from bowls, and you can imagine his shock the first time he saw Americans drinking from French jam jars, which were cleverly marketed as French "working glasses." (Not sure what that meant, but it worked.) These days, however, there's no shortage of trendy cafés in Paris serving drinks in Mason jars. But I guess that trend began with those exported French glasses, so not sure who's to blame at this point.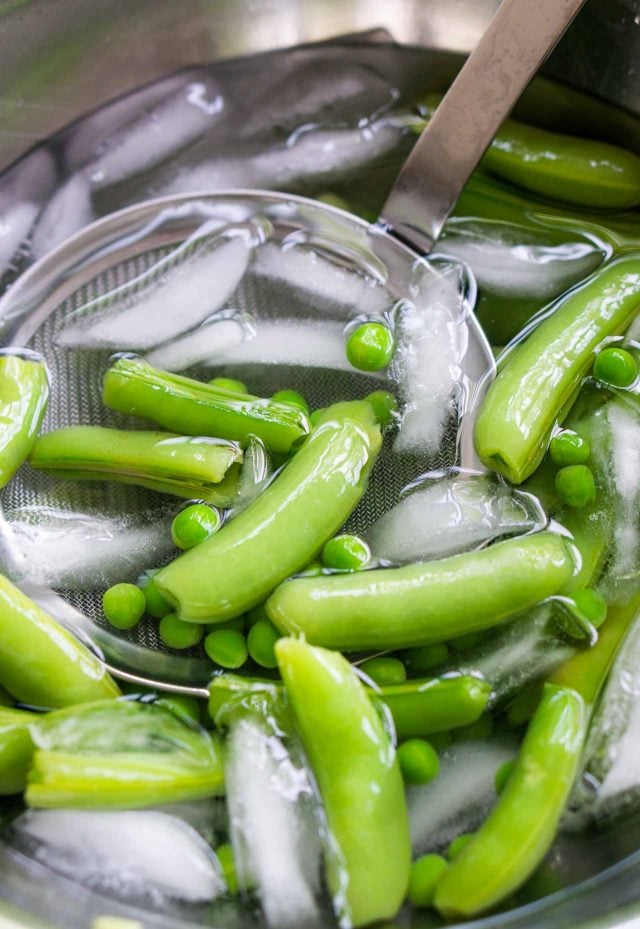 One thing Romain does love, however, is ice. He got hooked on it a while back and has become a big fan of cold drinks. He's been spreading the word, trying to get others to follow in his cooling footsteps, but the craving for ice has yet to hit l'hexigone in any noticeable way. But ice is useful for par-cooking vegetables, especially if you want them to stay green and crisp after cooking, rather than looking like old army fatigues.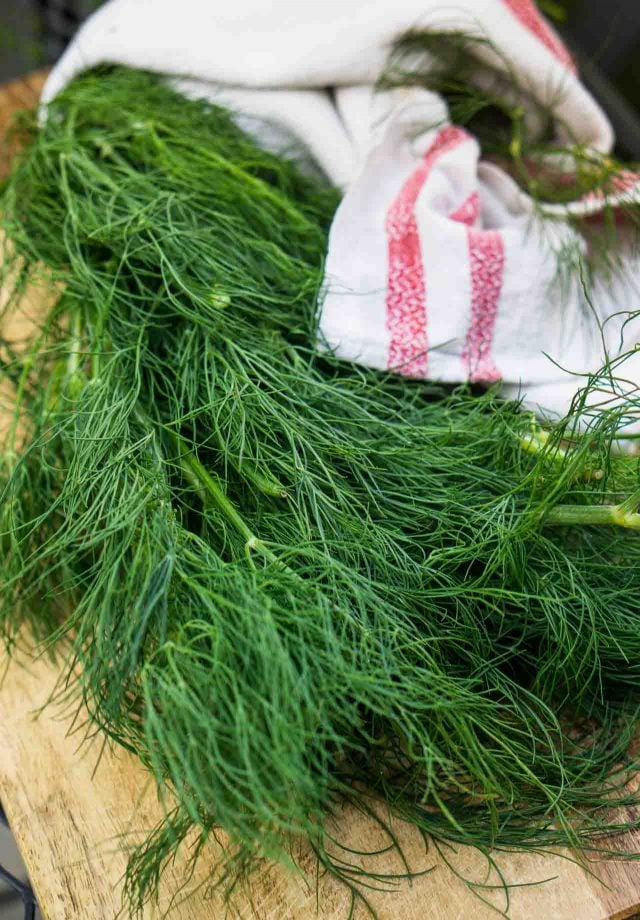 Because perfectly prepared vegetables are obligatory in a salad. Who wants to eat lettuce with mushy peas? Not me.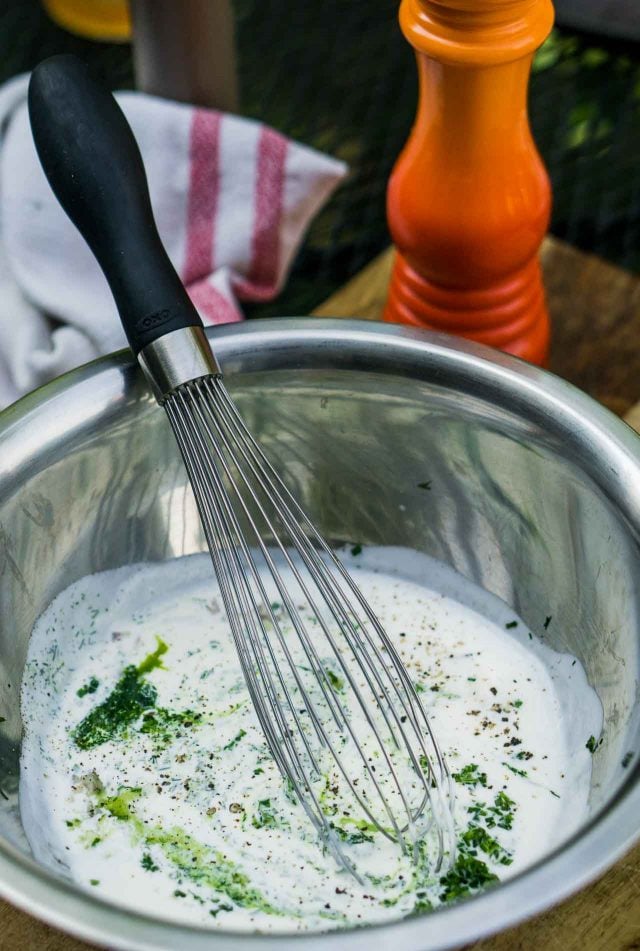 So I was delighted when I came across Beans & Peas with Buttermilk Ranch in Just Cook It! by Justin Chapple. Justin is the culinary director at Food & Wine magazine and his book is filled with everyday fare, like a Croque Madame casserole, that takes most of the fuss out of making the classic French sandwiches if you're serving a crowd. And he swaps out sweetened condensed milk for the heavy cream in his Chocolate Truffles, which says gives them a "fantastically fudgelike" texture, a recipe that I've interested in trying myself.
Yet it was hard to pass up a chance to make buttermilk ranch dressing, which was one of those foods that my family never had. Not because no one liked it; it just never became part of our repertoire. Ditto with cornflake-crusted chicken, which changed after I had it at a friend's house during a sleepover and came home with the recipe for my mother, begging her to make it. That one did go into regular rotation, although it's anyone's guess what happened to that recipe. (Although a quick search revealed that the internet is full of them.)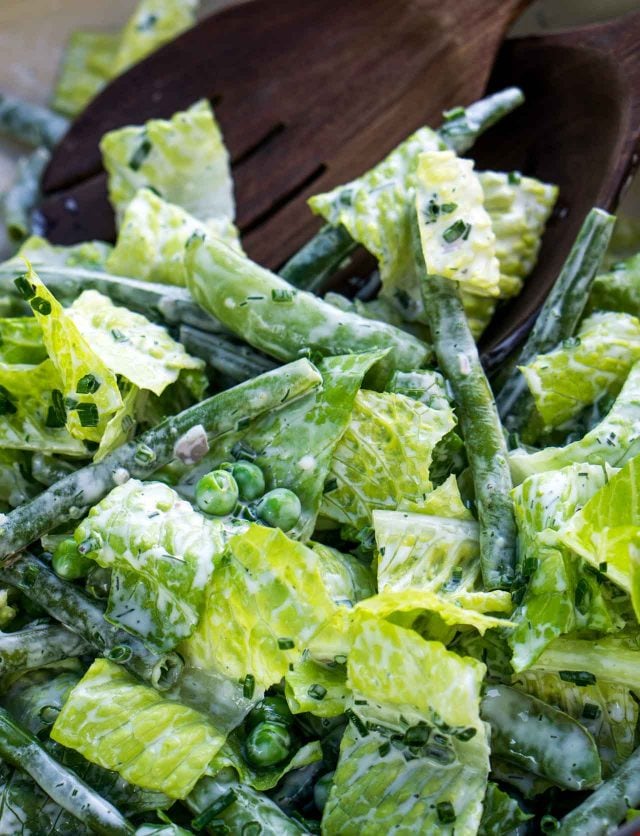 But my focus was on this recipe; a crunchy, big bowl of salad greens, with crisp-tender green beans, sugar snap peas, and green peas, all bathed in a silky, tangy, herb-flecked dressing. It's become part of my current family's repertoire and is now on regular rotation.
I made a few changes to the original ranch dressing, or I should say, the recipe that inspired it. For one thing, Justin adds garlic and onion powder to the sauce, and I went with fresh. I think both of those add the je ne sais quoi, which makes it taste like the real deal to some (or their version of the real deal…), but I don't have either of those powders in my spice drawer. So I opted for fresh shallots and garlic.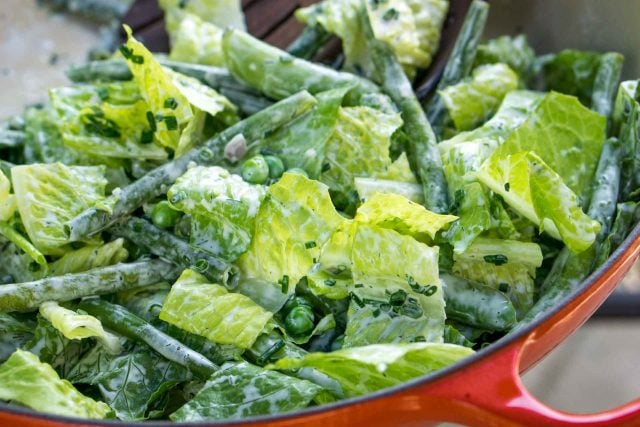 I have to say, this salad has really been a big hit around here. The dressing takes a few minutes more to put together than a standard French vinaigrette, but if you're anything like me, you'll be making it more than once. In fact, I made it twice this week!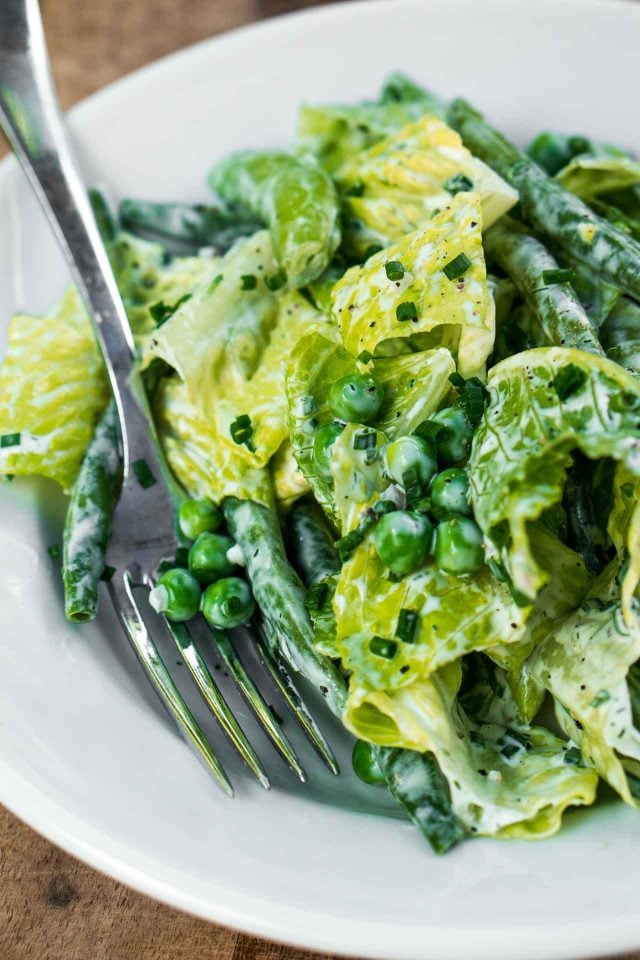 | | |
| --- | --- |
| Green Salad with Peas, Green Beans, and Buttermilk Ranch Dressing | Print Recipe |
Adapted from Just Cook It! by Justin Chapple The original recipe called for 3/4 teaspoon (each) garlic powder and onion powder. I went with fresh garlic and a shallot. Using dried garlic and onion will give it that "classic" flavor that many are probably familiar with, so that's an option if you want to use those. I also perked it up with extra herbs, a dash of Dijon mustard, and some lemon juice. And I've also made with a little minced anchovy whisked into it. (1 to 2 small filets.) Not everyone loves those, so I didn't include them in the recipe, but in the same way they add a slightly salty umami flavor to a good Caesar Salad, they do the same here. Feel free to use another sharp herb in place of the fresh dill, such as tarragon or chervil. To make this more of a complete meal, you could add cubes of grilled chicken or shrimp, little balls of mozzarella, and/or cherry tomatoes.
1/2
cup (125ml)
buttermilk
1/2
cup (120g)
mayonnaise
1
medium
shallot,
peeled and minced
1-2
cloves
garlic,
peeled and minced
2
tablespoons
minced fresh dill
1/2
cup (20g)
minced or snipped fresh chives,
plus 2 tablespoons minced chives
1
teaspoon
freshly squeezed lemon juice or red wine vinegar
1
teaspoon
Dijon mustard or 1/2 teaspoon dry mustard
(optional)
1/4
teaspoon
kosher or sea salt
freshly ground black pepper
1/2
pound (225g)
green beans,
trimmed
1/2
pound (225g)
sugar snap peas,
tough tips and strings removed
1
cup (140g)
fresh or frozen (thawed) green peas
1
small head Boston or Romaine lettuce,
cored and leaves torn or sliced (I often slice Romaine and tear softer lettuces, like Boston)
1. Bring a large pot of salted water to a boil. Line a baking sheet with a clean kitchen towel. Prepare an ice bath in a separate bowl.
2. Drop the green beans in the boiling water and cook until tender-crisp, 2 to 5 minutes. Remove the green beans with a slotted spoon and drop in the ice water to cool them quickly. As soon as they are cool, remove them from the ice water and let the beans drain on the towel-lined baking sheet. (Don't let them linger too long in the ice water as you don't want them to get soggy.)
3. Drop the snap peas into the boiling water and let cook until tender-crisp, 2 to 4 minutes. Add the peas during the last minute of cooking. Remove the snap peas and green peas with a slotted spoon and drop them in the ice water to cool them quickly. Remove from the ice water as soon as they are cool, and let drain on the towel-lined baking sheet.
4. In a medium-sized bowl, whisk together the buttermilk, mayonnaise, minced shallot, garlic, dill, and 2 tablespoons minced chives, along with the lemon juice, mustard, 1/4 teaspoon salt and black pepper. Taste, and add extra salt, if desired.
5. Put the lettuce leaves in a salad bowl. Pat the beans and peas dry with a towel and add them to the bowl. Sprinkle the salad with the remaining 1/2 cup of chives. Pour half the dressing over the salad and mix thoroughly.
Serving: Serve the salad with the remaining sauce alongside, so guests could add more, along with a little bowl of finishing salt (such as fleur de sel or Maldon) and a peppermill.
Storage: The dressing can be made 3 to 5 days in advance, and refrigerated. The green beans and peas can be prepared up to 8 hours ahead.