I can't tell you how many times I've been asked the age-old question: "How did you start cooking?"
My usual wise-guy answer?
"Well, I turned on the stove and put a pan on it."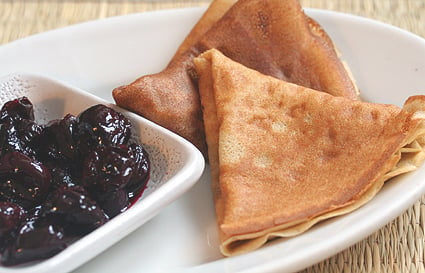 In reality, I probably should acknowledge a debt of gratitude to Anna Maria Albergetti who got me on this whole obsessive measuring-thing, hawking those carefully delineated bottles for mixing up Good Seasons salad dressing. But I also think some of it began at our local mall, at The Magic Pan, one of those crêperies that popped up everywhere in the 70's. In the dining room, women in puffy-sleeved dresses stood over a open-flamed, circular crepe-cooker, presiding over a bevy of hot skillets that turned slowly over the flames, frying crêpes as fast as they could.
Wanting to be just like the girls at the mall, minus the puffy-sleeved dresses (which would come later in life), I bought one of those worthless numbers; a Taylor and Ng crêpe pan with a rounded bottom where you dipped the underside of the hot pan in a big bowl of batter, praying it didn't stick before you could lift it up and flip it over to continue.
And apologies to my family for all those crêpe-filling experiments, especially the chicken in cream sauce, which, in my impatience, I madly kept adding spoonfuls of flour to until it thickened—which I presumed should take all of about 20 seconds.
The result?

Well, let's just say 30 some-odd years later, I think I'm still digesting it.
And since I've been thinking about the topic of globalization and various things to digest, I thought it would be the perfect time to whip up a batch of crêpes, which are one of the best things ever to cross the Atlantic. And I think no matter where you live on the planet, few folks would refuse a nice hot crêpe, right off the skillet.
Crêpe-making may seem tricky at first, but if those teenage girls at the mall could master them, so can you. The first will usually be a dud, but don't be discouraged. Just keep going. One you find your rhythm, you'll find it's quite a pleasurable activity.
And speaking of good things that cross the ocean, when my absolute favorite Food Network personality Paula Deen visited Paris, she stopped at my local crêpe-maker, Leticia, who stands at the Richard Lenoir market making crepes and galettes all morning for hungry shoppers. (In France, a buckwheat crêpe is not called a crepe, but a galette.)
If I mentioned to Leticia a recipe, she would surely ask, "Who uses a recipe?" (…except she would reply in French, of course) since she's such a whiz at making them and just mixes up the ingredients until she gets it right. And she doesn't even wear puffy-sleeved dresses to do it.
But for the rest of you across the planet, here's the recipe that I use.
Buckwheat Crepes
It's best to let the batter chill overnight, but let it come to room temperature prior to frying them up. And keep stirring the batter as you go while frying since the flour tends to sink to the bottom.
2

cups (500ml)

whole milk

1

tablespoon

sugar

1/4

teaspoon

sea salt

3

tablespoons (45g)

butter

,

salted or unsalted, melted

1/2

cup (70g)

buckwheat flour

3/4

cup (105g)

all-purpose flour

,

(In France I use type 65),

3

large eggs
In a blender, or with a whisk, mix together all the ingredients until smooth. Cover and chill overnight.

To fry the crêpes, remove the batter from the refrigerator about an hour before frying. Stir it briskly; it should be the consistency of heavy cream. (If not, you can add a tablespoon of milk.)

Heat a 8- to 9-inch skillet on the stovetop. You can use a

real crêpe pan

that's been seasoned, but I use a Tefal non-stick skillet which works great.

Drop a tiny piece of butter or neutral oil in the hot pan and wipe it around with a paper towel. (I only do this for the first crêpe.)

Lift the pan and pour 1/4 cup of the batter in the middle of the hot skillet, swirling the pan to distribute the batter quickly and evenly. The pan shouldn't be too hot or too cold: the batter should start cooking within a few seconds, giving you just enough time to swirl it. It may take a couple of crêpes for you to get your rhythm.

After about a minute, run a non-stick spatula around the underside of the rim of the crêpe, then flip the crepe over. I grasp the crepe with my fingers, but you're not me (…consider yourself lucky!) and I'm not you. So use the spatula if you wish.

Let the crêpe cook on the flip side for about 30 seconds, then slide it out onto a dinner plate. Repeat, cooking the crepes with the remaining batter, stirring the batter every so often as you go.

Crêpes should be served warm. To rewarm the crêpes for serving, fold the crepes and put them in a baking dish covered with foil. Heat them in a moderate oven until warmed through.
Notes
Serving: I fried up a stack this morning and plan to serve them with a spoonful of ruby-red cherry compote and a scoop of melting homemade vanilla ice cream tonight. But feel free to be creative and use any fruits or sauces you wish. A smear of Nutella, your favorite jam or simply a drizzle of honey and a tab of butter is terrific folded inside. For savory crêpes, fold some grated cheese and maybe a piece of ham in the crêpe and warm in a non-stick or lightly-buttered skillet for a minute or so, flipping the crêpe midway though, until the cheese is melted.
Storage: Since this recipes makes 18-20 crêpes, it may be more than you need all at once. But if you're going to stand over a hot stove, you may as well make extra and freeze them. Once cool, wrap securely in plastic film, then foil. They'll keep in the freezer for a couple of months. You can also store them in the refrigerator for up to three days, well-wrapped.
Other posts on crêpe-making:
Jam Crepes from Heidi.
Deb's crepe cake.
Clotilde's crepes and galettes de sarrasin.
Shuna's recipe for Whole Cherry Sauce appears in Edible San Francisco, along with my Olive Oil Ice Cream.
My two favorite creperies in Paris.
And The Magic Pan lives on!