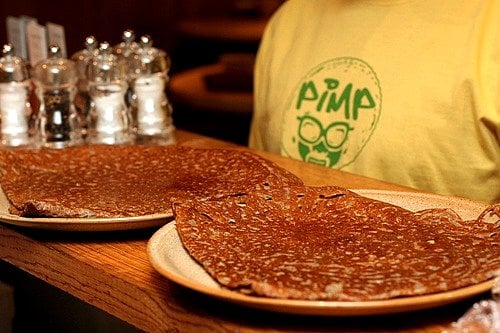 Turn on the television any night in France and chances are excellent that you'll land on a program, held in a brightly-lit studio, where celebrities, authors, and other French luminaries mingle, chat, and talk about issues—or whatever they feel like.
For some reason, though, they don't run a banner at the bottom while the person is talking, like they do incessantly on American television. And because of that, I usually have no idea who all those overly-made up people are.
So I'll ask—"Romain…who is that?"
He'll be surprised, really surprised…"You mean you don't know who Valérie Lemercier is? She is a very big star. Très, très connu!" I always hate bursting bubbles, so I'll nod kind of half-heartedly, although I'm not so good at keeping a poker face and hiding my feelings.

Which invariably leads to his next question: "People in the United States don't know who she is?"
Then I have to tell him, no, most Americans would be hard-pressed to name a contemporary French singer, with the exception of Carla Bruni. (But if you heard her latest CD, the term "singer" may be a bit of a stretch.) Same with holidays. Most of us Americans haven't the foggiest notion of French holidays. Except the ones that involve drinking.
Last Monday was La Fête de la chandeleur, a day when everyone is happily at home making crêpes, smearing them with salted butter caramel, mentally planning their spring wardrobes and upcoming vacations spent idling away on the beach at Club Med.
(Those hoping to look good on the beach should eschew the salted butter caramel. I tried, but I'm powerless to resist the lure of creamy caramel made with deliciously-salty Breton butter. So folks will just have to look the other way when I pass them on the beach, and ignore mes poignées d'amour.)
While I used to be fond of crêpes, if given the choice, I always choose a galette over a crêpe any time I can. The true galette is made from just buckwheat flour, water, and salt. And that's it. No eggs, no milk. Nothing else. Rien.
They're not easy to make so when I was at Breizh Café two weeks ago, I asked them if they'd teach me how to make a true Breton galette. I don't know if the verb "to pimp" something has made it to France yet, but I wanted to learn how to pimp my crêpe-making skills and learn to turn out honest-to-goodness galettes.
First off, the cooks told me it's important to use fresh, organic buckwheat flour (farine de sarrasin) which has a bit of stickiness, which they told me was obligatoire for frying out a proper galette. So it all starts there.
The batter is not difficult and they don't use a recipe. When I asked about one, or even proportions, they laughed. The night before they simply mix buckwheat flour and water to make a paste. The next day, they thin it out until it's the consistency of melted ice cream.
Then the cooks expertly demonstrated to me how to ladle batter onto the very hot bilig (griddle), using a wooden râteau (rake) to move the batter evenly around in a circle. It looked ridiculously simple and something any moron could do. I couldn't wait to give it a go.
And of course, I've fried a bazillion crêpes in my life, manning four pans at a time standing over a grand restaurant stove. So I figured it'd be a breeze, and I'd show them that a certain cocky américain knows his way around a bilig just as well as they do. So I ladled out some batter onto the griddle and began to rake the batter into a perfect circle, just like they did.
What could be simpler?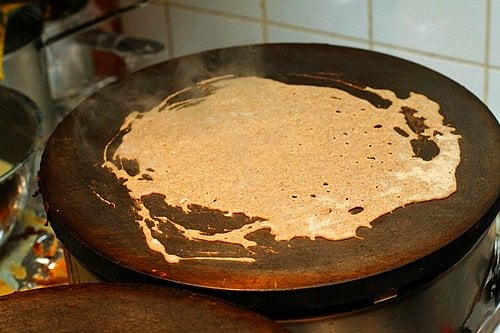 (Well, one thing that could be simpler would be try to figure out why the credit card that I recently found on the sidewalk required me to pay to call the bank if I wanted to report it. I think that bank might want to pimp their customer service.)
Let me tell you, les galette-makers at Breizh Café make it look too-easy. (And they didn't charge me for the lesson, but I did pay them with a batch of homemade ice cream, which I thought was a deal.) Unlike the lovely galettes they were peeling off the griddle, lickedly-split, mine came off looking like a wounded amoeba. Dragging the batter in a perfect circle isn't easy at all.
I like mine very crispy, which they told me was how they like them in the sud of Brittany. Up north, they prefer them soft. So they showed me how to brush both sides with what looked like me to be an obscene amount of butter and crisp the galette up on the griddle. In fact, they said some customers now actually request their galette either crispy or moelleuse, which is one of those words that's impossible for Anglophones to pronounce. I think I need to pimp my French and get that one down, because I like my galettes as dark and as crisp as possible.
I didn't have very good luck at the restaurant, but thought I'd master them easily in my home kitchen. I went straight home and mixed up some buckwheat flour and water and let it stand overnight.
The next morning I earnestly got out of bed, chugged my morning café au lait, then went to work on the stove. I heated up my crêpe pan, added what I thought was a reasonable amount of butter (reasonable for someone who has to wear a swimsuit in 2 1/2 weeks) and fried up my first-ever, picture-perfect galette.
Er…..well, it certainly wasn't easy. But as any crêpe-maker knows, the first one is always a dud and is the cook's bonus. (Although it would take a pretty big stretch of the imagination for anyone to think that eating that would be some kind of "bonus".) So I poured out another one. But the batter was too thick. So I thinned it down, yet, still, every galette I turned out of my pan was a désastre.
I don't have a lot of experience 'pimping' anything, but I'm fairly certain that pallid, flabby, and doughy aren't worthy prospects for any self-respecting pimp. So the bad news is that I failed and I think I need a lot more practice before I can turn out a perfect (or even decent) buckwheat galette.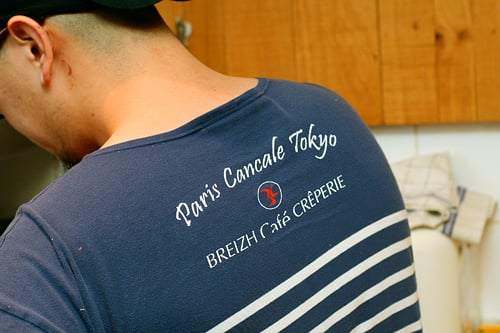 But they told me I could come back any time and try again. (Am not sure if the homemade ice cream had anything to do with it, but I don't think it hurt.)
The good news is that the Breizh Café won't be losing a certain customer anytime soon.
Breizh Café
109, rue Vieille du Temple (3rd)
Tél: 01 42 72 13 77
Related links and recipe:
My Favorite Crêperies in Paris