Braised Short Ribs Recipe
When I was in the states last year, I was in a coffee shop and for some reason, I got into a conversation with some local folks, who asked what I was doing in their city. I'm not sure how they knew I wasn't from around there, but I can only assume it was my French je ne sais quoi, which is always a sure give-away. I mentioned I was a cook and was taping a television segment in town.
Right then, stopping the conversation, the woman who owned the shop asked me, "Wow. Are you the David Lieberman?"
I've had my name butchered a bit on more than one occasion. So to be polite, I said, "Yes, that's me. Nice to meet you."
The next day when I stopped in again for my coffee, the same woman ran up to me, excitedly, "Oooh David, my friends were so excited that I met David Lieberman!"
While I was thrilled to have someone happy to meet me, I'd never had someone that excited.
It wasn't until a few months later when I realized that there actually is a guy named David Lieberman in the States, who cooks and has a television show. So David, or Dave—whatever you're called, if you are reading this, you've found your impostor.
(And apologies, but I didn't want to burst the poor woman's bubble. Surely you can't blame me, Dave?)
I learned who he is because his name came up recently when I was discussing short ribs with Deb over at Smitten Kitchen, and she forwarded his braised short rib recipe to me. I hope her loving husband Alex isn't reading this because she told me that Dave Lieberman is so cute that she wanted to "…pinch his cheeks!"
If there's one thing I like better than a good recipe is a chef whose cheeks are pinch-worthy. So since I had a whole mess of short ribs in my freezer from overbuying on my last trip to the butcher, I decided it was finally time to unclog my freezer and pulled them out for defrosting.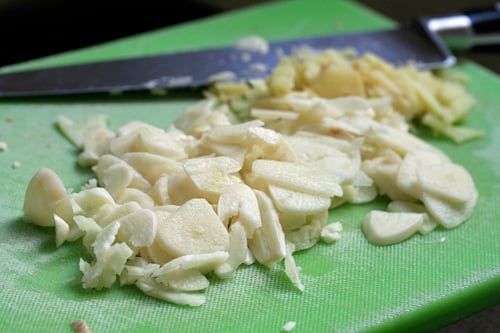 This recipe has an unmistakably all-American dose of fresh garlic. Parisians aren't big fans of the overloads of garlic that we like. Shortly after I moved here, I was invited for dinner and my hosts kept closing the door to the kitchen, where I kept wandering in, telling me that Parisians don't like cooking smells in their apartments. (Or maybe they just were making that up to keep me out.) And in spite of the reputation that French cuisine is riddled with garlic, it's mostly in the south where garlic is used in such copious quantities.
Unfortunately I have what's called a cuisine Américaine, which means it's an open kitchen and there are no doors. Maybe I'm becoming more Parisian than I thought because for a day or so after making these short ribs, my apartment smelled disconcertingly strong of garlic and beef.
So in spite of the aroma that seems to have permeated everything around here, including me, the next time I see Deb, I hope she'll pinch my cheeks, even though she knows (for sure) that I'm not that Dave L. And even though I reek of garlic.
UPDATE: David Lieberman has left the cooking business and is now a doctor.
Braised Short Ribs with Hoisin Sauce
Adapted from the real
Dave Lieberman
The best way to fry the ribs is to use moderately-high heat and resist the urge turn them incessantly. They should be as dark as possible, almost burnt. If you have a good hood fan, you'll put it to good use. I tweaked his recipe and couldn't resist adding some chocolate to the braising liquid, which gives it some extra body, and some chili, for a bit of heat. Making them a day in advance and storing them in a refrigerator is a great do-ahead tip and allows you to skim off the fat. If so, just cook them through step #5, the chill, and the following day, skim, then finish with the hoisin sauce.
10

short ribs

,

(rib pieces cut into 3 to 4-inch, 10 to 12 cm, chunks)

salt and freshly ground pepper

3

tablespoons

vegetable oil

1 1/2

cups (375ml)

dark beer

10

garlic cloves

,

peeled and minced

1-

inch

piece of fresh ginger

,

peeled and minced

3

tablespoons

Chinese or Japanese rice vinegar

1 1/2

ounces (50g)

bittersweet or semisweet chocolate

,

chopped

1/2

teaspoon

red chili powder

1

cup (250ml)

hoisin sauce
Toss the ribs in salt and pepper. Heat the oil in a large roasting pan and fry the short ribs until each side is very dark and well-caramelized. Don't skimp and it may take up to an hour to get them all done. If your pan isn't big enough, you can brown them in batches, or do some in a separate pan.

Remove the ribs from the pan, then turn off the heat and deglaze the pan with the beer. Scrape up the browned bits stuck to the pan with a firm spatula, then add the garlic and ginger, stirring to cook them in a residual heat of the pan.

Preheat the oven to 325F. (160C)

Add the ribs back to the pan and mix in the vinegar, chocolate, and chili powder.

Cover and let simmer for 3 hours, turning the short ribs a few times while they're cooking. The ribs are done when they're fork-tender and falling off the bone. (During cooking, you may need to add a bit of water to the pan if the liquid evaporates too much.)

Remove the cover, stir in the hoisin sauce, reduce the heat to 300C (150C) and cook for another 30 minutes.
Notes
Serve with mashed potatoes and sautéed greens. I mix up freshly-grated horseradish with crème fraîche, with a squeeze of lemon juice and chives. Or you can make Elise's Horseradish Sauce. Notes: In France, I used what the butchers call paleron de boeuf and have the butcher cut them for me as the bones are too dense to do so at home.