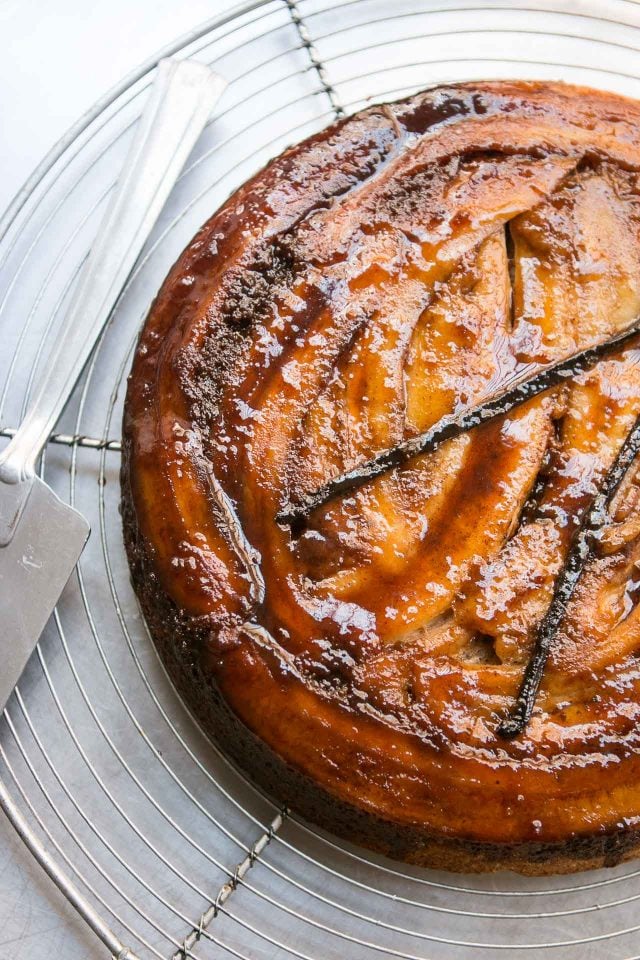 In the winter, we often turn to the tropics to get our fruit fixes. Bananas are the most popular fruit in America, and they're quite popular elsewhere, too. I'm happy with oranges, grapefruits, and chocolate (yup, cocoa beans are fruit – great news for fruit-lovers!) but sometimes it's nice to throw something else in the mix, and I'll grab a pineapple, some kiwifruits, a few avocados, or a bunch of bananas, when doing my food shopping.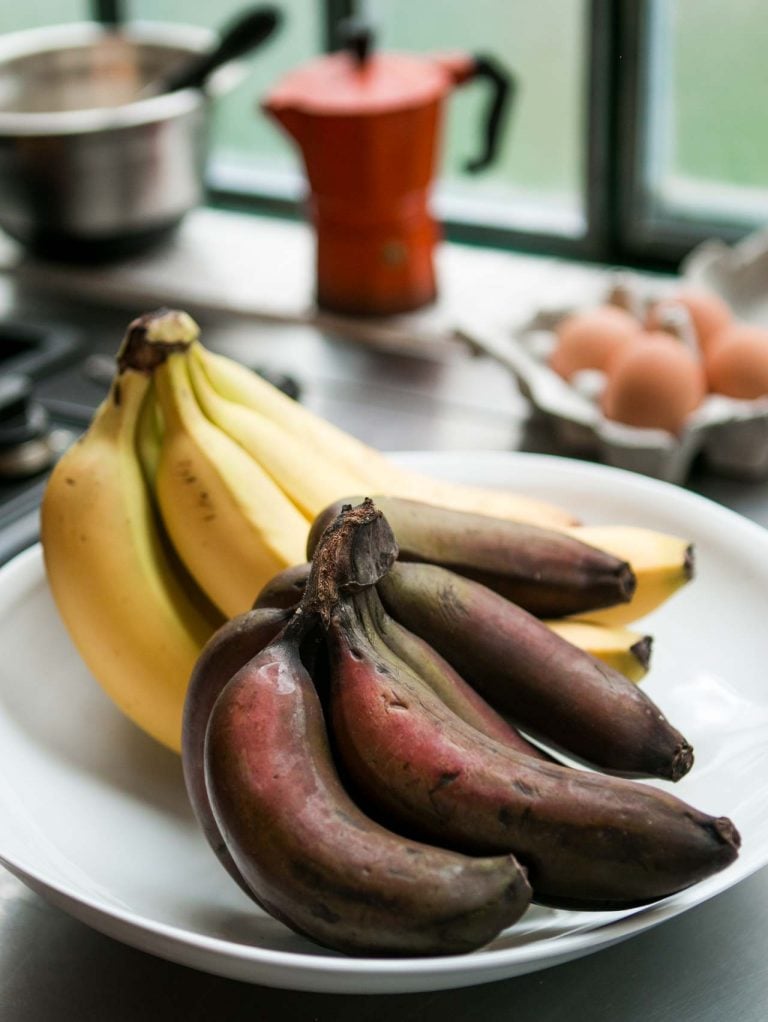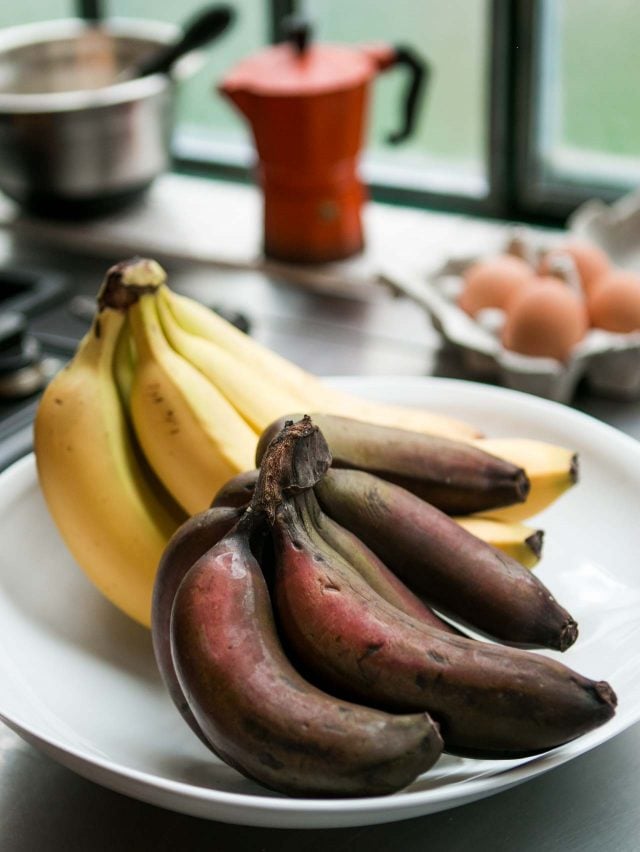 While I was waiting for my yellow bananas to ripen, a few days later I came across these red bananas at the market. I love red bananas, which have a more pronounced flavor than yellow bananas, but are hard to come by in France, and elsewhere. (They should be dead-ripe when you use them. The skin will turn quite dark when they're ready.) So jumped at the bunch when I saw it, and put those in my fruit bowl to see who would ripen first.
Speaking of differences, I have a different kind of Banana Chocolate Chip Upside Down Cake here on the site (which is low fat), but wanted to do a skillet version. I also wanted to try using teff, a whole grain flour that I've been interested in experimenting with. It's quite prominent in Africa cooking, as it seems to thrive in difficult conditions (which I often feel like I do, too..), but also adds a nutty flavor to baked goods. So when I was at the natural food store to pick up the organic yellow bananas, I grabbed a bag of teff flour, too.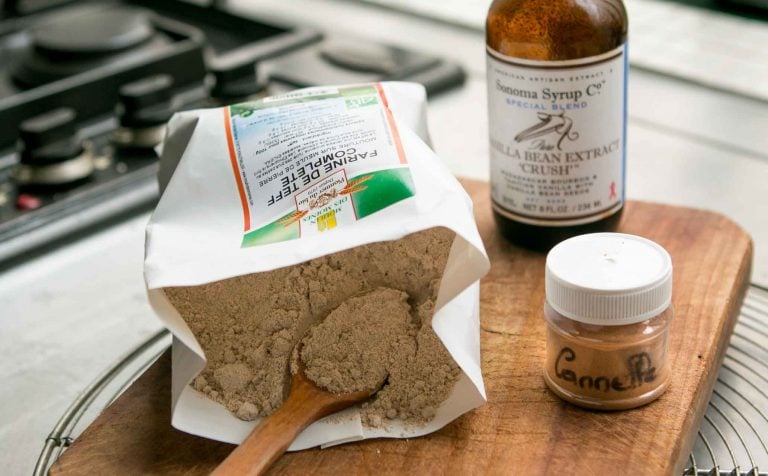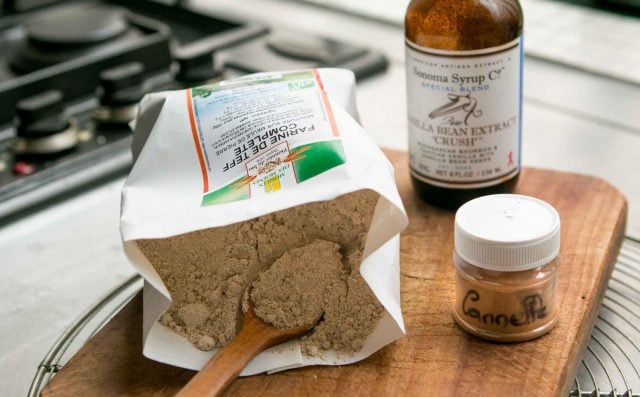 After cooking the butter and brown sugar in my skillet, I arranged ripe bananas in the pan, mixed up the batter, and baked up this cake. When I turned it out and cut myself a wedge of the warm cake, I found that the teff gave the cake a pleasant, nutty flavor, although it did make the batter a bit heavier and add some "heft," which I didn't mind. I added a touch of ground cinnamon to give it a hint of spice, too, but you could use more than I did. Having a French partner, if you're American, means you need to dial back the amount of cinnamon you might normally use when baking to avoid the "Trop de cannelle," when you ask for a second opinion. : )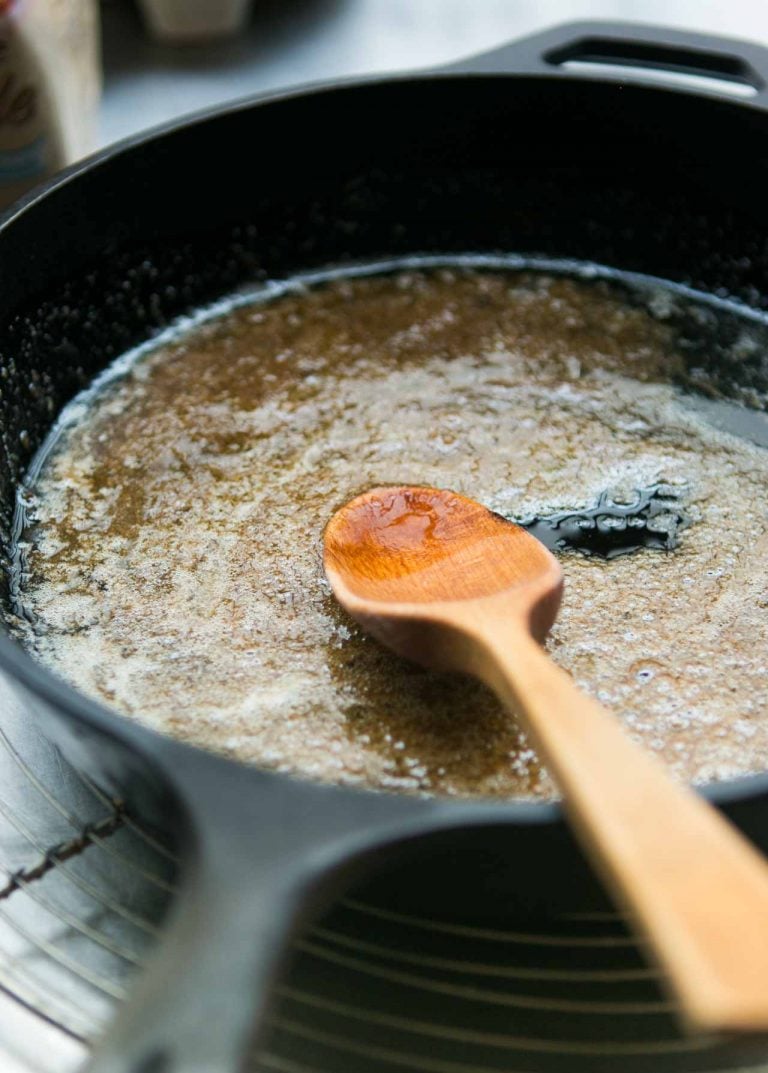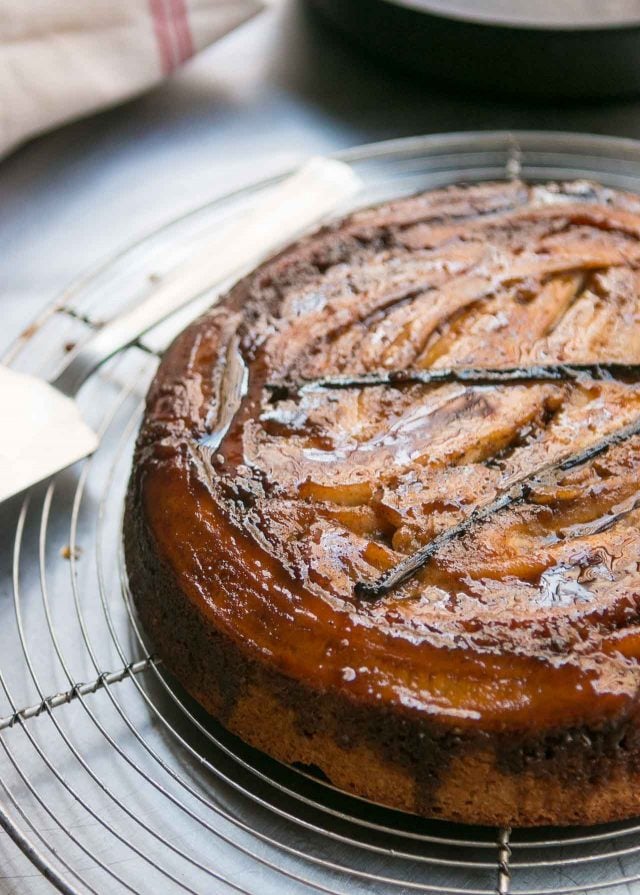 Regardless of the little bit of cinnamon I stuck in there, this cake was a big hit. It was a nice respite in the winter, and a good addition to my fruit dessert repertoire. (I've got the chocolate ones pretty well-covered.) However I'd feel proud turning one of these upside down cakes out any time of the year.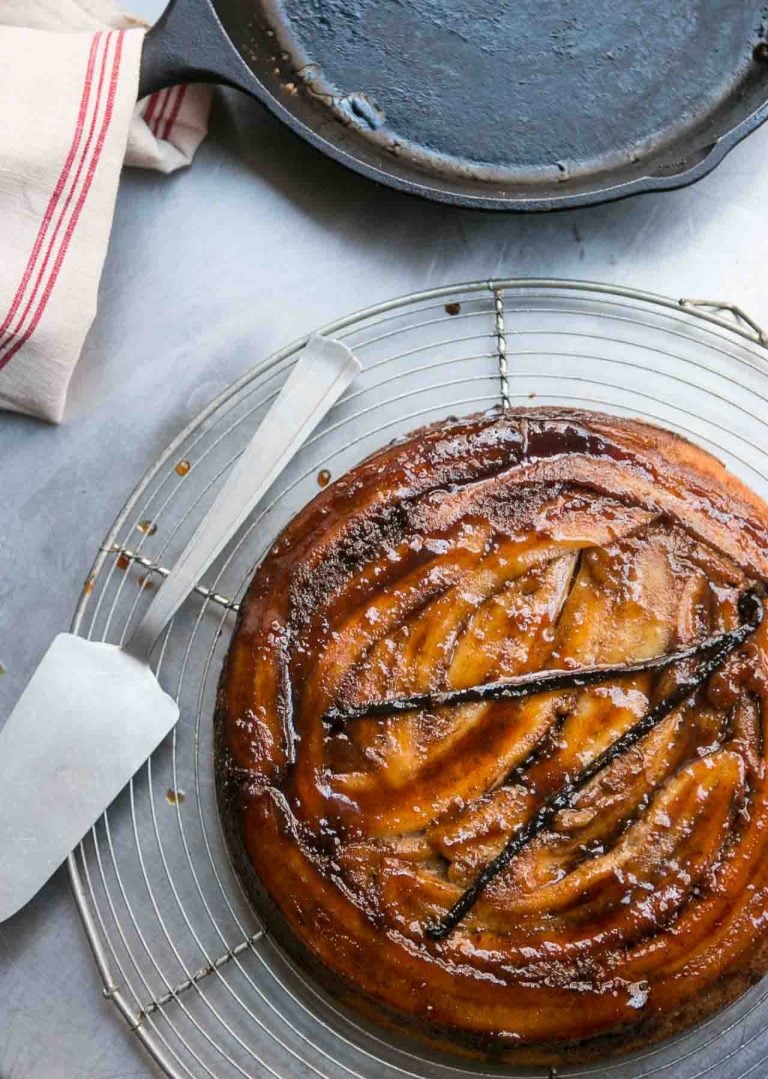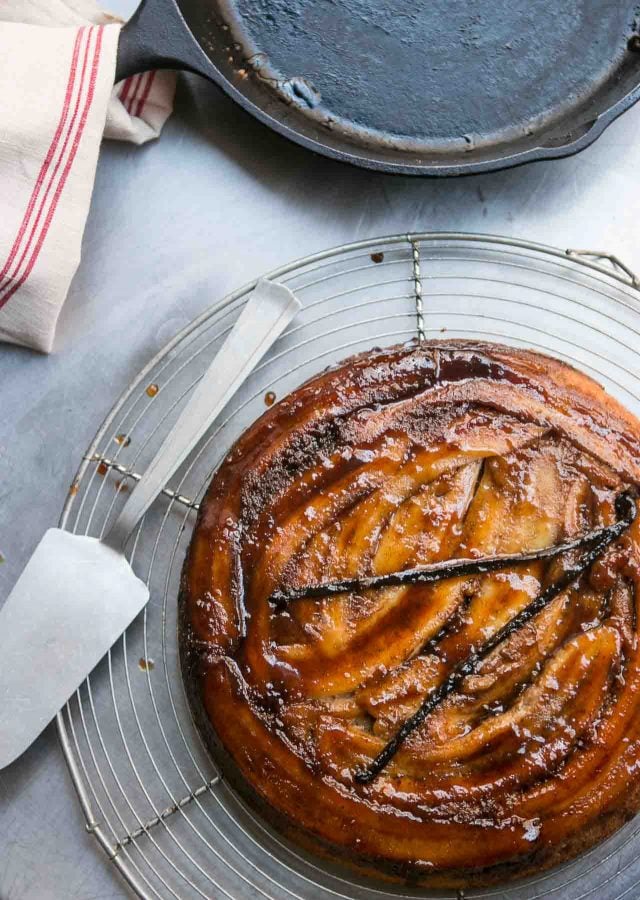 Banana Upside Down Cake
I made this cake with teff flour. It available at most natural foods stores and
online
, but I've given measurements for using all-purpose flour. You might want to reduce the salt to 1/2 teaspoon in the batter if you do. The hardier taste of whole grains seems to call for a little more salt to be added, to my taste. In place of the vanilla bean, you can use 1 teaspoon of vanilla seeds or paste for the bean. For more on vanilla, check out my
Vanilla FAQs
. Your bananas should be ripe but not mushy-soft. They'll sweeten in the caramel. If you want to leave out the rum, you could replace it with fresh lime juice, or simply omit it. If you don't have a cast iron skillet, this can be made a standard 9-inch (23cm) cake pan (not a springform pan, which would leak during baking). Make the brown sugar topping in a regular skillet or pan, then pour it into a cake pan while it's still warm. Cut and lay the vanilla bean and bananas on top.
For the banana topping
4

tablespoons (55g)

butter

,

salted or unsalted

1/2

cup plus 2 tablespoons (110g)

packed dark brown sugar

1

vanilla bean

,

split lengthwise and seeds scraped

1

tablespoon

rum

4-5

medium

bananas

,

(about 1 1/4 pounds, 565g, unpeeled)
For the cake
1 1/2

cups (210g)

all purpose flour

,

or 1 cup (140g) all purpose flour plus 6 tablespoons (55g) teff flour

1 1/2

teaspoons

baking powder

, preferably aluminum free

3/4

teaspoon

salt

1/2

teaspoon

ground cinnamon

8

tablespoons (4 ounces, 115g)

unsalted butter

,

cubed, at room temperature

3/4

cup (150g)

granulated sugar

2

large

eggs

,

at room temperature

1/2

cup (125ml)

whole or lowfat milk

,

at room temperature

1

teaspoon

vanilla extract
For the topping
To make the topping, heat the 4 tablespoons (55g) of butter, brown sugar, and seeds from the vanilla bean, in a 10-inch (25cm) cast iron skillet on the stovetop. (Add a sprinkle of salt if using unsalted butter.) Stir until the butter and sugar are liquified and start to bubble. Remove from heat and stir in the rum. Add the split vanilla bean to the skillet.

Peel the bananas and slice them in half lengthwise, into thirds, and arrange them over the brown sugar topping in the skillet. Preheat the oven to 350ºF (180ºC).
For the cake
To make the cake, whisk together the flour(s), baking powder, salt and cinnamon,in a small bowl and set aside.

In the bowl of a stand mixer fitted with the paddle attachment, or by hand in a medium bowl using a sturdy spatula, beat the butter with the granulated sugar until light and fluffy. Add the eggs one at a time, stopping the mixer between the additions and scraping down the sides.

On slow speed, mix in half of the dry ingredients, then the milk and vanilla, then the rest of the dry ingredients, mixing only until they're just incorporated. Do not overmix. Scrape the batter over the bananas in the skillet and bake the cake for 30 to 35 minutes, until the cake feels done when you press it in the center. A toothpick inserted into the center should come out relatively clean.

Remove the cake from the oven and let stand for 10 minutes. Run a knife around the outside of the cake to help it release from the pan, and turn it out onto a serving platter or cooling rack, wearing oven mitts and taking care to avoid drips from hot caramel. Any caramel bits that may have stuck in the pan can be spooned back over the warm cake.
Notes
Serving: This cake is best served the day it's made, preferably while warm, but can be served at room temperature. I like it served on its own but it could be served with softly whipped cream or a scoop of vanilla ice cream or cinnamon ice cream.
Storage: The cake will keep for up to four days, if well-wrapped, at room temperature. I would not recommend freezing it as the texture of the fruit may change.
Notes: For information on substitutions and swapping out ingredients, check out my posts: Baking ingredients and substitutions and Gluten-Free baking and substitutions. Check here for more on types of French sugar. (Those in France can use dark cassonade or sucre vergeoise.)