Pain d'epices Recipe
It's tough call, but I'd have to say that Flo Braker is my favorite baker in the world. Having known her for a few decades, I can't think of another baker that I like more. And I won't apologize to any other bakers out there, because I think they'd pretty much agree with me. When I was writing my first book, I remember leafing through her book, The Simple Art of Perfect Baking, amazed how this gorgeous, elegant woman had made cake-making such a seemingly simple affair. I was in awe.
Eventually I was lucky to meet Flo in person when we were wrapping boxes of chocolates and candies for a big benefit that Chez Panisse was organizing and we hit it off immediately.
So much so, that when my mother passed away, Flo called and said just two words to me: "You're adopted."
(Although she way rather coy when pressed for a move-in date….)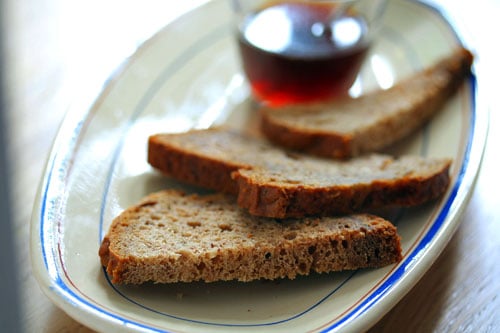 Her latest book, Baking for All Occasions arrived right before the holidays and I bookmarked a bunch of recipes, including the gleaming Butterscotch Spiral Coffee Cake, a giant spin of pastry dough glazed in deep-dark butterscotch. But once I came back to my senses, my gaze landed on her recipe for pain d'épices.
A French classic, pain d'épices is sold in loaves, but sometimes sold in squares, cut from giant slabs. And because they've got a good dose of honey in them, honey merchants usually sell them. Kind of a cross between a cake and a bread clever French hosts (and hostesses…and probably everyone in between) will cut them in thin slices to serve under slabs of foie gras. Others toast cubes to make the Belgian classic, Carbonnade.
One of the things that French people often find vexing about American sweets is that we like an overload of spices. But pain d'épices is a French classic and no one seems to mind the aromatic mélange of spices. I love pain d'épices and Flo's version will drive you wild if you have to share an apartment with it. Days and days after I made it, my flat was deeply-infused with the smell of cinnamon, pepper, cloves, and honey. I'd put it outside, but I don't want to share it with the pigeons lurking out there.
Because the recipe calls for dark rye flour, I took a walk to visit José over at La Grainerie du Marché (8, place d'Aligre) in the Marche d'Aligre.
(For some reason, their site shows the trash that piles up at the market at the end of the day, which is a pretty odd thing to put on your site. But that's why we love the French. Right?)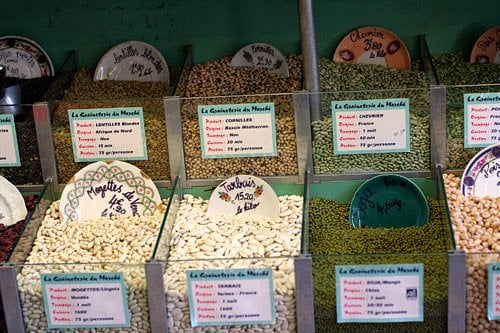 In contrast to the mess that piles up after the market closes, his shop is well-organized and whenever I need any specialty grains or flour, you can find me there hovering over the bins. It's one of my favorite places to shop in Paris, and although I don't have a garden, half of his shop is devoted to seeds, gardening supplies, and various mixtures of seeds, in case you have any birds to feed. But I'm not worried about any of the birds outside of my apartment not getting enough to eat. The flock of pigeons out there seem to lie in wait for me to dump cookie or cake crumbs out there when cleaning the pantry.
Unfortunately for them, pain d'épices is meant to be kept a while so they're going to have to wait for any crumbs from this beauty. But I can assure them, it'll be worth the wait. Except I can't tell them that because I don't speak pigeon-French.
Although there's probably more than a few French people around here that wouldn't exactly agree with that…
| | |
| --- | --- |
| Pain d'Epices | Print Recipe |
Adapted from Baking for All Occasions by Flo Braker Pain d'épices makes the most wonderful afternoon snack when you're foraging around for something slightly sweet, as I often find myself doing, but don't want something rich or creamy. That said, you could dress it up with a swipe of cream cheese or jam, or use slices of pain d'épices to make an impromptu strawberry shortcake, piling on the berries and cream between a few moist slices.
1/2
cup (60g)
dark rye flour
2 1/2
teaspoons
baking soda
1 1/2
teaspoons
ground cinnamon
1 1/2
teaspoon
ground ginger
1/4
teaspoon
freshly-grated nutmeg
1/4
teaspoon
ground cloves
1/4
teaspoon
freshly-ground black pepper
1/2
teaspoon
anise seeds,
whole
2
ounces (55g)
unsalted butter,
at room temperature
1
large egg,
at room temperature
1
tablespoon
finely-grated orange zest
1. Preheat the oven to 350º (180ºC). Butter a 9-inch (23cm) loaf pan, dust it with flour, then tap out any excess.
2. Sift together the flour, rye flour, baking soda, the ground spices and salt in a bowl. Sprinkle in the anise seeds.
3. In the bowl of a standing electric mixer, or by hand, mix together the butter, egg, honey (or honey and jam), and orange zest.
4. Add the water, then add the dry ingredients in three additions, scraping the sides of the bowl to make sure everything gets mixed in evenly.
5. Transfer the batter to the prepared loaf pan and bake for 60 minutes, or until a toothpick inserted into the center comes out clean. The top will bake to a somewhat dark color, which is normal.
6. Cool 10 minutes, then tip the cake out of the loaf pan. Let cool completely before slicing.
Storage: Pain d'épices can be wrapped in plastic and stored for at least a week, during which time the flavors will meld and it'll get denser. It can also be frozen for a few months.