Why Stealing is Wrong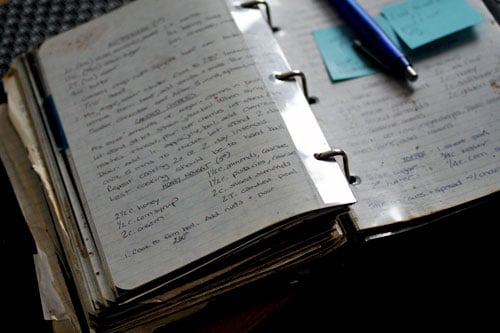 Well, I wouldn't say it was exactly stealing. But last time I was in the states, I was going through one of my frighteningly-full storage lockers (there's your glimpse into the glamorous life of international living…) and while rifling through cookbooks, I came across my own personal book of handwritten recipes, a fat mess of pages, stained with butter, eggs, almond paste, and lord-knows what else, that I compiled during my years working in restaurants.
It really is a treasure trove of recipes and I was thinking I should start a "working my way through the book" blog, dedicated to doing each-and-every recipe in there. Then I thought the better of it and got that idea out of my mind—fast.
The main reason being that most of the recipes make a hundred servings and call for things like 80 egg yolks or 5 1/2 cups of honey or 8 quarts of heavy cream.
I don't know about you, but my kitchen ain't that big and my dining table can barely seat four comfortably—let alone a hundred.
But there was one recipe I was going to present on the site, without naming where it was from. If a recipe isn't mine, I let you know where I got it. Except here, I was conflicted since this one is from a famous place and I was pretty sure they wouldn't want me to reveal where it was from.
The friend who helped develop the famous cereal gave it to me and I thought it'd be fun to share. But that was my dilemma: If I didn't say where it was from, that wouldn't be cool. Yet if I did, was I stealing a company secret?
Oh, the things that keep me awake at night…
Anyhow, as I pondered my predicament, I gathered ingredients: whole milk powder, wheat germ, and a few other things on my wild scavenger hunt across Paris.
Back home, when I started mixing everything together, I felt something was amiss. For one thing, I'd never made granola that had whole wheat flour in it. Flour in granola? And the recipe also called for a whopping two cups of oil. I don't mind oil, but two cups? If I'm going to eat that much oil, I'm going to do it in the form of fried chicken, not wheat germ. Yet I forged ahead, dumping and mixing ingredients, including a hefty cup of dried milk powder.
(I hadn't seen dried milk powder since my forty-eight hour foray camping as a Boy Scout, where I learned that a flimsy aluminum pot is the worst thing to cook popcorn in over an open fire because it burns like there's no tomorrow. And the new boys were expected to do all the "grunt" work, like scrub those pots in the river for the entire weekend, and service the latrine. Activities like that, we were told, were going to "build character." Which no doubt explains a lot about me today…)
While it was cooking, my apartment began to smell like scalded milk and when I checked the mix at the midway point, the "granola" was in ugly, monstrous clumps, which I broke apart. After giving it sufficient time, I realized it was never going to get crispy (with all that oil, unless I deep-fried it, how could it?) and I just let it cool.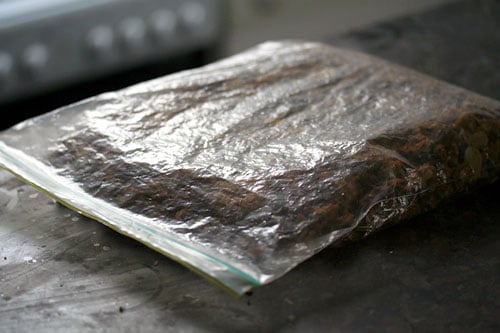 So now a bag of what looks like Mighty Dog, a very, very expensive bag of Mighty Dog, is sitting in a zip-top bag in my freezer awaiting its fate, which will likely be the base for a summer crisp topping—one that will feed…oh, I don't know…like a hundred people or so.
I'm not sure what happened, or what went wrong. I mean, I had good intentions. I was trying to do the right thing but I suppose this is my punishment. But I'm not anxious to give it another try, which is a good thing. Because that means I don't have the mind of a serial criminal. Or I guess I should say, a cereal criminal.


Related Posts