Comté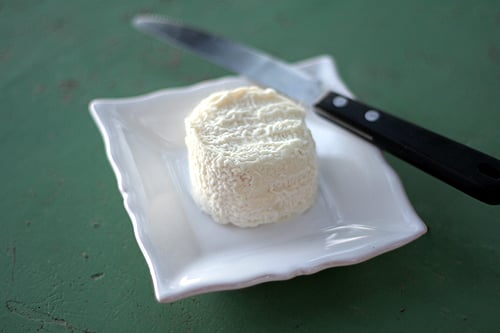 There's sort of some rhyme and reason to my cheese-buying habits. One fromagerie might have the most amazing butter, so I'll trek over to the place St. Paul to buy a packet of it. But if I want a round of Selles-sur-Cher, I'll go to the fromager at the marche d'Aligre who always has beautiful ones on display. For St. Nectaire and Cantal, I'll only buy those from the husky Auvergnate dude at my market on Sunday mornings and refuse to even taste one from anywhere else. His are just so good, I don't bother doing any comparison shopping.
Last week my neighbors from San Francisco came to visit and I took them to my Sunday market, where I figured we could gather the ingredients for a semi-homemade meal, sans the tablescape.

Of course, I picked out a crispy-skinned poulet crapaudine (actually, I got one-and-a-half, since I can eat a whole one by myself and I hate sharing), we got some not-fabulous bread (my bread guy, Jacques, stopped coming to the market on Sunday—zut!), but I dialed in on the cheese stands, since so matter how fabulous the food is in the Bay Area, French cheeses are undeniably amazing.
I picked up a few tiny Rocamadours, little creamy disks made from raw goat's milk, each about the size of a silver-dollar that barely made it home before their creamy insides running out all over my market basket. I also had a jumbo slab of Salers since I love the guy that sells it. And a herb-covered Brin d'Amour, since I love the guy that sells that too. Although in a completely different way.
But the star of the show, at least for me, is Comté, which I'm told is the most popular cheese in France. I don't know if that's true, but it's the most popular cheese in my bouche and I'm never without a slab. Resist the temptation to buy the less-expensive ones. They're good, but compared with the ones aged 18 to 30 months, well…there's just no comparison. You can be cheap about other things, but the ordinary ones have the same amount of calories as the blow-your-mind ones. So you may as well get the good ones, even at the risk of your mind blowing out. Trust me, minds are overrated. I've been there.
Silly Americans like me always have to complicate things and when I first moved to France, I'd buy, like, ten different kinds of cheese to make a cheese plate. Not that I'm complaining, but I'd have way too much left over and it was just too much for David. And I'd spend the rest of the week gorging on cheese. Not that that's a bad thing, but Levi's (pronounced lev-eez) are expensive here and there's only so many pairs a guy can bust through.
So I stopped that silliness and started buying a maximum of three cheeses when having guests, usually choosing a nice goat cheese, for its tang, something soft and creamy, like Roquefort or a bleu d'Auvergne, and always a tumescent slab of Comté.
But lately, I've decided it's best to just have one perfect cheese, and enjoy that in all its splendor. Not only does it allow me to not feel guilty for spending more than I might think prudent, but it's really nice to just have one incredibly delicious cheese to concentrate on.
And right now, Comté is the only one on my mind. Although it's starting to show up in a completely different place.
Cheese-Related Posts: