Fromagerie Pascal Beillevaire
I'm not going to say it's the top reason I live here, but one of the main reasons that I live in France is because of the cheese. It's not just that I like cheese – which I do very dearly – but it also represents something that France has held on to, and still defies modernization. You just can't make Comté or Bleu de Termignon with a machine. Each is made in a certain region, with milk from certain pastures, then molded and ripened, then sent to a skilled fromager to be offered to customers.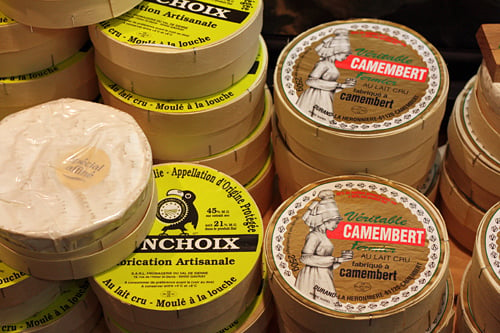 My dream job used to be to work in a cheese shop, until a friend who worked in a cheese shop told me how hard it was. (As those of you who read my Paris book know, I found working at the fish market quite different than I initially thought, too.) But no matter what people say, the idea of being surrounded by cheese in every direction, learning about the different regions and styles of cheesemaking, and just inhaling the funky, pungent aromas also sounds like heaven to me.
If you go into a French supermarket, there are plenty of cheeses to choose from. But traditional fromageries survive in Paris because of the personal service one gets. Not every neighborhood is lucky enough to have a good fromagerie close by, but there are a good number scattered around Paris, and every outdoor market has a cheese merchant, lording over large tables covered with straw mats, with rounds, triangles, crottins, and slabs of cheese from across France.
Carlos from Lactography was in town, visiting fromageries, and I asked him why he thought so many fromageries – which are usually big proponents of raw milk cheeses – only carry sterilized milk and liquid cream. He directed my question to Jerôme Boulestreau, who responded – "We only have raw cream (crème cru) here!"
When he said "here" he was referring to one of his cheese shops, part of the Pascal Beillevaire group of fromageries, which are mainly clustered in Loire-Atlantique region of France (toward the west coast), with a few in Paris. Jérôme owns three of them in Paris, and we made arrangements for a visit to his shop up in Belleville.
A visit to a cheese shop can be a daunting experience. But it's one I never get tired of. You often don't know what to expect, as many cheeses are seasonal and a good cheese shop will only carry what's best at the moment.
Although people do buy cheese at the supermarket, I like the one-on-one discussion with the vendor, who will verbally joust with you, until they find the right cheese for you that day. I often hope there's a line because it gives me a chance to see what others are ordering because most shops and I like to overhear the discussions they have about what cheeses they bought a few days before, and how they liked them, and what's best at the moment.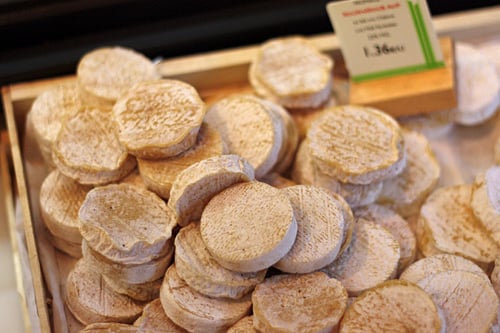 Beillevaire is a little overwhelming since they have a lot of cheeses that I've never seen before, like the doughnut-shaped, moldy Courounne-Lochoise raw milk goat cheeses from the Loire. Each one has a history and tradition attached to it, and Jérôme and the other fellow in the shop, spent the better part of the afternoon tasting our way around the shelves.
Unlike most of the shops in Paris, they were happy to offer tastes of some of the various cheeses. And I made mental notes after each, to figure out which ones I'd be bringing home. Making sure that one of them would be one of the pungent, squishy-soft rounds of Camembert du Normandie, which was so soft and fatty, it was nearly buckling at the bottom. (He told me at home, to store it upside-down.)
I'm not necessarily a fan of "flavored" cheeses, preferring the milky taste of the cheese itself, but when I tasted the Gouda with orties (stinging nettles), it had the faint green-grassiness of wild plants, with a touch of mint. Not French, but a completely different cheese than the industrial Goudas that one normally finds.
Brittany is one of the few regions in France not known for cheesemaking, except for the industrial giants, who have their cheese factories there). So I was surprised to see four musty plugs lined up, called Menez Hom, from the Finistère part of Brittany, on the extreme western tip of France.
The rule about eating the crust of the cheese is that if it won't adversely affect the flavor, the crust is edible. And in spite of the fact that some people scoff if you don't eat a particularly funky crust, in France, I've seen people leave behind crust that I thought was perfectly edible. So it's a personal choice.
And when my eyes took me to a particularly, um, colorful cheese, they insisted I try the crust. And I was glad I did, since it was viciously mottled, but the taste was earthy and delicious when eaten with the creamy pâte inside.
Tomme Brûlée is a smoked sheep's milk cheese from the Pyrenées which gets it's croûte (crust) because people used to store their cheese in the chimney, to preserve them, which also gave them a smoky flavor. Nowadays there's a number of cheeses from that region that are smoked which I like a lot, but I'm not sure I would eat the rind on this one. But like wine, there's not a whole bunch of rules that you really need to follow; the most important thing about eating cheese – or anything, really – is just to enjoy it, man up, and not worry about what other people say you should do.
Saint-Nectaire is a cheese I've never fully appreciated except on the one occasion when I had a memorable one. But French friends go wild over Saint-Nectaire, exclaiming that is has the taste of the terroir (regionality). But normally I always shrugged my shoulders, and found it rubbery and bland. I've since decided that it was a cultural difference and that perhaps there was something about the French that they could perceive different flavors in cheese than people from elsewhere. However if you've had an experience with one, I'd be interested in hearing about it in the comments.
But, ah, the butter. A number of years ago I first tasted their incredible butter, which is so good, you don't want to even put bread under it. There's unsalted, salted, and demi-sel croquant (crunchy) à la fleur de sel de Noirmoutier. Pardon my French, but holy sh*t, that butter is good! Made from raw milk, it's not as dark as other butters, likely because of what the cows eat, but has a fresh, uncomplicated taste of dairy. It's so good, I lick it right off the knife after spreading it on a crunchy baguette, if no one is looking, of course.
(And yes, I clean – and sterilize – the knife after letting someone else use it.)
After I made a few purchases, Jérôme asked me if I liked pain d'épices, which he must have noted because I kept glancing at the oversized slabs, which he told me was his father's secret recipe. I tried quizzing him repeatedly, but he waved me off with a laugh..and a nice slice in my shopping bag.
There was also a superb rice pudding in a jar, with a puddle of caramel waiting in the bottom, which was so good that I kept dragging my spoon through until I threatened to break the thick glass bottom. And a little tub of Crèmet Nantais, which turned out to be very fresh whipped cream that had been left to drain, which thickened it up. It was slightly creamy at the bottom, with crumbly chunks of high-butterfat cream on top. I heaped it over fresh pineapple and berries, which could not have been a better dessert.
As you can imagine, I was busy tasting, talking, and taking a few pictures and didn't jot down each and every type of cheese shown here. However if you come to France, instead of arriving with a fixed idea of which particular cheeses to try – because many of them are seasonal and regional, it's likely that exactly what you want may not be available. Like many things in France, if you go shopping with a preconceived notion of what you're going to buy, you're often going to be disappointed.
One day you'll cut into a tiny, soft disk of Rocamadour, that will make you swear off any other cheese. Then the next time you go in search of another, perhaps at a different fromagerie or from another producer, you'll take a bite and you'll pine for the other. Much of the flavor and quality of any cheese depends on how the cheese was made, and who made it. And the last step, which is just as important as the making of the cheese, is how the cheese is treated and ripened in the shop where it's purchased.
So it's best to go to a good fromagerie in whatever neighborhood you're in, let them know what you like, then try them for yourself. And if you're happy, go back the next day and thank them. (And if you're not, chalk it up to a learning experience.) Trust me, you'll be fondly remembered. As was this Camembert…for the short time it lasted.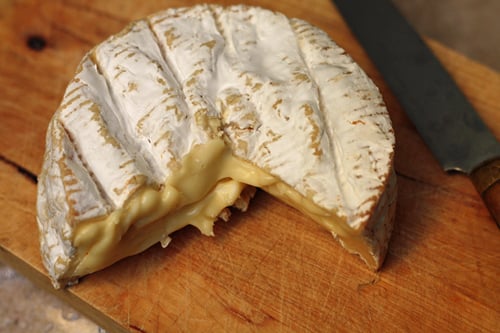 Pascal Beillevaire
140, rue de Belleville (20th)
Tél: 01 46 36 90 81
Métro: Jourdain
Jérôme is also the owner of the Pascal Beillevaire cheese shop at 215, rue Faubourg-St. Martin (10th.) Other Beillevaire shops in Paris are owned by the parent company.
Related Posts
Comté Cheese Ripening and Tasting
Why You Should Drink White Wine with Cheese