Cinnamon Ice Cream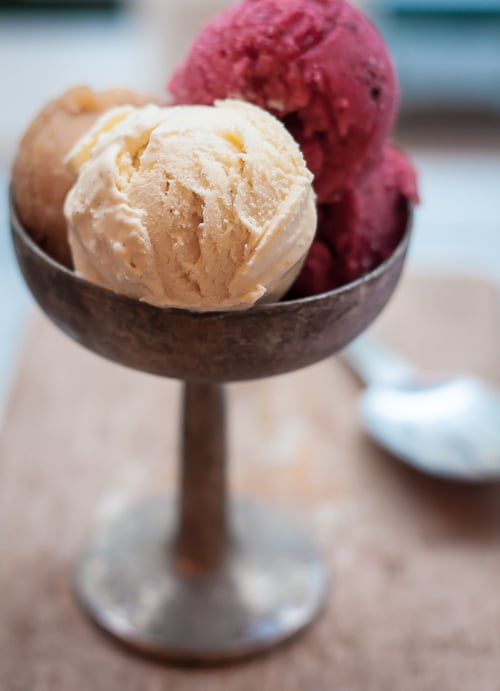 My favorite thing that I bought this year is this old battered gelato dish, which was my score at a street market in Palermo. It was sitting there all by its lonesome, and there I was, to give it a happy home – it was kismet. (Or maybe it's called something else in Italian, but I'm just happy I stumbled across such a fabulous find for only €2.)
So I've been trying to use it at much as possible. But since I only got one, that means I have to share. Which is pretty much a good thing when it comes to desserts anyways, as few of us can eat a whole cake, pie, or quart of ice cream.
Come the holidays, I start baking up as many desserts as I can – to share, of course. And nothing is better with a slice of apple pie or wedge of dark chocolate cake than ice cream. Vanilla ice cream is the classic, but it's nice to offer something a little different every once in a while, something perhaps more wintery (although cinnamon goes great with summer fruits, like peaches and plums as well.) Since I've been churning up a storm lately, and had some fruit sorbets on hand, I paired my cinnamon ice cream with a few other flavors, to make a nifty trio.
Cinnamon can vary in flavor and intensity, and if you want a real kick, try Saigon cinnamon. But rather than rely on origins, or varieties, or labels, the best way to tell if cinnamon is good is to take a big whiff: if it smells good to you, that's the one to use. I use sticks in this ice cream since infusing them gives the ice cream a fuller, more complex spice flavor. Right before I churn it, I taste it again (and sometimes, again and again and again) and grate a little fresh cinnamon into the custard right before I pour it into the machine, to focus and sharpen the spicy flavor.
| | |
| --- | --- |
| Cinnamon Ice Cream | Print Recipe |
Adapted from The Perfect Scoop (Ten Speed Press) Although cinnamon ice cream is perfect with apple pie, gingerbread, and even a bowl of sliced fresh peaches, when in season, I'll often pair it with other ice creams or fruit sorbets, where the gentle spiciness is a nice counterpoint to the fresh fruit flavors.
10
cinnamon sticks
broken up (in a mortar & pestle, or with a hammer in a ziptop bag)
2
cups (500ml)
heavy cream
ground cinnamon: optional
1. Heat the milk, sugar, salt, cinnamon sticks, and 1 cup (250ml) of the heavy cream together in a medium saucepan. Cover, remove from heat, and let steep 1 hour.
2. Rewarm the mixture and remove the cinnamon sticks with a slotted spoon.
3. Nest a medium-sized bowl in a larger bowl that's partially filled with ice water, to create an ice bath. Set a mesh strainer over the medium bowl and pour the remaining cream into the medium bowl.
4. Whisk together the egg yolks in a small bowl and gradually add some of the warm cinnamon-infused milk to the yolks, whisking constantly. Scrape the warmed yolks back into the saucepan and cook over medium heat, stirring constantly and scraping the bottom with a heatproof spatula, until the custard thickens and coats the spatula.
5. Remove from heat and immediately pour the custard through the strainer into the cream. Stir the custard until cool, then chill thoroughly in the refrigerator, preferably overnight.
6. Taste the mixture before churning, and add a bit of ground cinnamon, if desired, then freeze the custard in your ice cream maker according to the manufacturer's instructions.
Related Posts and Recipes
White Chocolate-Fresh Ginger Ice Cream
The Easiest Chocolate Ice Cream Ever
Ice Cream Makers: Buying an Ice Cream Machine
How to Make Ice Cream Without a Machine
Tips for Making Homemade Ice Cream Softer