Lamingtons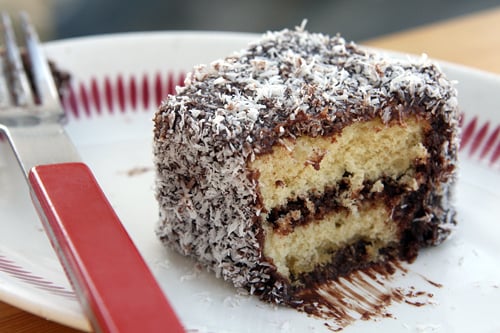 When I was in Australia, a couple of interesting things happened while I scooting around Sydney. One was that I went on the hunt for Lamingtons, and a number of people offered to send me recipes, but didn't. And two, I got quite a few messages from people asking if I was coming to Melbourne. Then a food festival there rolled around and even though I woke up at all hours, checking my messages night and day, an invite to that city never landed in my Inbox.
But instead of being tough and bitter, I decided to dive into something tender and sweet, and was compelled to whip up my own recipe for Lamingtons. (And it's hard to remain mad at anyone in Australia because, truly, everyone was exceptionally nice to me during my visit to Sydney.) I did call upon one of those nice folks, the master of the Lamington, Matt Rothman, when deciding whether to go with a cocoa powder icing or one made with chocolate. And he responded that he makes either, depending on whether he wanted the glaze to soak in to the cake a little (cocoa powder) or for it to be more of a thicker icing (chocolate).
I went for a mix, mostly using chocolate, but with a little cocoa powder to rev up the chocolate flavor. Some people use raspberry jam, or another jam, for a filling, although I'm not really big on fruit and chocolate together – I just wanted moist spongecake, chocolate frosting, and lots of shredded coconut.
The good news is that I don't feel slighted anymore since I can have Lamingtons whenever I want, wherever I want. And so can you.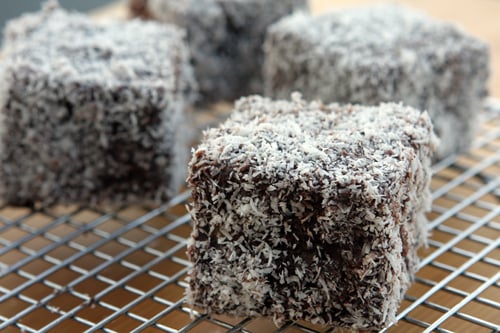 It seems traditional to use regular unsweetened dried coconut, also known as desiccated coconut, but those with a bit of dedication surely would be rewarded if you took the time to shred fresh coconut. Unsweetened dried coconut is usually available in natural food stores, ethnic markets that specialize in Asian or Indian ingredients, and online.
For the spongecake:
6
large eggs,
at room temperature
1
teaspoon
vanilla extract
1 1/3
cup (175g)
cake flour*
2 1/2
ounces (70g)
melted unsalted butter
at room temperature
For the chocolate icing:
6
ounces (170g)
bittersweet or semisweet chocolate,
chopped
1 1/2
ounces (40g)
unsalted butter
3/4
cup (180ml)
milk,
whole or lowfat
2
cups (220g)
powdered sugar
2
tablespoons
unsweetened cocoa powder,
natural or Dutch-process (sifted if lumpy)
2
tablespoons
boiling water
3
cup (200g)
unsweetened shredded coconut
1. To make the spongecake, butter a 9-inch (23 cm) square cake pan and line the bottom with parchment paper. Preheat the oven to 350ºF (180ºC).
2. In the bowl of a stand mixer, whip the eggs and granulated sugar and salt on high speed for five to ten minutes, until thick and the batter forms a well-defined ribbon that remains on top of the batter when you lift the whip. Stir in the vanilla.
3. Fold the flour into the egg mixture by putting the flour in a sifter or mesh strainer and sifting the flour over the top of the beaten eggs while simultaneously folding the flour in using a whisk.
(You might want to steady the bowl on a damp towel, twisted and rolled up into a circle, or get someone to hold the bowl while you fold.) Fold in the melted butter until no streaks of butter are visible, but do not overfold.
4. Scrape the batter into the prepared pan and bake for 30 minutes, or until the cake begins to pull away from the sides of the pan. Remove from oven and let cool completely.
5. When cool, unmold the spongecake onto a cutting board and remove the parchment paper. Trim the ends and cut the cake in half horizontally using a serrated bread knife. (I find it easier to cut the cake into two rectangles first, and cut each one separately.)
6. Make the chocolate icing by melting together the chocolate, butter, and milk in a heatproof bowl set over a pan of simmering water. Remove the bowl from the pan of simmering water when smooth, then whisk in the powdered sugar and cocoa powder.
7. Spread a generous 1/2 cup (125 ml) of the chocolate icing over one layer of the spongecake, then top with the other half of the spongecake, sandwiching the two together with chocolate icing in the middle.
8. Cut the cakes into sixteen squares and whisk two tablespoons of boiling water into the icing. Put the coconut into a shallow baking dish or bowl.
9. Use your hands to dip the Lamingtons into the chocolate, rolling them around to make sure each side is coated with the chocolate icing, then wipe off any excess on the side of the bowl. Place the Lamingtons in the vessel of coconut, tossing them around gently to get them coated on all sides. (I do two at a time.)
10. Once iced and tossed in coconut, place the Lamingtons on a wire cooling rack and let stand until the icing firms up a bit.
*Cake flour is finely milled, softer flour with less-gluten and a lower protein content, and it's used in spongecake recipes for an especially tender result. It's available in supermarkets under brand-names Swan's Down and Softasilk in the United States, and online. In France, I use type 45 flour (farine pâtissière).
Although it's not quite the same, you can approximate cake flour using one of these methods:
Subbing all-purpose flour for cake flour (Baking Bites)
–Make your own cake flour (Smitten Kitchen)
–How to make cake flour substitute (The Kitchn)
Related Posts and Recipes
Quick Coconut Ice Cream with Saffron
Chocolate-Dipped Coconut Macaroons
Banana-Chocolate Chip Upside Down Cake