Ginger Crunch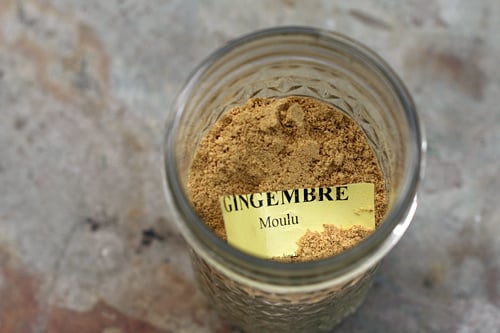 Origins of recipes are often funny and some of the stories are doozies. Many are found in more traditional places, like handed over from friends and relatives, some are found in cookbooks, and others are our own creations. Then there are those that come from who-knows-where, such as the one I found on a men's room wall.
And then there's this one, which got handed to me during a book event and meet-up that I had in Paris when a lovely woman from New Zealand gave me a tube of Vegemite, along with a photocopy of the recipe, saying it was amazing. (Interesting that she said the recipe was amazing, but when she gave me the Vegemite, she only followed that with a hearty chuckle.)
At the time I thanked her and put it in my bag, then it was transferred to my kitchen counter where it rested amongst a pile of papers that is optimistically called "recipes to try." It languished there for, oh, maybe eight months, until I picked it up and gathered all the ingredients to make it. Then I promptly put them in the pan and placed them in a corner, where they languished together for another few months. Until I finally decided it was time to try it.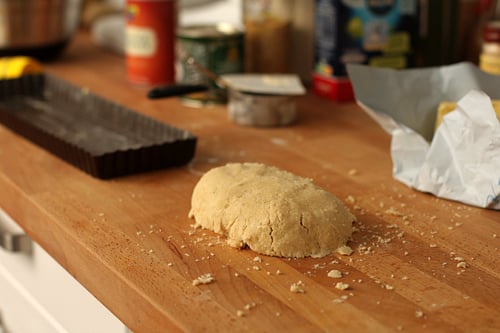 When I was in Australia, I was delighted by all the "slices" on offer, which are available at coffee shops and bakeries, such as caramel crunch, and their distant relative, Lamingtons. This ginger crunch is pretty simple to put together, although reading through the recipe, I thought about dialing up the spices, which I'm sure folks in Australia and New Zealand would approve of because they seem to like their food highly seasoned – as do I. But then I tasted the slices and realized they were right on the mark.
To all the folks out there wondering what they can use in place of the golden syrup, I'm both happy and sorry to say, that there's nothing else similar. The reason I'm sorry is that you have to hunt some down – many well-stocked grocers have it, or you can find it online
. But I'm happy to say that you'll be thrilled to have that little green-and-gold tin in your life because once you taste it, you'll wonder how you lived without golden syrup in your life before.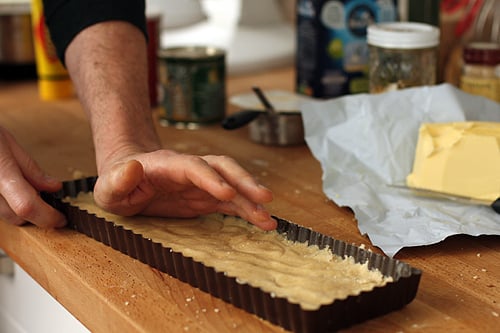 The original recipe called for a 20 x 30 centimeter "Lamington" pan, which – as much as I like Lamingtons – I didn't feel like ordering from New Zealand. (Which is probably the only time in my life that I couldn't justify buying a new piece of bakeware.) So I used a rectangular French tart pan, because I live in France and I'm trying to support my local tart pan makers. You could use an 8-inch (20cm) square cake pan in its place.
When I first bit down on one, it was somewhat familiar, but it so different from any other kind of bar cookie I know of. The base is crumbly and crisp, with the characteristics of a good shortbread, but with a firmness and crunch that pairs beautifully with the buttery, spicy topping. The word "addictive" comes to mind. And if it wasn't for the 30-hour plane ride, I'd be making plans to go to New Zealand to try more "slices."
So to that lovely woman who brought the recipe all the way to me, a big thanks and I'm glad I finally got around to making it. You were right!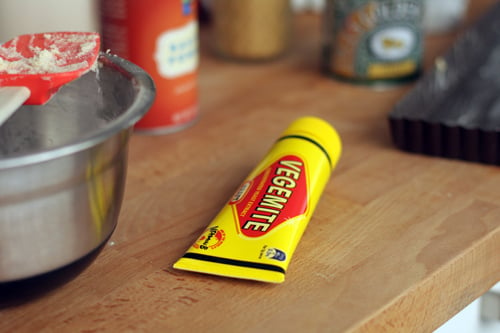 As for that tube of Vegemite? I'm getting around to that soon. Uh, I promise…
| | |
| --- | --- |
| Ginger Crunch | Print Recipe |
A little sleuthing revealed that the recipe I was given was perhaps from, or inspired by, the Ginger Crunch recipe from a cookbook produced Edmonds, a New Zealand company which produces baking powder. The Edmonds Cookery Book was first published in 1908. I used a 13- by 4-inch (34cm x 10cm) rectangular tart pan but one could use another pan of similar dimensions. Such as an 8-inch (20cm) square cake pan or a 20 x 30 centimeter rectangular pan, which the original recipe called for. If using a cake pan, one neat trick is to line the bottom with a wide piece of foil leaving an overhang over the sides of the pan, then smoothing the sides and buttering the inside. Once the bars are finished, you should be able to lift the foil (and the bars) from the pan easily. The dough may take a bit of coaxing to bring it together. If necessary, dampen your hands and knead the dough until it comes together. (It doesn't need to be perfect.) Transfer the dough to the pan and use the heel of your hand to press it evenly into the bottom. Even if you think it looks goofy when patting it down, it will bake up nice and flaky.
Icing
2 1/2
ounces (5 tablespoons, 75g)
butter,
salted or unsalted
2
tablespoons
golden syrup
(see Note)
3/4
cup (90g)
powdered sugar
1
tablespoon
ground dried ginger
1. Preheat the oven to 375ºF (190ºC.) Butter a 13-inch rectangular tart pan or another pan (see headnote.)
2. In the bowl of a stand mixer, or by hand in a large bowl, make the cookie base by creaming the butter with the sugar until very light and fluffy, about 5 minutes. In a separate bowl, sift together the flour, baking powder, and 1 1/2 teaspoons ginger.
3. Mix the dry ingredients into the creamed butter mixture until well-combined. Turn the dough out onto a lightly floured countertop and knead it until the dough is relatively smooth.
(If necessary, dampen your hands to add a bit of moisture to the dough, if it's dry.)
4. Press the dough into the prepared pan and flatted the surface, then bake the dough for 20 minutes, until it's light golden brown.
5. Five minutes before the dough is done, making the icing by heating the 2 1/2 ounces of butter and golden syrup in a small pan, then mix in the powdered sugar and 1 tablespoon ginger, stirring until smooth.
6. When you take the pan out of the oven, pour the warm icing over the cookie base. Let sit for about 20 to 30 minutes, then remove from the pan and slice while still slightly warm.
Note: The only substitutions I could imagine that might work for this recipe might be honey, since it has the same viscosity to golden syrup. Rice syrup is another possibility. If you do try it with another liquid sweetener, please share your results in the comments.
Related Recipes
Chocolate-Caramel Slice (Rhid-Baked)
Peanut Butter-Chocolate Slice (Chocolate Suze)