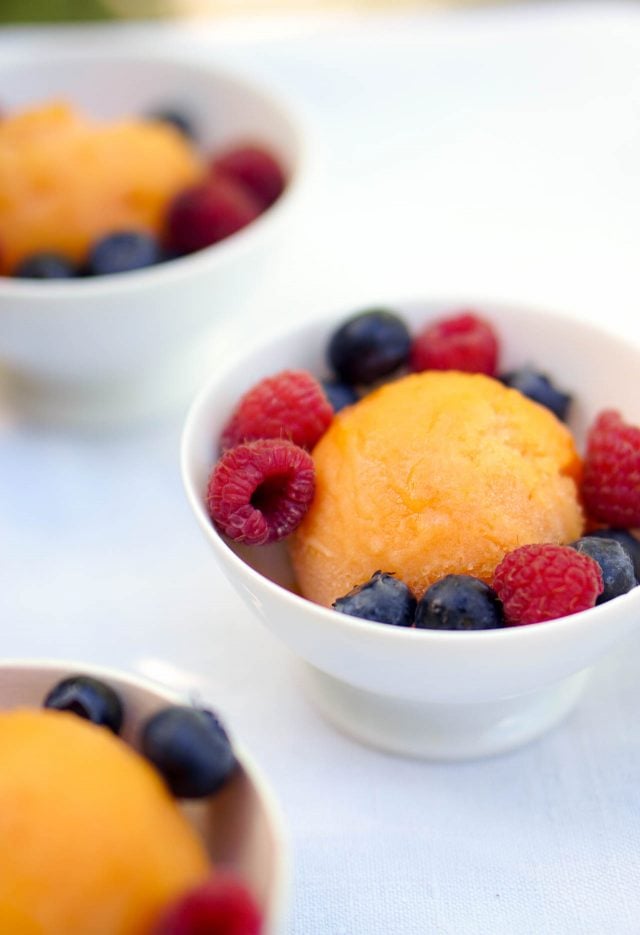 Papaya isn't a very common fruit in many parts of the world. But if you go to the tropics, you'll see them piled up at markets, and even alongside the roads, where people are selling the overload from their trees. Papaya is a curious fruit that is often just out of the sightline of our radars, and is usually eaten fresh. Some varieties are spectacularly colored, making them a perfect fruit to turn into a vibrant sorbet.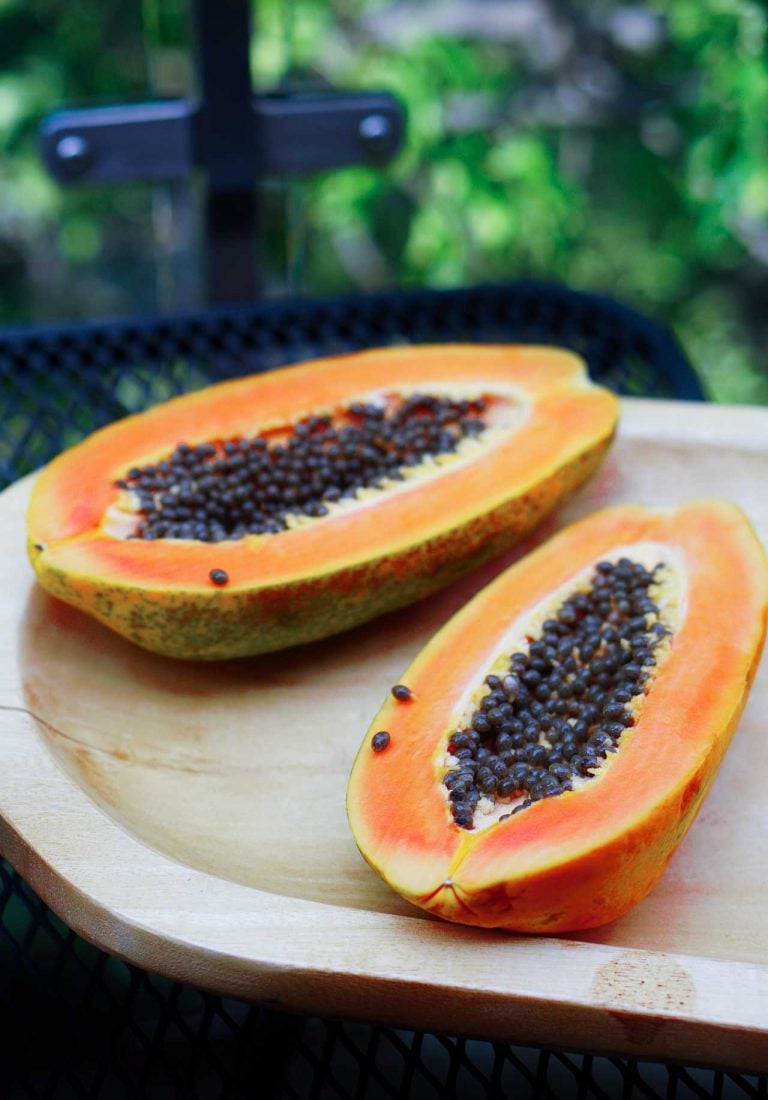 When I lived in California, there were plenty of papayas in the multicultural markets, some as large as footballs and as bright as navel orange inside, whereas others are more muted. But I haven't bought one in recent years.
When I did, I always went for the ones that were as heavily blushed inside as possible. Latin American and Asian markets usually have one or two varieties on offer, and they'll cut giant papayas into small pieces, which gives you a good chance to check out the color of the flesh beforehand.
Cutting up papaya can be a slightly slippery affair, with the dark seeds spilling out all over the place. Try a few; you'll find they're quite spicy and peppery. The flesh contains an enzyme called papain which is said to be good for your digestion, but it's also the same enzyme which can affect cake batters, so if you try making an upside down cake with papaya (or another tropical fruit rich in papain), you may end up with some goopiness in the batter. I don't often buy papayas, although whenever I'm in a tropical climate, they're offered for breakfast and I invariably have a few slices in the morning with a squeeze of lime juice.
Recently Romain was fingering some beautiful papayas at the market (that I'll admit, were just outside of my radar) and I took the hint and brought one home. Next time we went shopping, he was eyeing them again, so I picked up another. Then, suddenly, I found myself with a lot of papaya on hand. And while it's tasty when lounging on the beach in Mexico or Vietnam, it doesn't have the same appeal to me when you're sitting in your kitchen, staring at the sink or your iPad.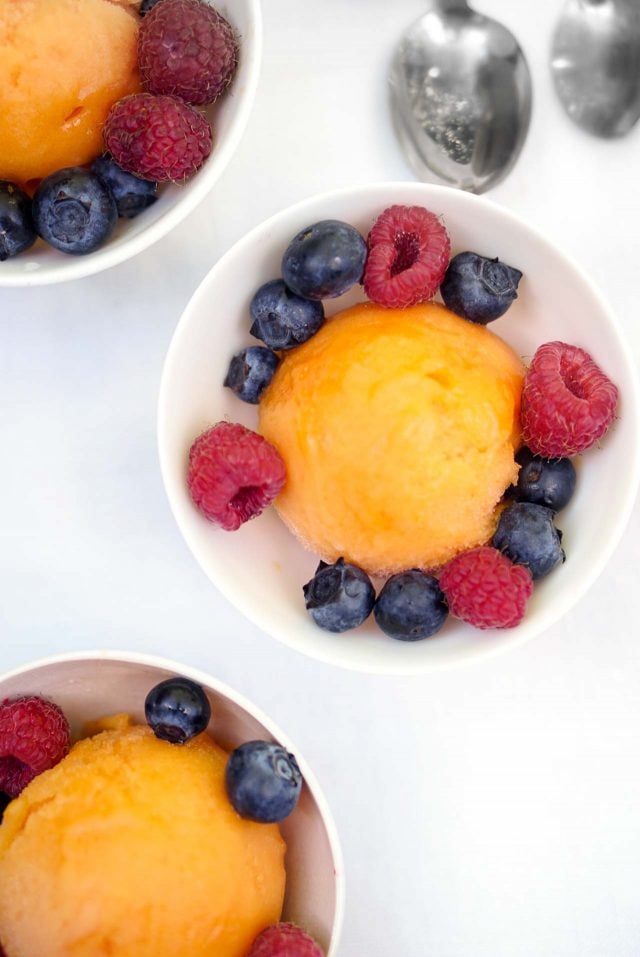 But this papaya sorbet is sure to please, no matter where you live. It's super easy to make and only requires a blender, and an ice cream maker, however it can be made without a machine. (Although this machine usually costs less than $50 and while I'm not a fan of having every kind of kitchen appliance in my kitchen, not having an ice cream maker isn't an option.)
I brought some to a friend's house the other night when she slow-roasted an entire pork shoulder, which was rich, but was oh-so-good that it wasn't possible not to overindulge. And while I'm also not a fan of double negatives, I will say that there isn't a single negative when it comes to this Papaya Lime Sorbet.
Papaya Lime Sorbet
This is a very easy sorbet to make. The lime juice is important to balance the papaya, but you can add a bit of tequila or rum to the mixture before freezing, or add a little sprinkled over the top of each serving. I like to serve it with fresh fruits. A good accompaniment is
Coconut Chocolate Macaroons
or
Pineapple-Coconut Macaroons
.
2

pounds (900g)

whole papayas

,

two small or one large papaya

2/3

cup (130g)

sugar

1/4

cup (60ml)

water

1/4

cup (60ml)

freshly squeezed lime juice

,

(about 3 limes)

pinch

of salt
Cut the papayas in half and remove the seeds with a spoon. Peel the papayas and cut them into chunks. Put the papaya pieces in a blender along with the sugar, water, lime juice, and salt, and purée the mixture until completely smooth.

Chill the mixture thoroughly, then freeze it in your ice cream maker according to the manufacturer's instructions.
Notes
Serving suggestions: Serve the papaya sorbet with fresh fruits or berries. Tropical fruits are particularly interesting, such as kiwi fruit, mango, or pineapple. Other options are to douse scoops with a little tequila or rum or sprinkle them lightly with red chile pepper powder.
Related Links and Recipes
How to make ice cream without a machine
Tips for making homemade ice cream softer