Grapefruit Campari Sorbet
Coming from San Francisco, a place where there essentially aren't any seasons, it's been an interesting transition living in France, where each season has its own rhythm and distinct feeling. Winter, as you can imagine, is the least favorite season of the year and this past winter was particularly somber and dismal. Parisians refer to the dreary gray days of winter, and the tristesse that accompanies it, an effect of la grisaille.
Yet when seasons change here, it usually happens in one day. All of the sudden, you find yourself able to open a window and you might head out with just two, instead of seven, layers of clothing. And from that day on, it'll stay that way until the start of the next season.
(Although I've been proven wrong and now I know better than to stow away my winter gear and change the comforter until I am absolutely, positively sure the cold is gone for good.)
I was also triste to realize that spring was here and that I was out of ice cream and sorbet; I had neither in my freezer, which is unusual. It's a bit early for summer fruits and the last batch of pears I got wasn't exactly stellar. So when I saw these large pink grapefruits at the market, and the vendor told me I could get a free one if I bought six, I was sold. Or I should say, they were sold.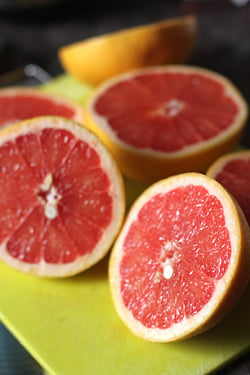 Another thing that surprised me when I moved to France is how popular American pink grapefruits are. It kind of struck me as odd that something that was "Made in the USA" was a prominent feature in ads and on signs at the markets. Then I realized something: Pink grapefruits are really good, and are worthy of global recognition.
Once home, I squeezed the copious juice out of them (and if there's anything more satisfying to juice than juice-rich grapefruits, I don't know what it is) and turned it into a refreshing sorbet with a splash of colorful, tart, Campari.
To celebrate being able to be outside without hat, gloves and scarves, I was invited to a bbq in the backyard of some friend's house just outside of Paris. Parisians are kind of like New Yorkers, who swear up and down that they couldn't – and wouldn't – live anywhere else.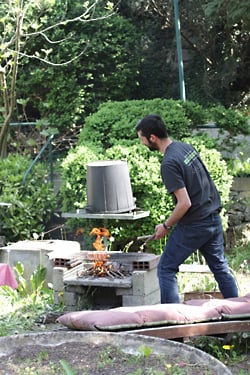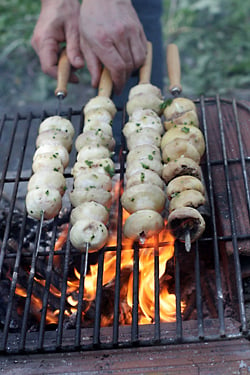 But once they get outside the city, you can see them visibly relax and all we want to do is to soak in all the fresh air. I must admit that shortly after we arrived, I was thinking how nice it would be to have a yard…and better yet—a grill.
The weather was stellar and our friends had been busy making some beautiful foods, such as prunes wrapped in bacon, which they baked (although if I had gotten there earlier, I would have intervened and grilled them), to accompany the iced bottles of rosé.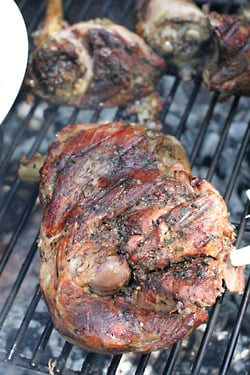 They were boiling a big pot of white asparagus off and had a bag of champignons de Paris (button mushrooms) that were ready for skewering. One of the things that we Americans do right is grilling and Romain had braised for a few hours one lamb shoulder and a few shanks, and they were primed to go right on the grill, to pick up additional flavor from the heat and smoke.
When I saw the roaring flames, I channeled my ex-Californian and threw everything else on the grill that I possibly could. People thought I was a little nuts – especially when I grabbed the asparagus they'd boiled and put them on there too. (Can you tell I am starving for a grill?)
I ransacked the lush garden for rosemary, bay leaves, and branches of fresh thyme, then dipped them in the lamb sauce and heavily basted both the meat and the vegetables with the savory juices while they were grilling. (Although I've learned that highly charred food, I think, is an American taste, so I toned it down a bit…and someone warned me that all the herbs I was throwing on everything might add trop de goût, or "too much flavor".)
I could not have been happier enveloped by clouds of grill smoke, and once everyone could wait no longer, we piled all the food on plates and gathered around the table.
The meal was a big success, and the frosty Grapefruit-Campari Sorbet was just right after such a hearty meal in the sunshine. One of the hosts had made chocolate mousse, and I made chocolate chip cookies, so no one was lacking for desserts. And after several hours of eating, when it was finally time to leave at the end of the day, I looked back and saw what else no one had been lacking for.
Grapefruit-Campari Sorbet
Grapefruit pairs well with slightly bitter Campari and the little bit of alcohol helps keep it scoopable after it's frozen. If you want to omit it, or substitute another alcohol, you can. And check out
Tips to Keep Homemade Ice Cream Softer
for alternative ideas. This recipe would also work with orange juice, too.
3

cups (750ml)

freshly squeezed pink grapefruit juice

,

(about 6 grapefruits)

3/4

cup (150g)

sugar

1/4

cup (60ml)

Campari
Warm about 1 cup (250ml) of the grapefruit juice with the sugar over low heat, stirring, just until the sugar is dissolved.

Remove from heat and stir it into the rest of the grapefruit juice. Mix in the Campari.

Chill mixture thoroughly, then freeze in your ice cream machine according to the manufacturer's directions.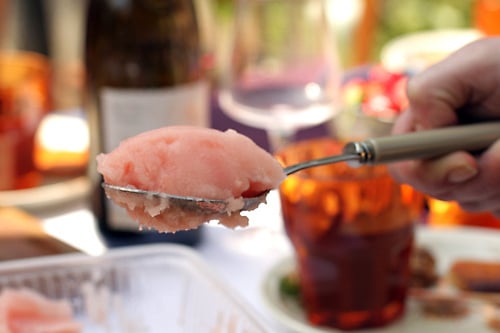 Related Posts and Recipes
Julia Child's Perfect Chocolate Mousse
How to Make Ice Cream Without a Machine