Pink Grapefruit and Gin Slush
I know this doesn't sound like a problem to you, but I've got too much gin on my hands. I love gin but suddenly I found myself with five or six bottles of the stuff. I do plan on more Gin and Tonics, Martinis, Negronis, Jasmines, Rosemary Gimlets, and other gin-forward cocktails in my future. But I also had too many pink grapefruits on hand, the result of Romain bringing home a bag of them the same day that I did. Great minds think alike, I suppose…even if they're thinking in two different languages.
Now that it's summer, I thought it was the perfect time to slush things up. Unlike granita, this Pink Grapefruit and Gin Slush doesn't need to be stirred; you just pour everything into a tub, and freeze it. Yes, you heard that right – no stirring, no work. For those two reasons alone, I can't imagine a more perfect summer dessert. (That it contains gin might count as a third one?)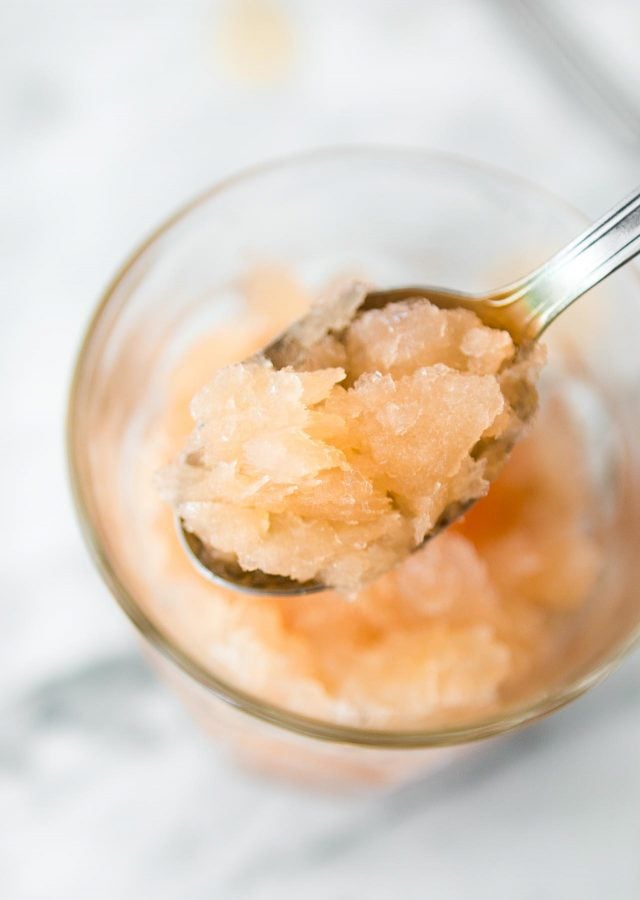 When it's ready, you simply give the mixture a stir with a spoon, fork, or ice cream scoop, and pile it into glasses. Then drink (or spoon) it up.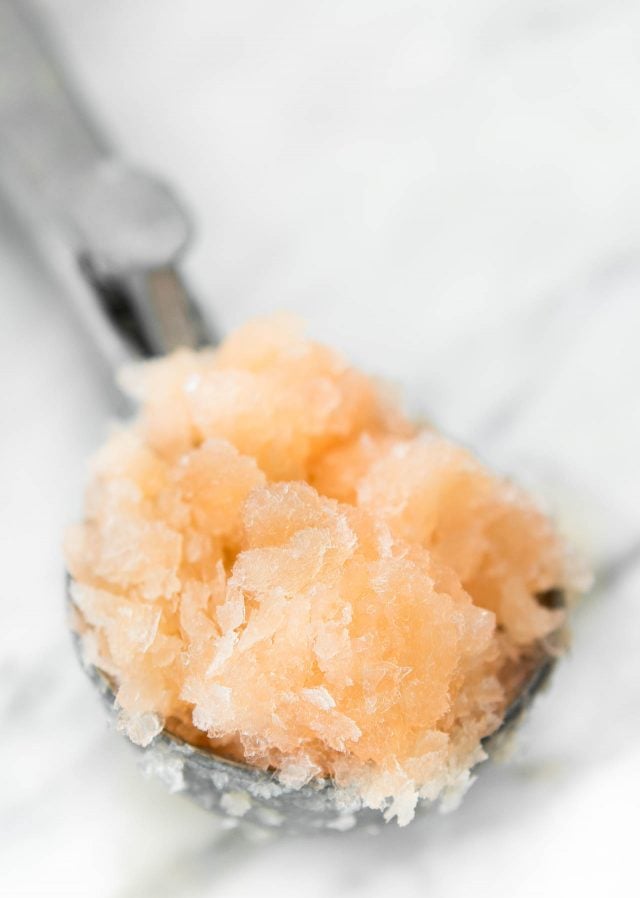 Pink Grapefruit Gin Slush
I always like to use fresh citrus juice but if fresh grapefruits aren't available, store-bought pink grapefruit juice will work as well. Should you want the slush to be more gin-forward, use the larger amount of gin. If you're not a fan of gin, vodka will work in its place, as would tequila, which a reader mentioned in the comments. (Thanks!) This slush very refreshing on its own, but would make a nice dessert topped with fresh raspberries tossed in a little sugar. In the winter, you can garnish it with orange and grapefruit sections, as well as sliced kumquats. No matter what the season, if you want to splash a little extra gin (or a bitter aperitif, such as Campari) over it, be my guest.
2

cups (500ml)

pink grapefruit juice

,

preferably freshly squeezed

1/4

cup (50g)

sugar

1/4 to 1/3

cup (60-80ml)

gin
In a small saucepan, warm about 1/4 cup (60ml) of the grapefruit juice with the sugar, stirring until the sugar is dissolved. Remove from heat and stir the mixture into the rest of the grapefruit juice. Add the gin.

Pour the slush mixture into a freezer-safe container and chill for at least 8 hours, or overnight.
Notes
To serve: Pile the slush into chilled glasses. Storage: The slush will keep for at least one month in the freezer, well covered.