Blueberry Cobbler
When I was in Rhode Island recently, blueberries were just on the cusp of spilling forth, and I was lucky to be able to find some of the early, inky-colored orbs. Because I grew up in New England, I have a special fondness for blueberries, which are rather scarce in Paris* (when available, they're sold in small barquettes with a few dozen berries in them), so I get my fill during trips to the East Coast, where they're plentiful in the summer.
While blueberries certainly are wonderful paired with other summer fruits, likes nectarines, peaches, apricots, and plums, it's really nice to get a big, solid wallop of berries in each spoonful. So sometimes I like to pack them in, and use them on their own, rather than have them play a supporting role. Although they're no slouch in that department, either.
The drop biscuits that I used here are easier to deal with than traditional biscuits because there's no rolling out; you just mix it up, then drop 'em on. They're more crumbly than flaky, and because they're not overly handled when you're mixing the dough, don't expect them to look perfect. The trade-off is less work, and less clean-up. Count me in on both of those, especially when I'm on vacation.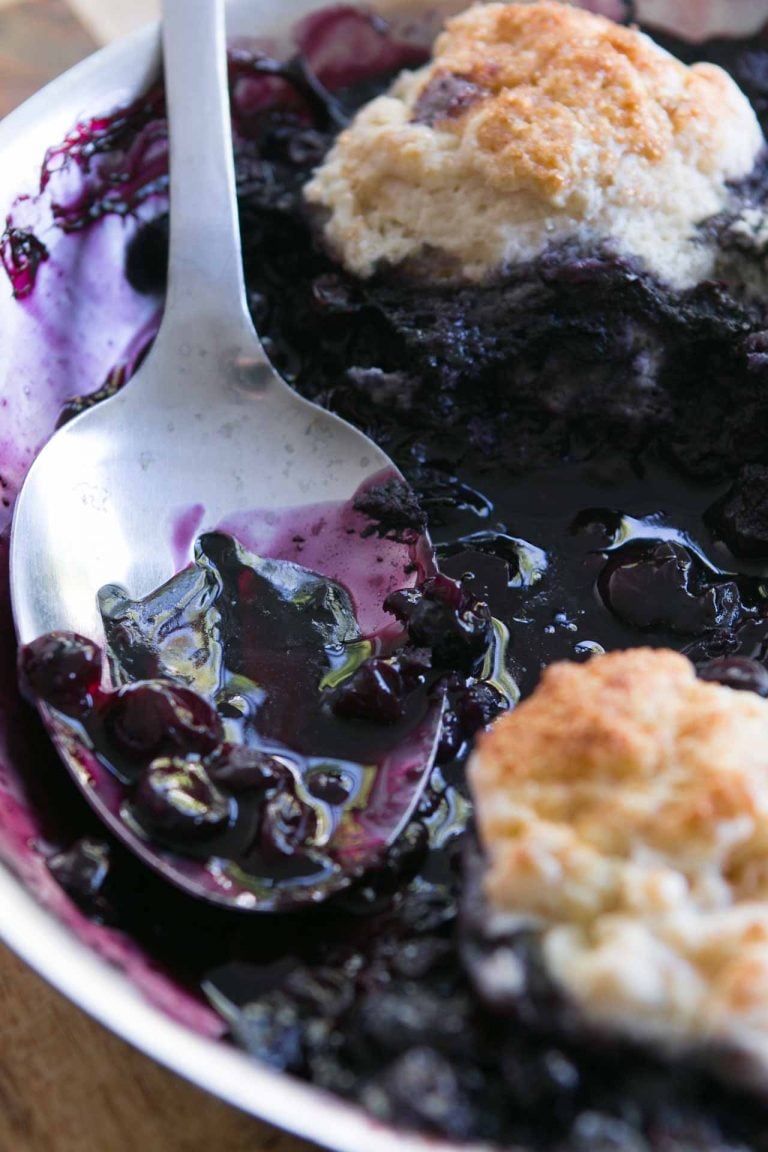 Cooking away from home often means you have to be a little more inventive. I scurried around the kitchen I was baking in and found that all the gratin dishes were already in service. So I pulled one of the saute pans off the shelf, and used that. The result was a bubbling skillet of berries, which got served with melting scoops of vanilla ice cream for dessert. But don't be shy about eating leftovers the next day for breakfast. You can either rewarm the cobbler and biscuits in a low oven, or if you're anything like me, you can spoon it up right from the pan, if you just can't wait.
Related Links and Recipes
Ingredients for American Baking Ingredients in Paris
Gluten-Free Baking and Substitutions
Blueberry Buckle with Lemon Syrup
Mango Frozen Yogurt with Blueberry Compote
*In Paris, I've had luck finding organic blueberries (from Spain) in bulk at Biocoop stores. And one summer a few years back, a vendor at the Saturday Batignolles organic market was selling large baskets of myrtilles. I'm not a regular at that market, so not sure if they make an annual appearance there, but it might be worth a look.