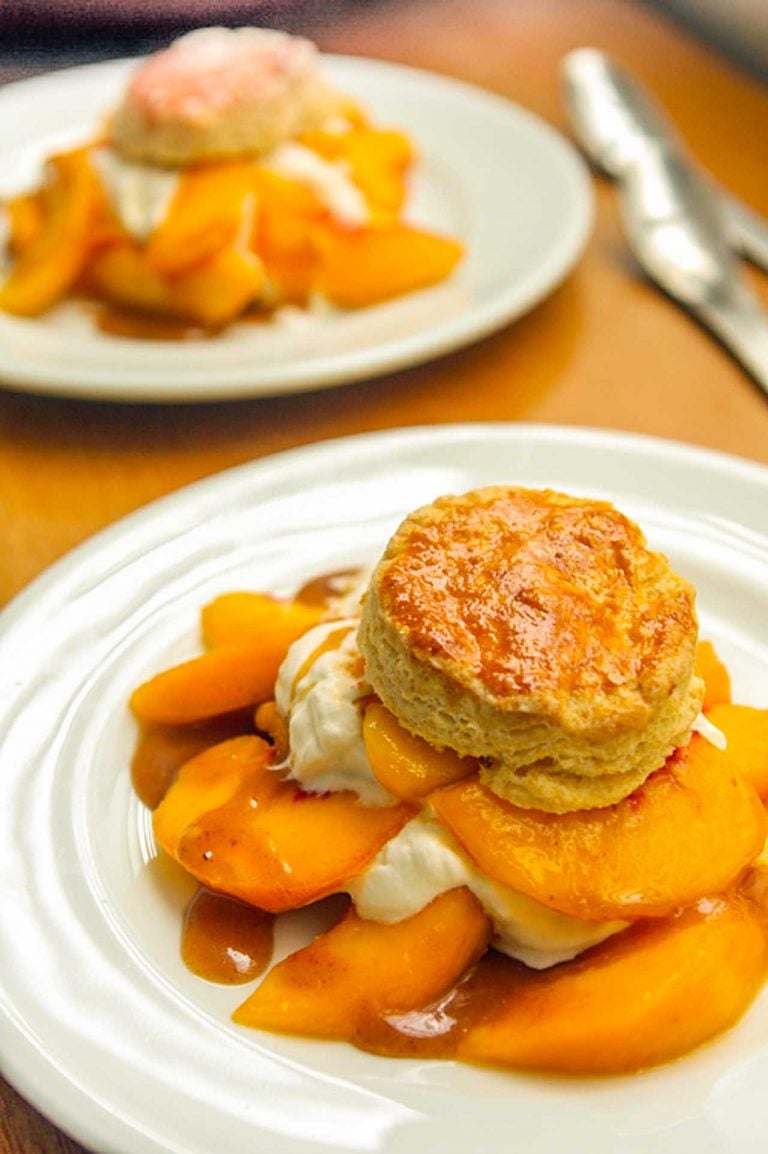 Shortcake is one of those uniquely American desserts; a big, buttery biscuit floating on top of a cloud of whipped cream and lots of juicy, sweet, summer fruit. Sure, the components may be inspired from other places, but no one puts them together in a way that celebrates summer as we do.
One of the high points of my year is when peaches and nectarines are in abundance at the markets. As summer marches on, when prices are reasonable, I just can't help buying a lot more than any one person would consider prudent. I just keep putting more and more in my bag at the market, until I can barely carry it home. And for the rest of the week, I scramble to use as many as I can while they're dead-ripe and at their peak.
I've never made shortcakes in Paris and I don't know why. But I've been meaning to for years, and it took me until this week to get my derrière in gear. First up, I had to explain what a "biscuit" was: in French, it often means a kind of spongecake, generally used as a component for layering. So I guess it's not that much of a stretch to think about it as being layered haphazardly with fruit and whipped cream. (Although from the looks of the faces of my French dinner guests, I'm not sure I quite got the similarity across.)
Nevertheless, no matter where you're from, who can resist loads of sliced peaches and fresh whipped cream, especially when drizzled with warm butterscotch sauce, which ties everything together so nicely?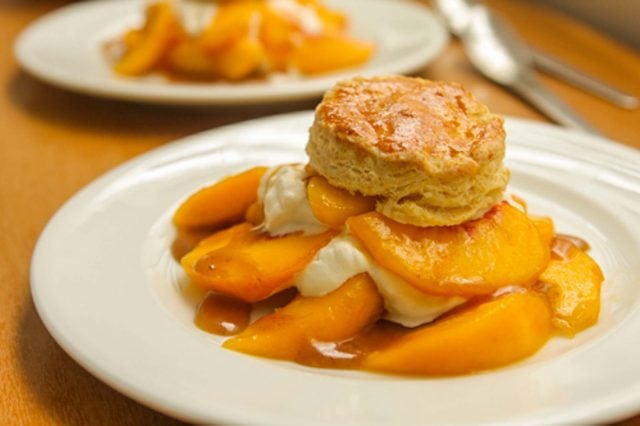 Peach Shortcake
To make sure the shortcakes are flavorful and juicy, I make a coulis (a sauce made from raw fruit) of peaches, and let that macerate for at least an hour before serving. Then I use it to moisten and soak the bottom of the biscuits. Peaches vary in size and sweetness, so feel free to make any adjustments depending on the fruits available to you. You can certainly add a handful of berries or a mixture of other summer fruits, including plums and nectarines. I sometimes use buttermilk in my biscuits, which makes a more tender biscuit, but many people prefer cream, which I use as well.
Biscuits
2

cups (280g)

flour

2

teaspoons

baking powder

, (preferably aluminium-free)

1

teaspoon

salt

1 1/2

tablespoons

sugar

8

tablespoons (115g)

unsalted butter

,

chilled and cut into cubes

2/3

cup (160ml)

heavy cream or buttermilk
Biscuit Glaze
1

egg yolk

1

teaspoon

heavy cream or milk
Whipped Cream
1 1/2

cups (375ml)

heavy cream

3

tablespoons

sugar

1

teaspoon

vanilla extract
Assembly
6

large peaches

,

peeled, sliced, and tossed in a bit of sugar
To make the biscuits, preheat the oven to 400ºF (200ºC). Line a baking sheet with parchment paper or a silicone baking mat.

Sift the flour, baking powder, salt, and sugar into a bowl. Using a pastry blender, cut in the butter until it's in pieces the size of corn kernels. (You can also use a food processor or stand mixer with the paddle attachment.) Add the cream or buttermilk and mix until just blended.

On a lightly floured countertop, briefly knead the dough just until it comes together. Do not overwork the dough; it's better to work it less and have rustic-looking biscuits than ones that are tough.

Roll the dough until it's 3/4-inch (2 cm) thick and with a 3-inch (10 cm) biscuit cutter, cut out six individual biscuits, dipping the cutter in flour between cutting each biscuit. You can gather the scraps and re-roll to cut out a few more biscuits. Put the biscuits on the baking sheet. For the glaze, mix the egg yolks with the cream or milk.

Brush just the tops of the biscuits with the glaze and bake for 15 to 20 minutes, until they're browned on top and up the sides. Remove from oven and let cool.

Make the peach coulis by mixing the diced peaches with 2 tablespoons of sugar and kirsch, if using, with your hands, squeezing firmly the diced fruit to mash it up and help it release its juices. Let stand at least an hour.

Whip the cream until it begins to get stiff, then whip in the sugar and vanilla extract and continue to whip until it holds its shape.

Slice the peaches and toss them in a bowl with a sprinkling of sugar.

To assemble the shortcakes, cut each biscuit in half and place the bottoms on six plates. Divide the peach coulis amongst the biscuits, pressing it in a bit with a spoon to encourage the juices to saturate the biscuit. Add a few peach slices on top of each, then add a generous dollop of cream. Finish with the rest of the peach slices and top with the crown of the biscuit. Drizzle with warm butterscotch sauce.
Related Links and Recipes
How to tell if baking powder is still good
White Chocolate Ice Cream with Nectarines and Cherries